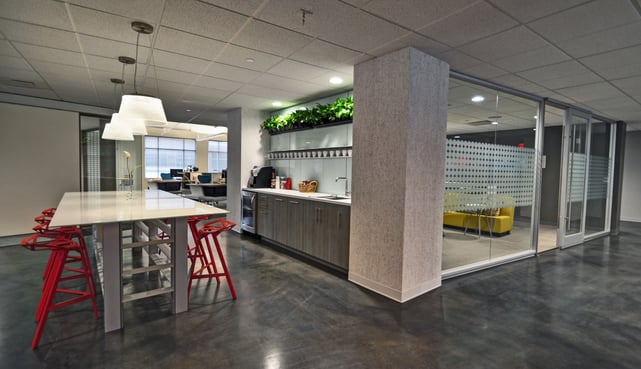 If managed with care and tact, new approaches to traditional methods can shake up thinking and inspire creativity. There's nowhere this is more imperative than in the workplace. This could mean considering new solutions, such as manufactured interiors, that promote collaboration and teamwork through adaptable spaces that prompt interaction. These flexible and inviting spaces could be the key to your long-term success.
Today's organizations rely on innovation to increase prosperity and productivity. They also need to be open and conducive to brainstorming and discussion, not filled with the cubicles of yesterday that inhibit these two. Within the open space, there also needs to be areas to work quietly. In a Living Office setting, flexibility is key. There's definitely a delicate balance between encouraging dialogue while ensuring the privacy to do so.
Manufactured interiors like DIRTT, Alur, and NxtWall provide customized solutions to meet communication needs in today's work environments. Whether you're a start-up looking to break up a new space with affordable and sustainable manufactured interiors, or you're a large business organization looking to break down cubicle walls and create a space that encourages connection, these solutions are the best place to start.
Watch the video below to learn how manufactured interiors, like DIRTT, can positively change your space.