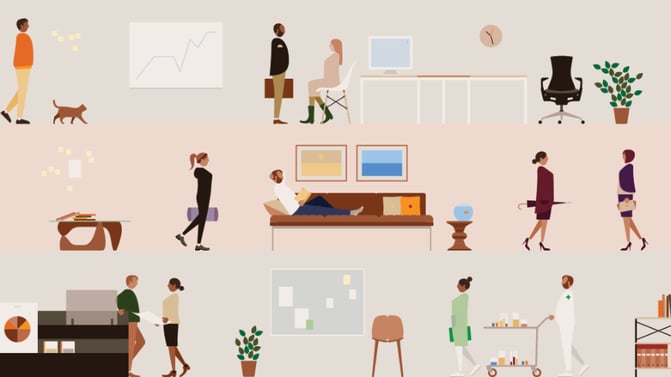 For years, going to work meant going to work. Work stayed at work. Typewriters stayed on desks. Rotary phones didn't move.
Now? Most people who do work never really leave it, partly in thanks to technology but also a cultural shift in how we work. Herman Miller describes this as the Eras of Change. It's about a shift in management, tools, and places that drives greater connectivity, creativity, productivity, and prosperity in the workplace. At a high-level, this is how the concept of The Living Office came to be. People work more collaboratively on cross-functional teams, all across the globe at different times with evolving technology. As a result, employees need flexible spaces to work.
Employees spend a large majority of their waking hours at work, so the desire to evolve the workspace and bring it into the 21st cenutry is imperative. Within the framework of The Living Office, modes of work are taken into consideration such as: chat, converse, co-create, divide and conquer, huddle, show and tell, warm up/cool down, process and respond, contemplate, and create. These various methods of communication and teamwork can dictate how a space is used and how the setting relates to it.
For example, coworkers who want to converse will seek out an area that enables them a semi-private setting with the potential for an area to teleconference, such as a Haven. While others who want to show and tell, may seek out a Meeting Space where furniture and technology arrangement supports clear sight lines among employees with the ability to share digital content.
When an organization offers its employees a choice of where and how to do their work, employees feel more empowered and equipped to do their best. Your organization becomes more prosperous and your associates feel energized to create new, innovative ideas and processes. It becomes a win-win, which ultimately affects your talent acquisition and retention goals positively.
This philosophy is a new approach to developing workplaces that promote teamwork and creativity. Because of this shift in thinking, a new model for the workplace is needed as well. The Living Office concept is an important step in the evolutionary process of creating workspaces that work for tomorrow's employees.