Gone are the days where health is strictly something to be considered on an employee's own time. Workplaces today that want to be attractive and competitive need to consider a holistic approach to life at the office. A great way to keep associates healthier and happier is to incorporate wellness into the workplace experience. Here are some of our favorite ideas to get you started!
Healthy Snacks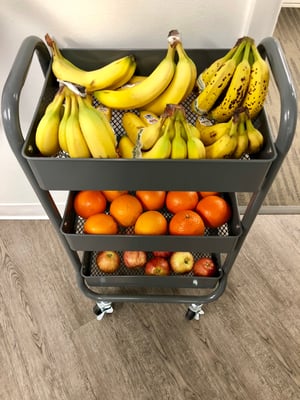 Depending on your company size, consider placing a monthly, weekly, or daily order to have fresh fruit, veggies, or other healthy snacks delivered to your office. More than just food for the body, it's food for the mind.
Wellness Education
It's important to remember that wellness doesn't just refer to our physical well-being. Mental, emotional, and financial wellness can take a backseat during our hectic lives, but sometimes they need to be put front-and-center. Providing company classes or community resources can help to educate associates and keep their whole self happy and healthy.
Fitness Challenges
A little friendly competition can be good for team-building and morale. Allowing associates to engage in walking challenges or organizing company teams to participate in a community run or bike ride is a great way to stay active and create camaraderie too.
Fitness Classes
Offering regular fitness classes, whether in the form of yoga, meditation, karate, or kickboxing, allows associates an outlet during the work day. By releasing pent-up stress or tension, employees can return to their desks refreshed and ready to tackle the next task at hand.
Water Stations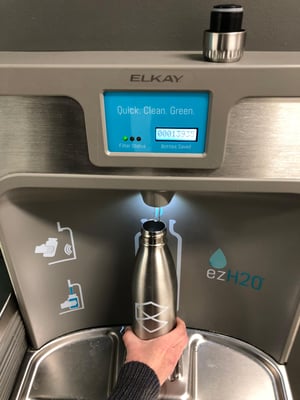 Water is life. To preserve this precious resource ensure that associates have access to it, not excess of it. Implementing a water station in your office and using refillable water bottles instead of one-time use containers is a great way to sustain your workforce while cutting down on wastefulness.
Community Garden
What better way to bring your team together than over a shared gardening experience? A good place to start is to think about what it would take to create a salad, then get to work planting all of those ingredients! Associates can share the tasks of shopping, planting, and watering, and everyone can enjoy the bounty!
It doesn't stop here. You can get creative with things like a company field day or a healthy cook-off competition. You can even incorporate health right into your furniture with option like sit-to-stand desks, monitor arms, or task lighting. The possibilities are truly endless. Survey your team to see what they'd like to incorporate into their work day to stay fit in mind and body.