What comes to mind when you hear the term 'corporate wellness?' Often, we tend to think of wellness programs involving a fitness center staffed with personal trainers, a smoking cessation program, a 10,000 steps challenge, or nutrition counseling. Generally, wellness programs can be defined as organized and coordinated programs that have the goal of enhancing the physical, mental, and emotional status of individuals.
The benefits associated with corporate wellness programs are straightforward: reduced health care costs; decreased rates of illness, injury, and absenteeism; increased productivity and morale; improved physical fitness; lower levels of stress; and increased overall well-being. Plus, they can be fun, right? Taking a step further, how can these benefits extend beyond the workplace and into the community? What can we do to help those outside of our workplaces gain the benefits of being 'well?'
At Local Matters, we focus on just that. Our mission is to create healthy communities through food education, access, and advocacy. Last year, Local Matters reached over 14,000 children, adults, and families in our community through food education and access programs.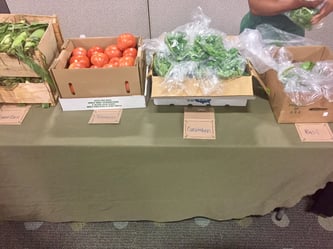 One of these food education programs is our corporate program 'Wellness Matters.' Wellness does matter. It matters in our workplaces, homes, schools, and communities. Poor nutrition is one of the leading causes of preventable chronic disease, including diabetes and cardiovascular disease. Limited knowledge of nutrition and basic cooking skills, among other issues, is a major contributor to chronic disease and accompanied complications. Even for those without access issues, a lack of food education complicates the ability to select and prepare healthy foods on a budget.
At Local Matters, we believe that food education, access, and advocacy are fundamental components of healthy communities. Our programming supports the health and wellness of everyone, from preschoolers to seniors. By bringing Wellness Matters events into companies like Continental Office, you support not only your own health and wellness, but you support the critical work that Local Matters does in our schools and communities. Plus, you have fun along the way!
We are grateful for our collaboration with Continental, and congratulate them on being one of the "Healthiest Employers in Central Ohio." Should you or your company wish to become more involved with the work Local Matters does to build healthy communities, please consider signing up to volunteer with us. It's a rewarding way to positively affect the community and build your own knowledge and skills. Wellness doesn't stop at the workplace door. It's something we need to do for ourselves and for those who may need some help. Healthy communities benefit everyone. On behalf of everyone at Local Matters, thank you for your support.
For more information about our Wellness Matters programming, please visit our website or email us at Wellness@Local-Matters.org.