Welcome the newest neighbor to Greensburg, Pennsylvania: PA Cyber! Now open, this location is a beautiful example of modern K-12 design, featuring bright, clean spaces with abundant natural light shining through branded glass walls. Experiential design and graphics throughout help to tell PA Cyber's story through branded elements, keeping design language consistent with other locations and creating a sense of "home" from the moment you step inside.
Check out the space below, and see what a modern K-12 education space can be:
---
(1/24)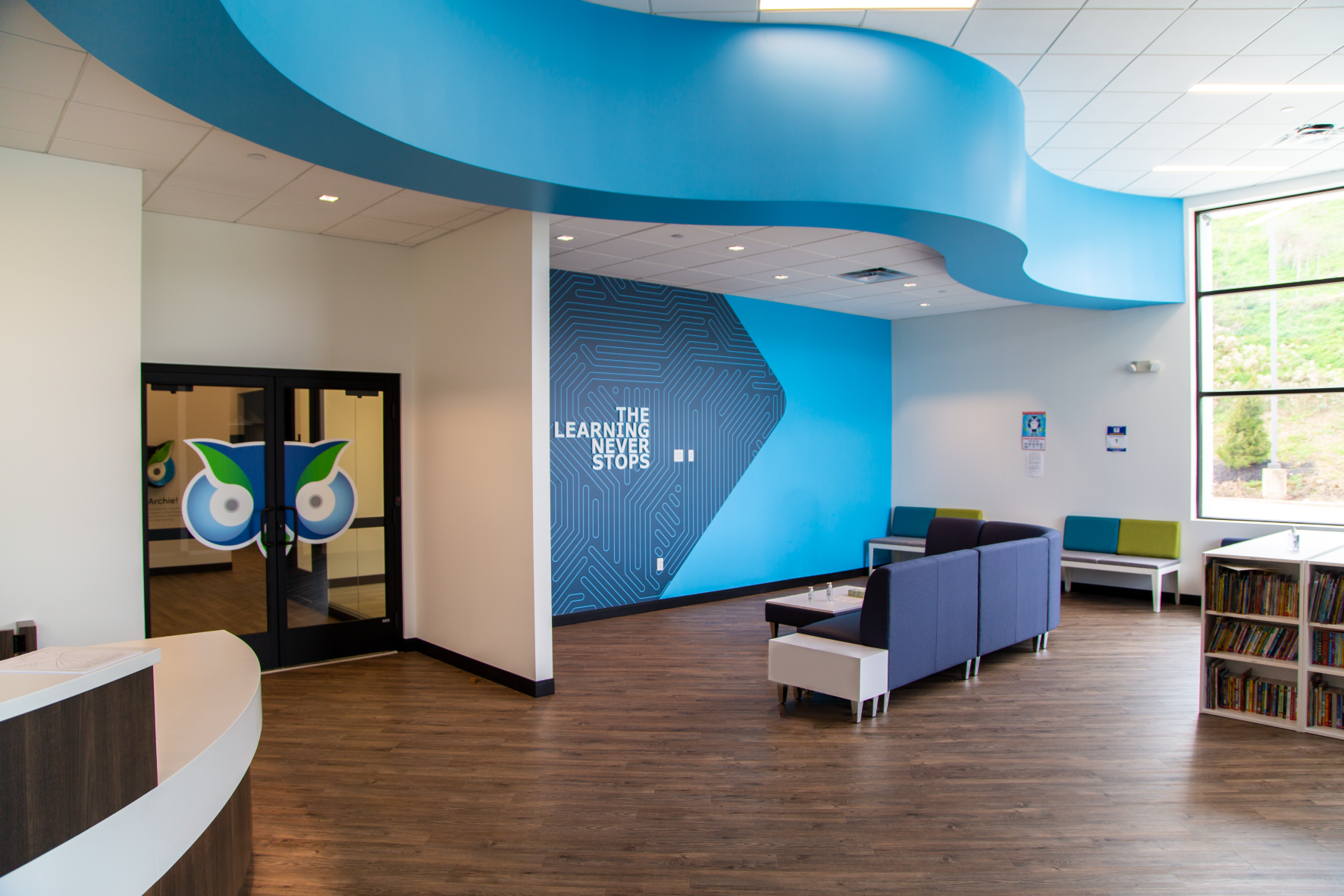 Stepping inside to PA Cyber's Greensburg Campus, you're greeted with the mascot, Archie, and a splash of the brand's colors (and slogan) that instantly identify the space.
(2/24)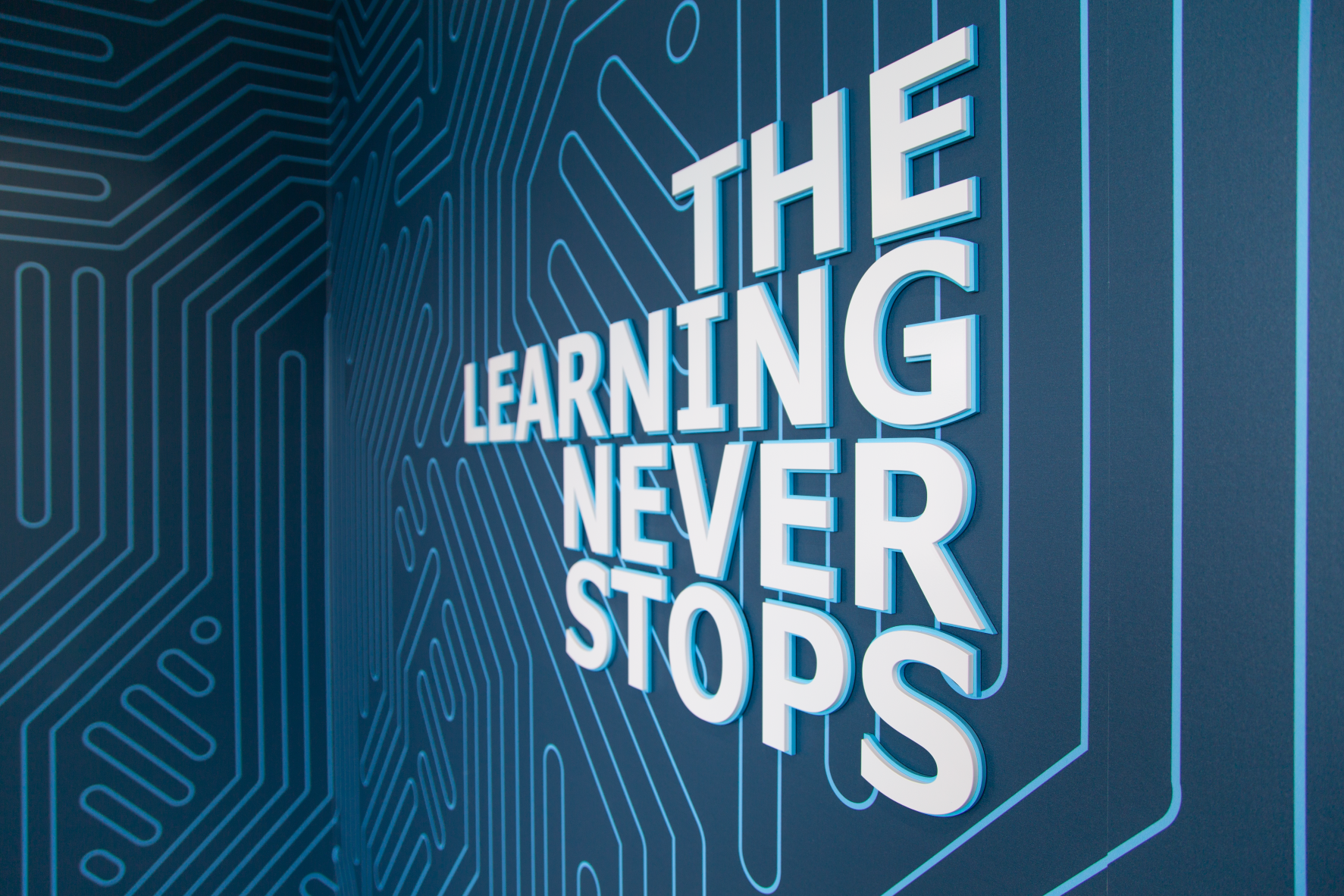 PA Cyber's slogan, "The Learning Never Stops," pops out of the entry wall against a custom branded motif that plays throughout the entire space.
(3/24)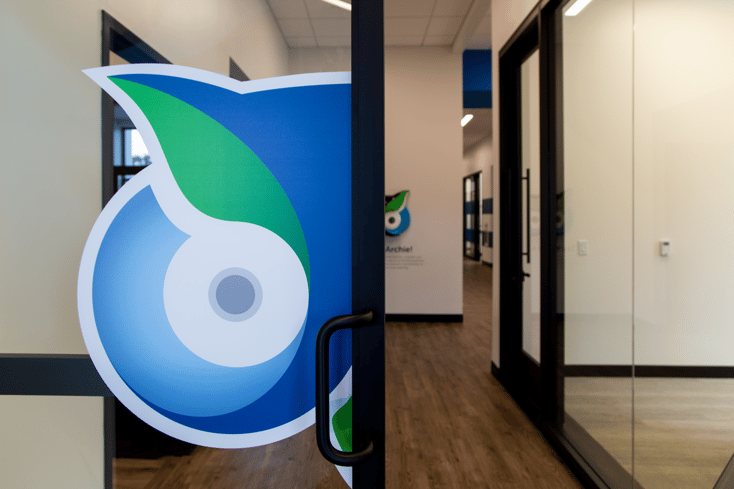 Opening the double doors, this vinyl-on-glass "Archie" reveals a 3D version just behind it!
(4/24)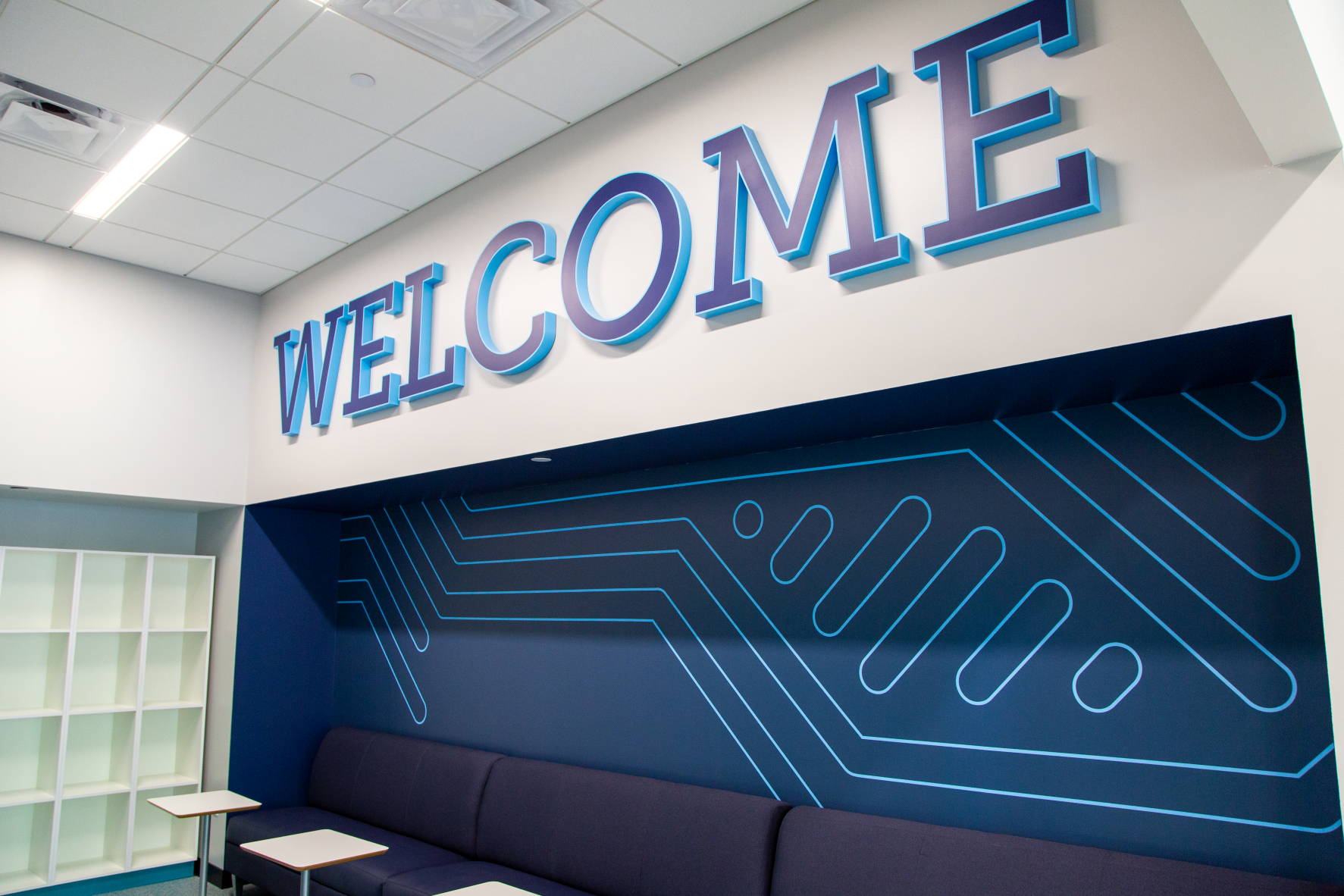 Consistent branding and similar design elements across all PA Cyber locations, such as the "Welcome" sign above, give this space a sense of ownership and "home" to any who enter.
(5/24)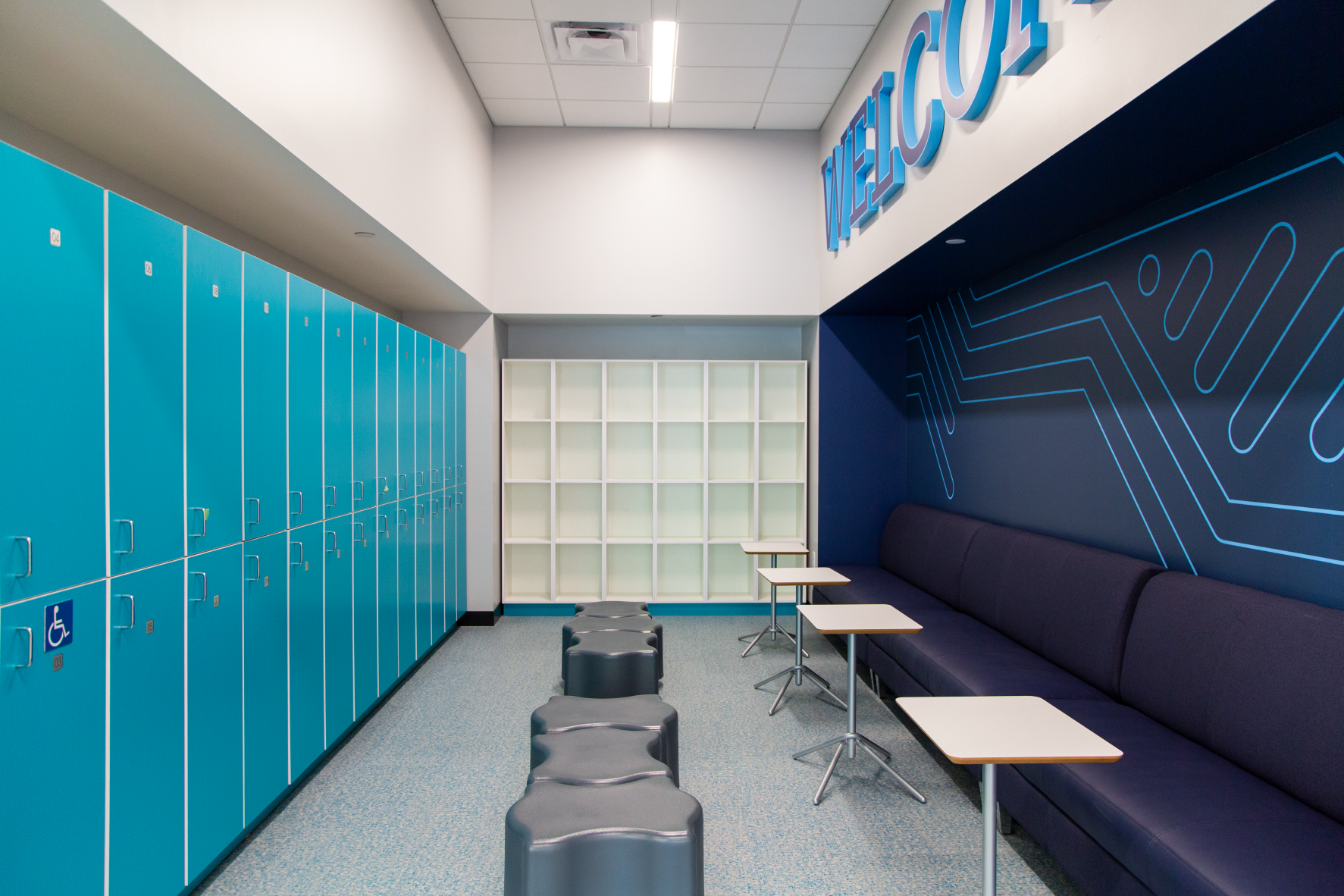 The locker space at entry provides the perfect space to start each day, as well as regroup before/after classes.
(6/24)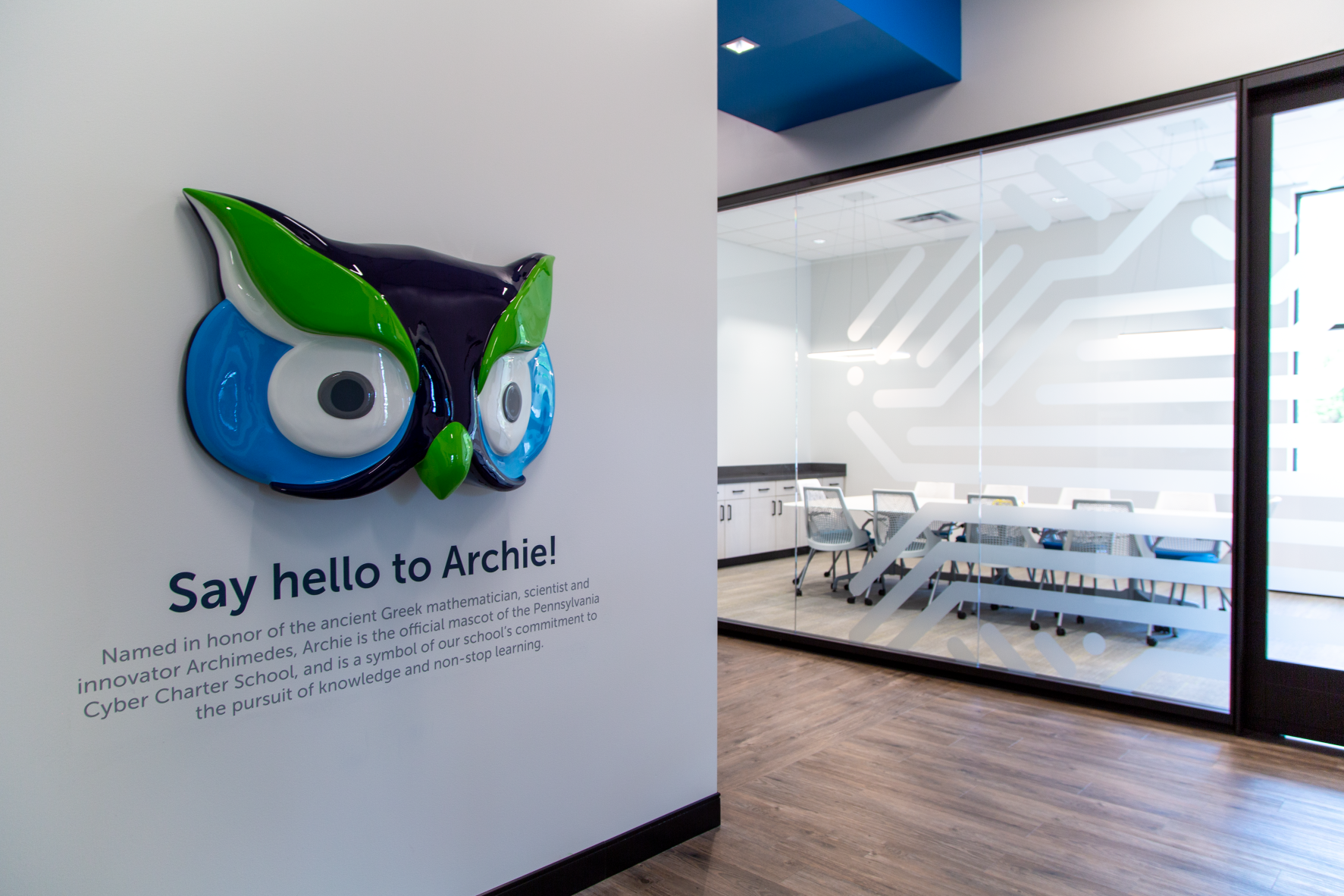 The 3D "Archie" seen above is a staple of this and other locations, creating that perfect photo opportunity for students as well as identifying the space in a fun, playful way!
(7/24)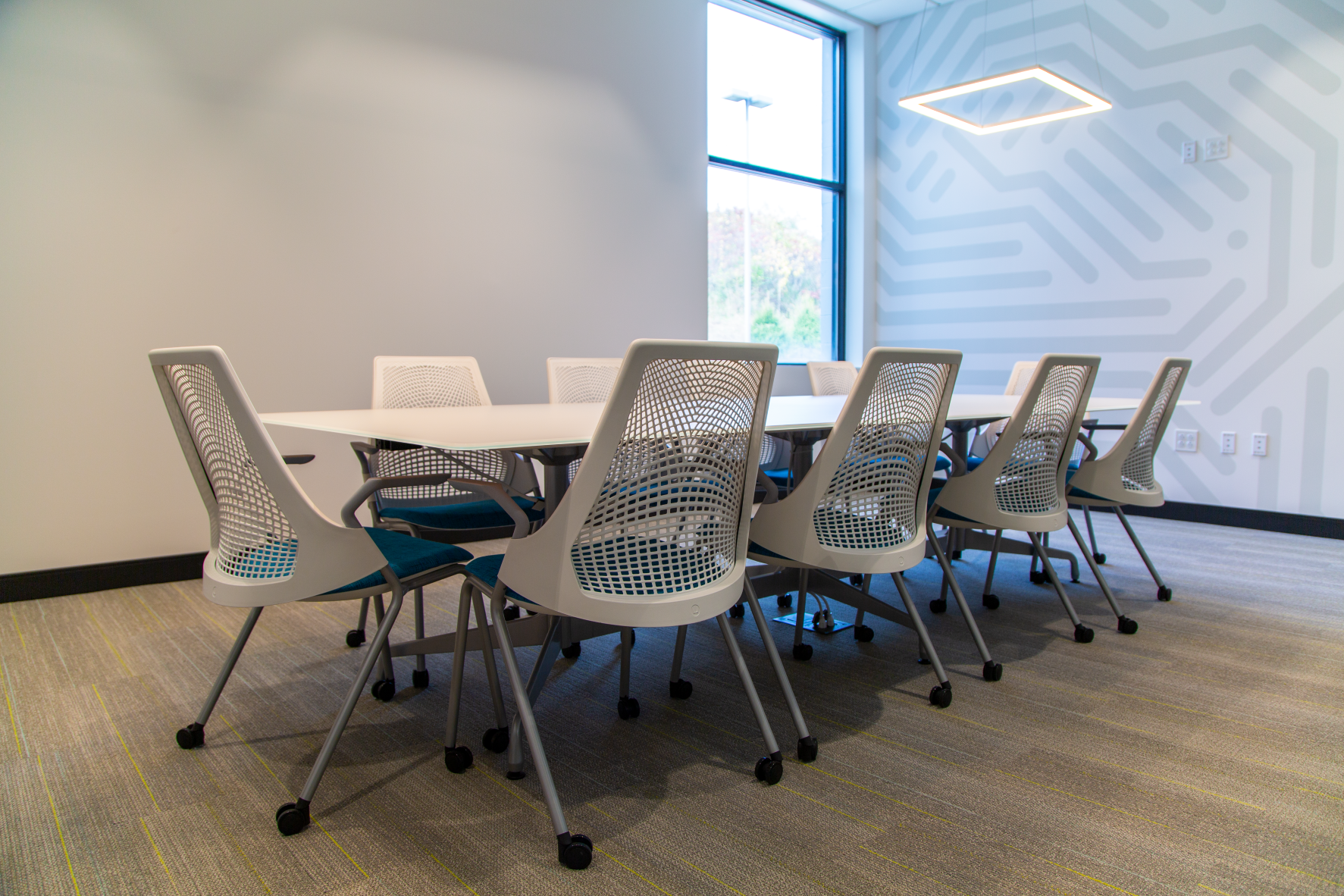 Near the entry, this conference room features comfortable Herman Miller Sayl Side Chairs at a gorgeous glass-top Eames Conference Table.
(8/24)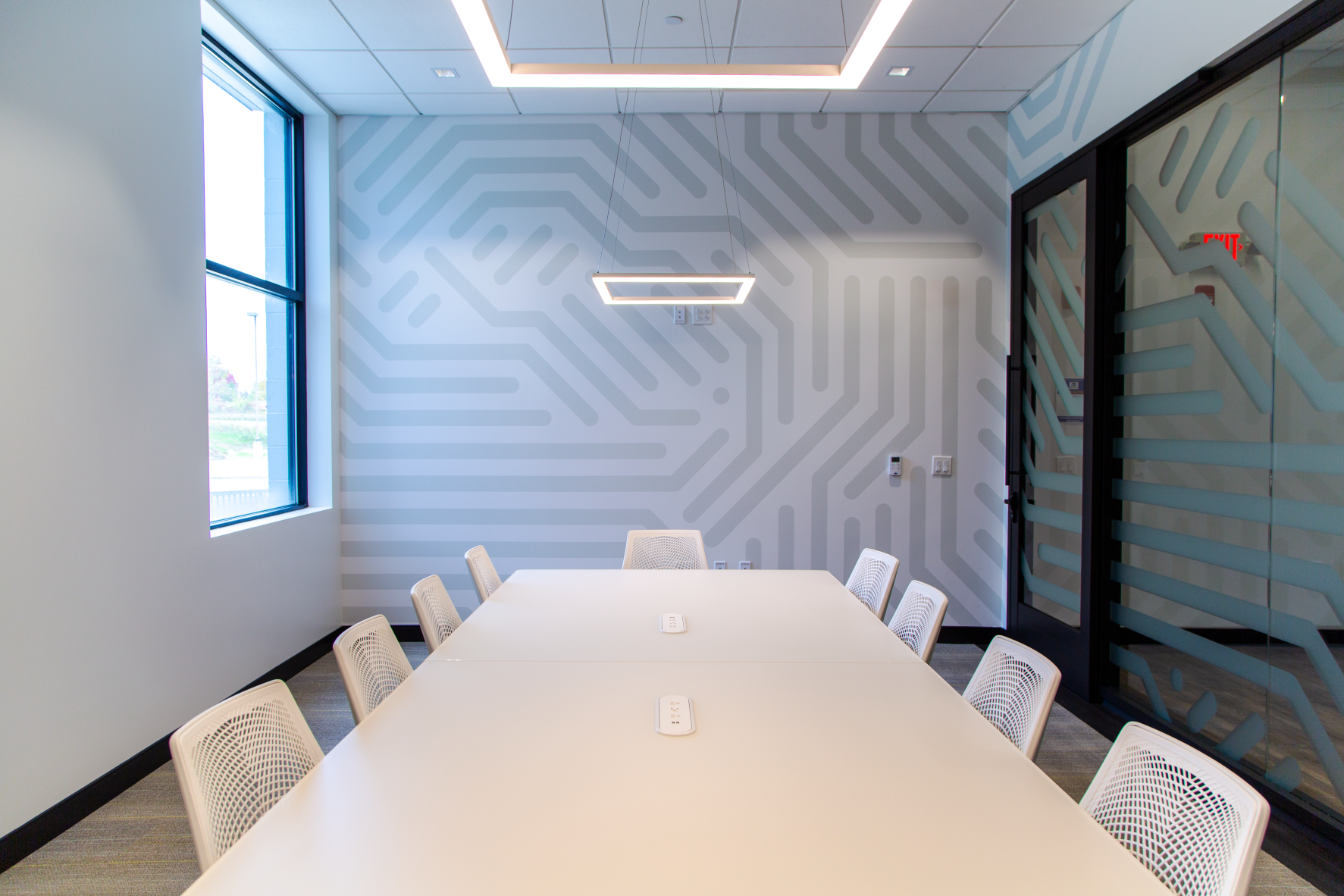 The custom PA Cyber digital line motif carries through from the wall onto the glass.
(9/24)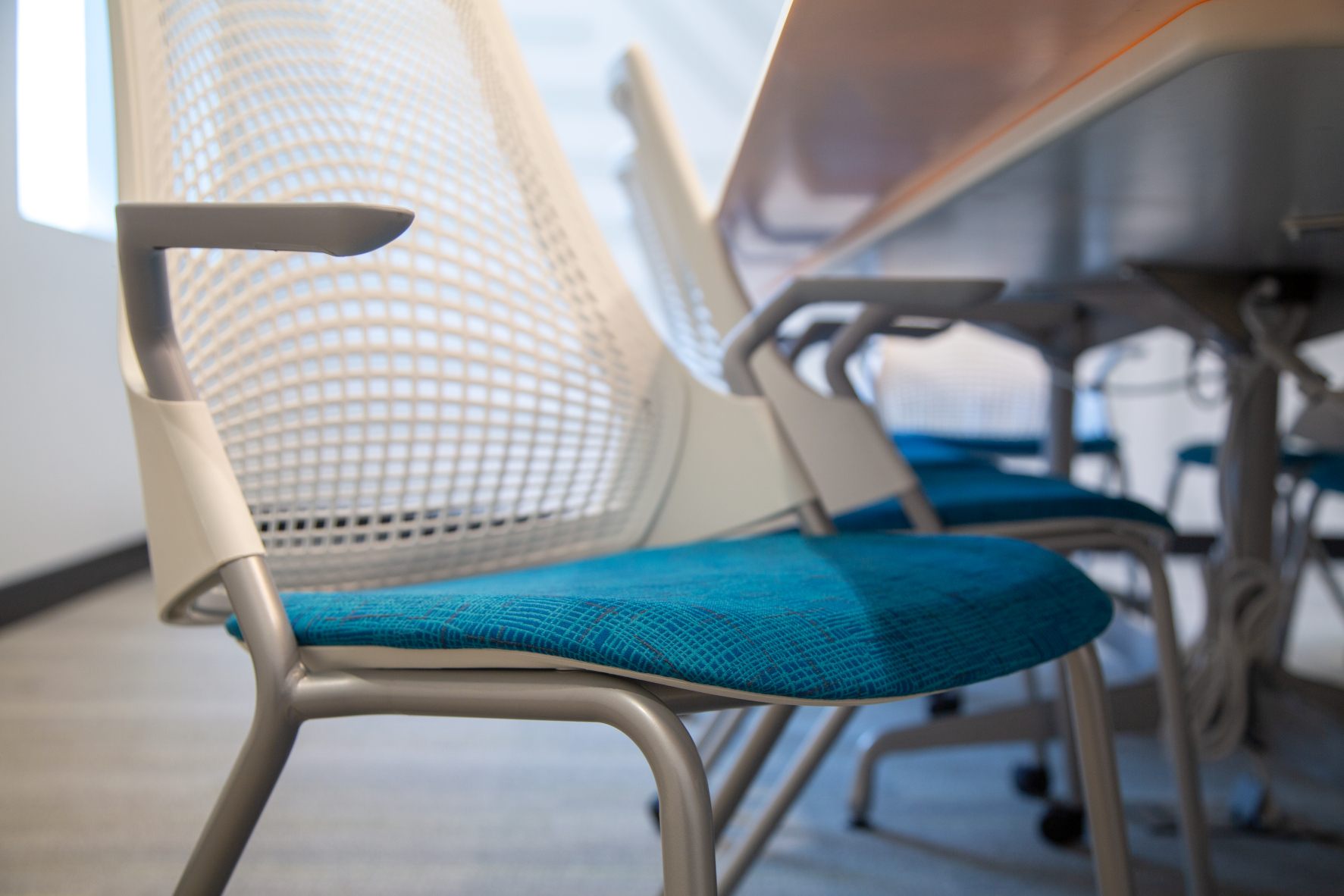 The Herman Miller Sayl Side Chairs are wrapped in this gorgous blue fabric, fitting perfectly into the design of this space.
(10/24)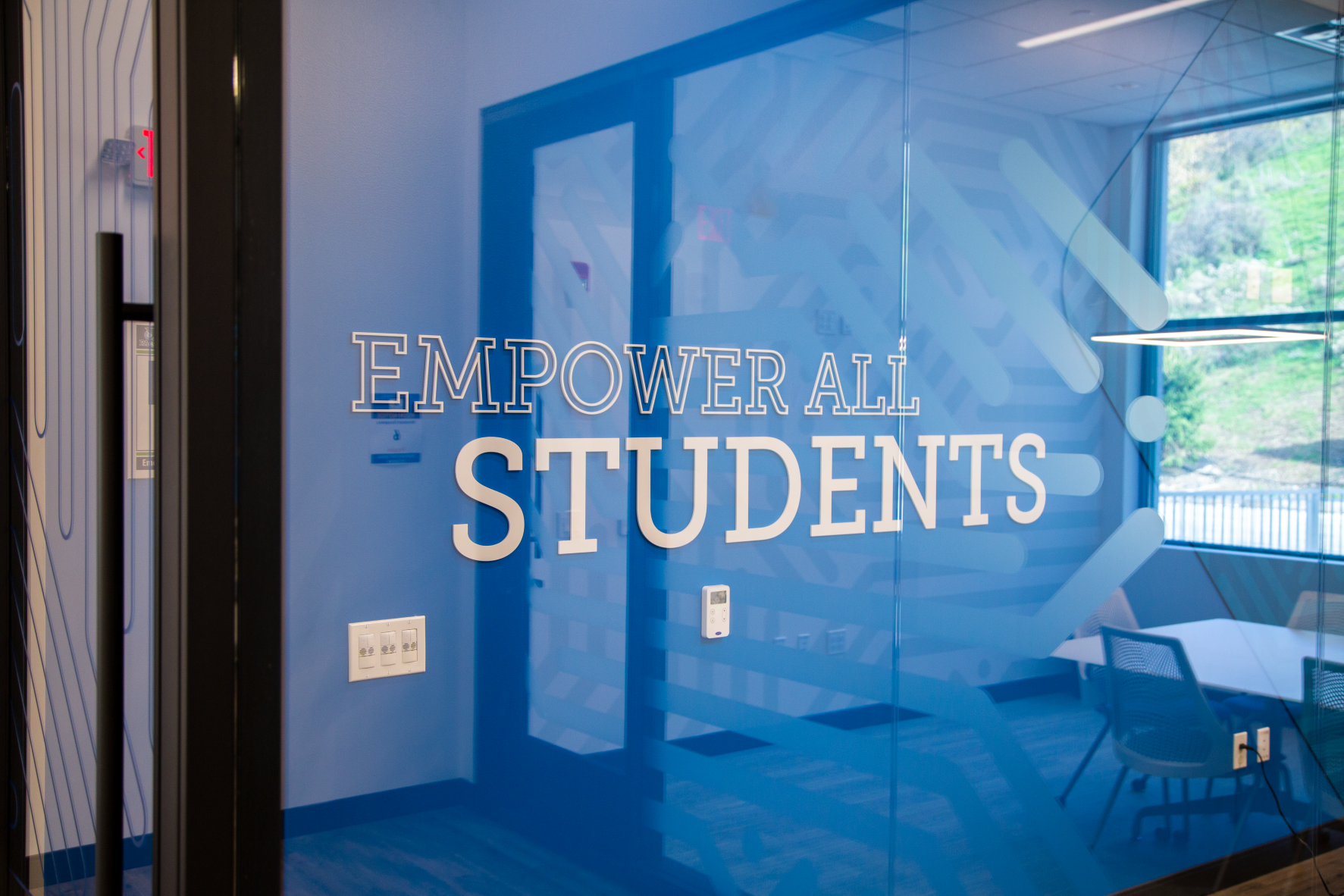 The digital line motif bounces off of this glass wall opposite the conference room, leading into this classroom and promoting PA Cyber's culture and values as soon as students enter the space.
(11/24)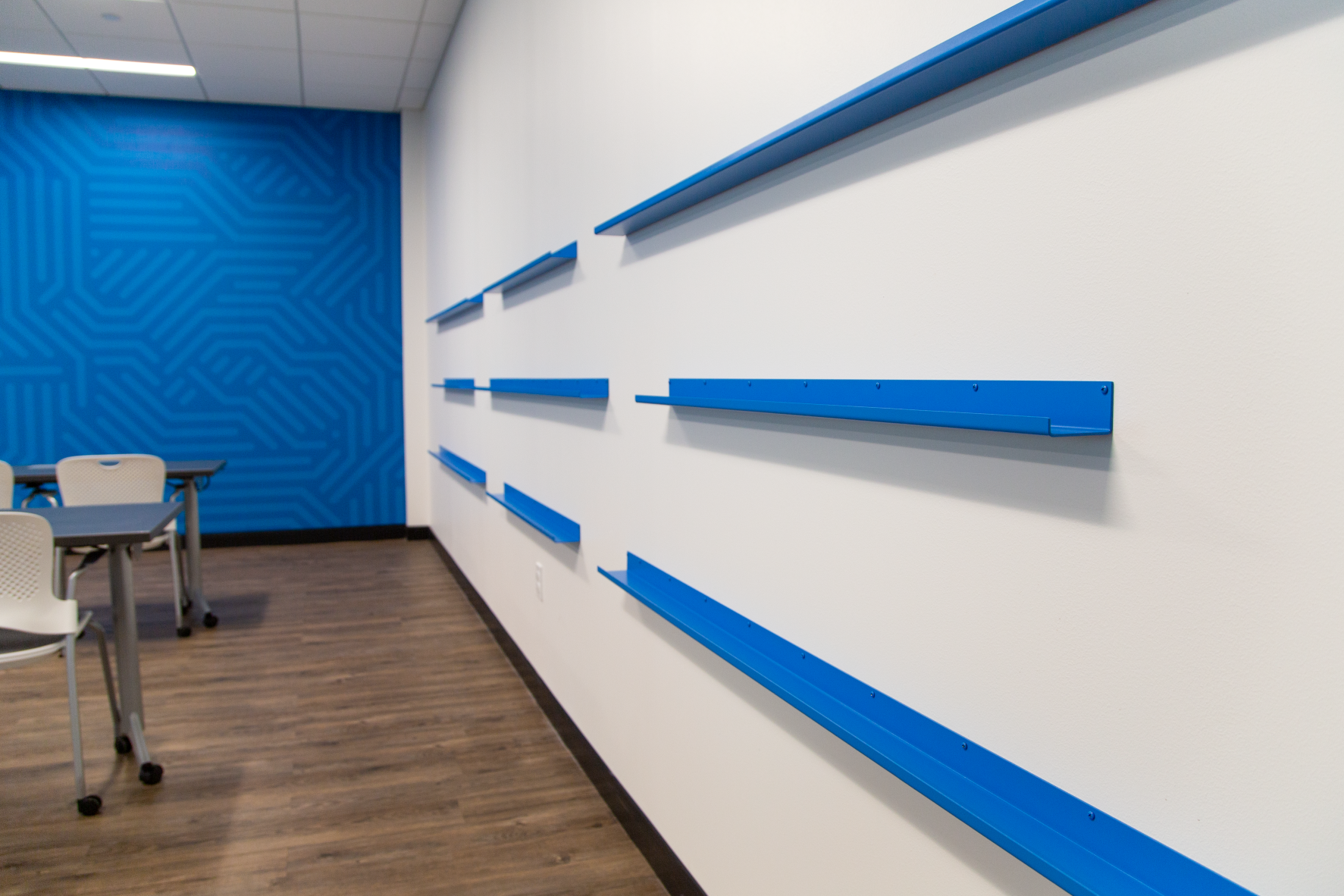 In each classroom, matching thin shelves provide a great space for easy-access resources, featured artwork, and more!
(12/24)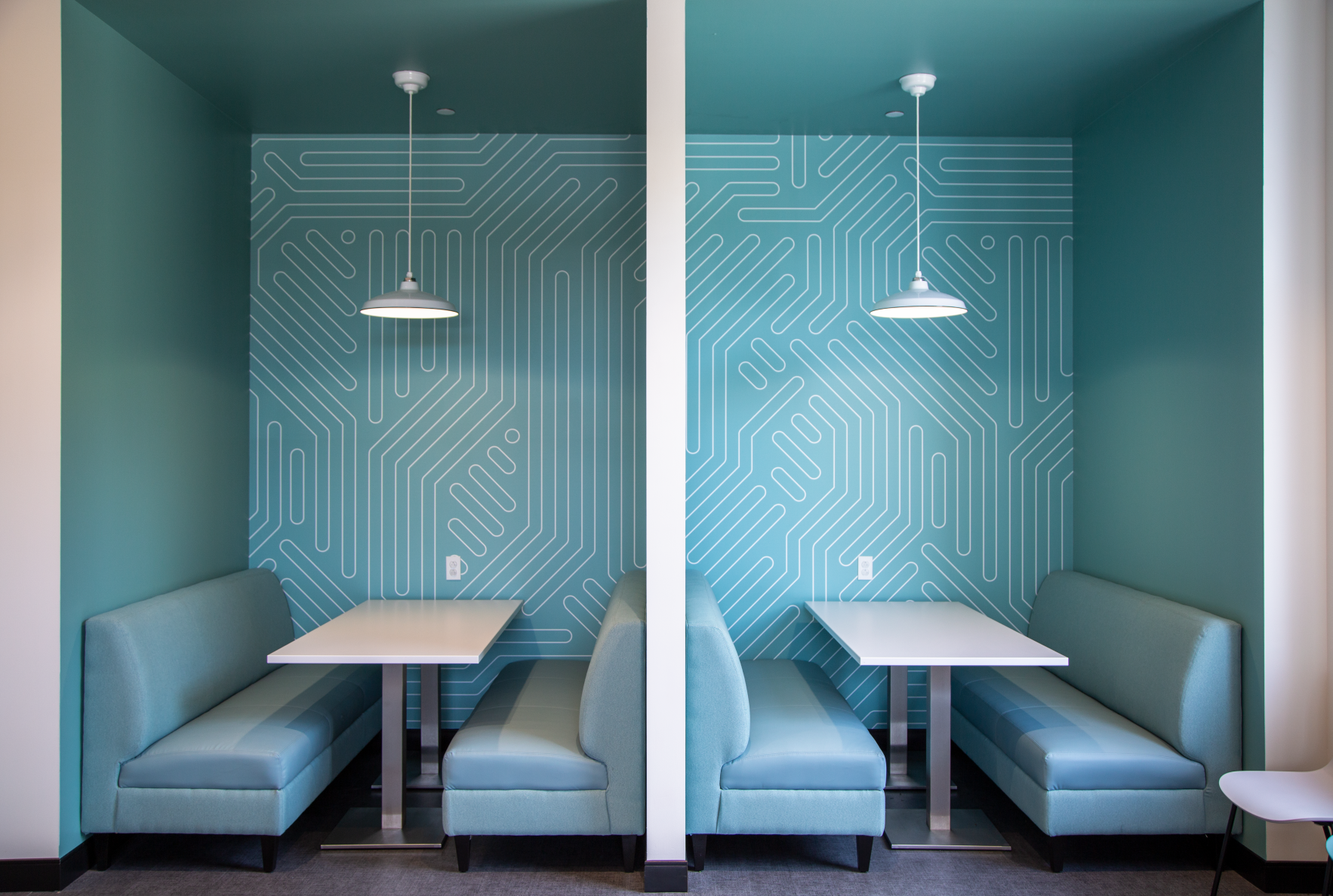 Step into the kitchen/breakroom, and you'll find these beautiful booths with branding that flows between them.
(13/24)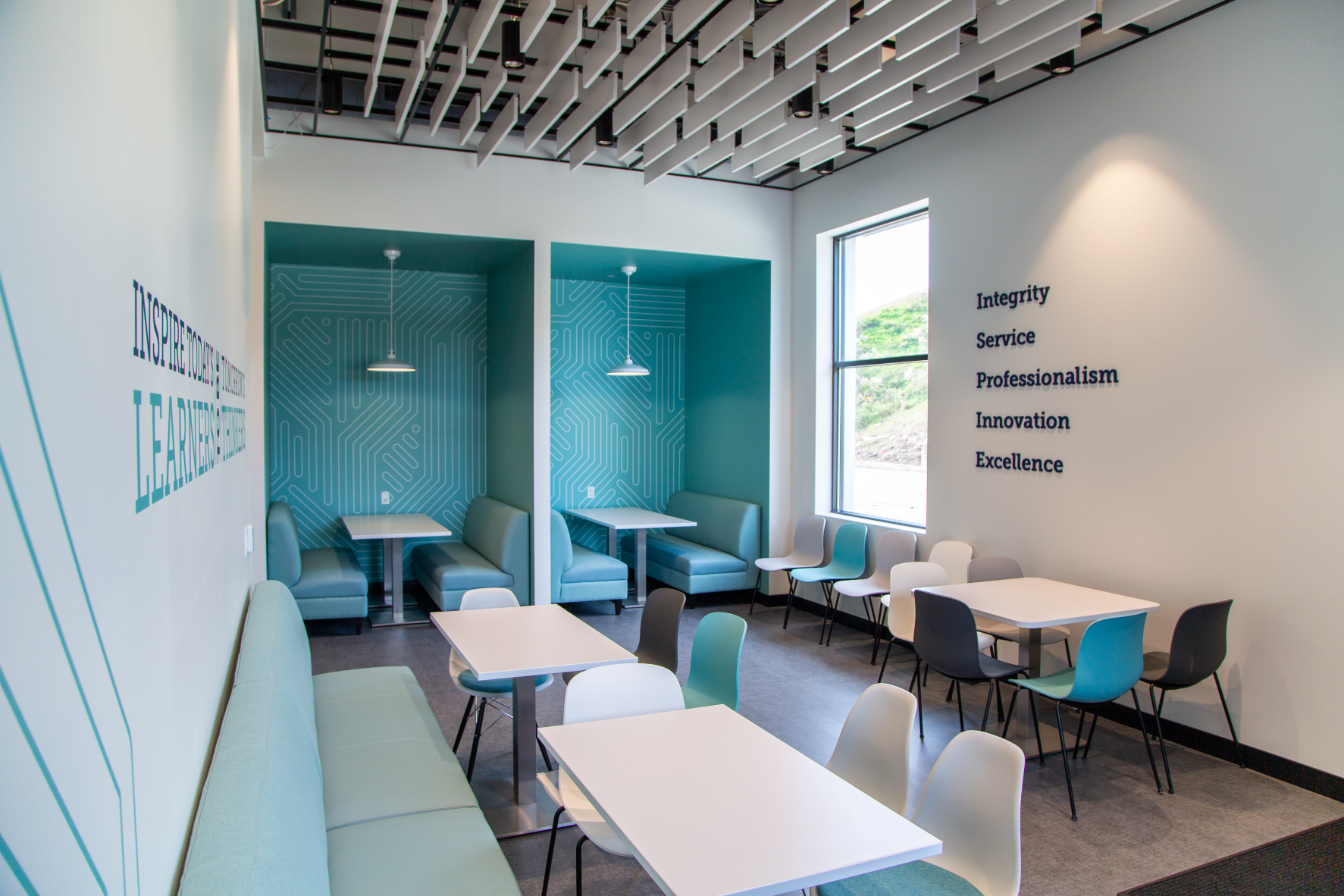 From top to bottom, this area is an open, bright space with pops of color and branded statements to tie every area in this facility together.
(14/24)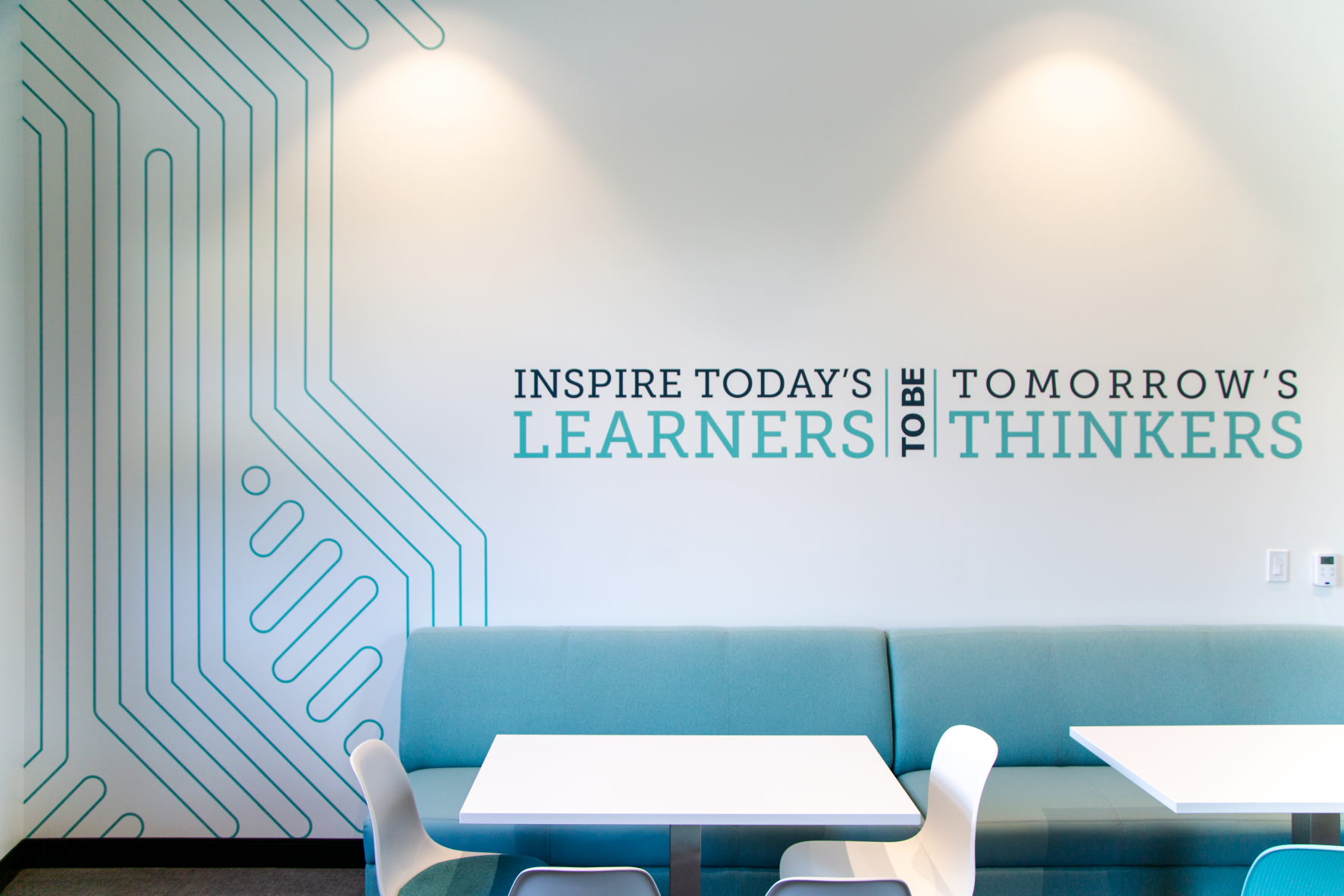 Bright, colorful branding makes this space the perfect spot to recharge.
(15/24)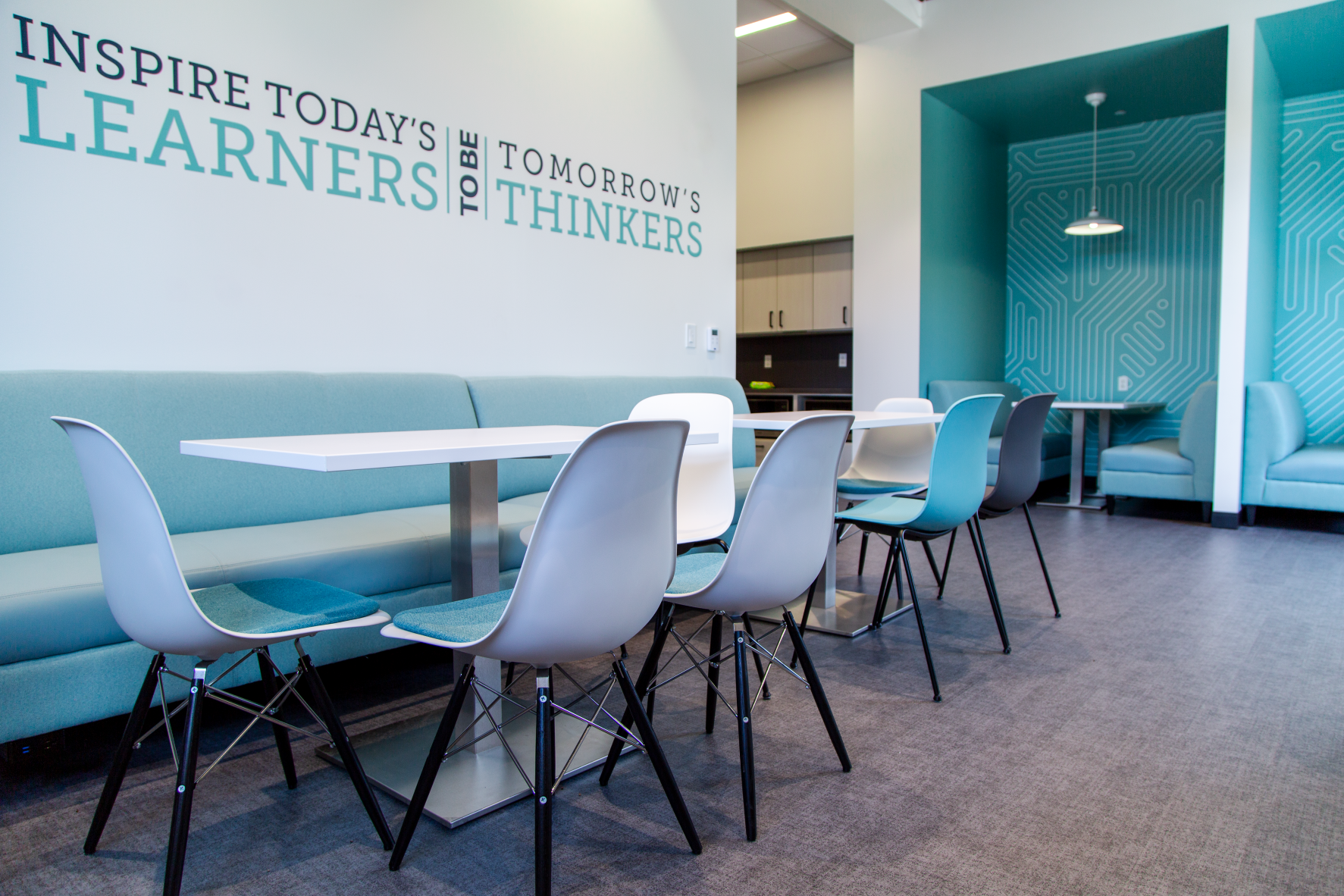 Eames Molded Plastic Chairs, featured here in various colors, create for a thematic design that's consistent without being repetitive.
(16/24)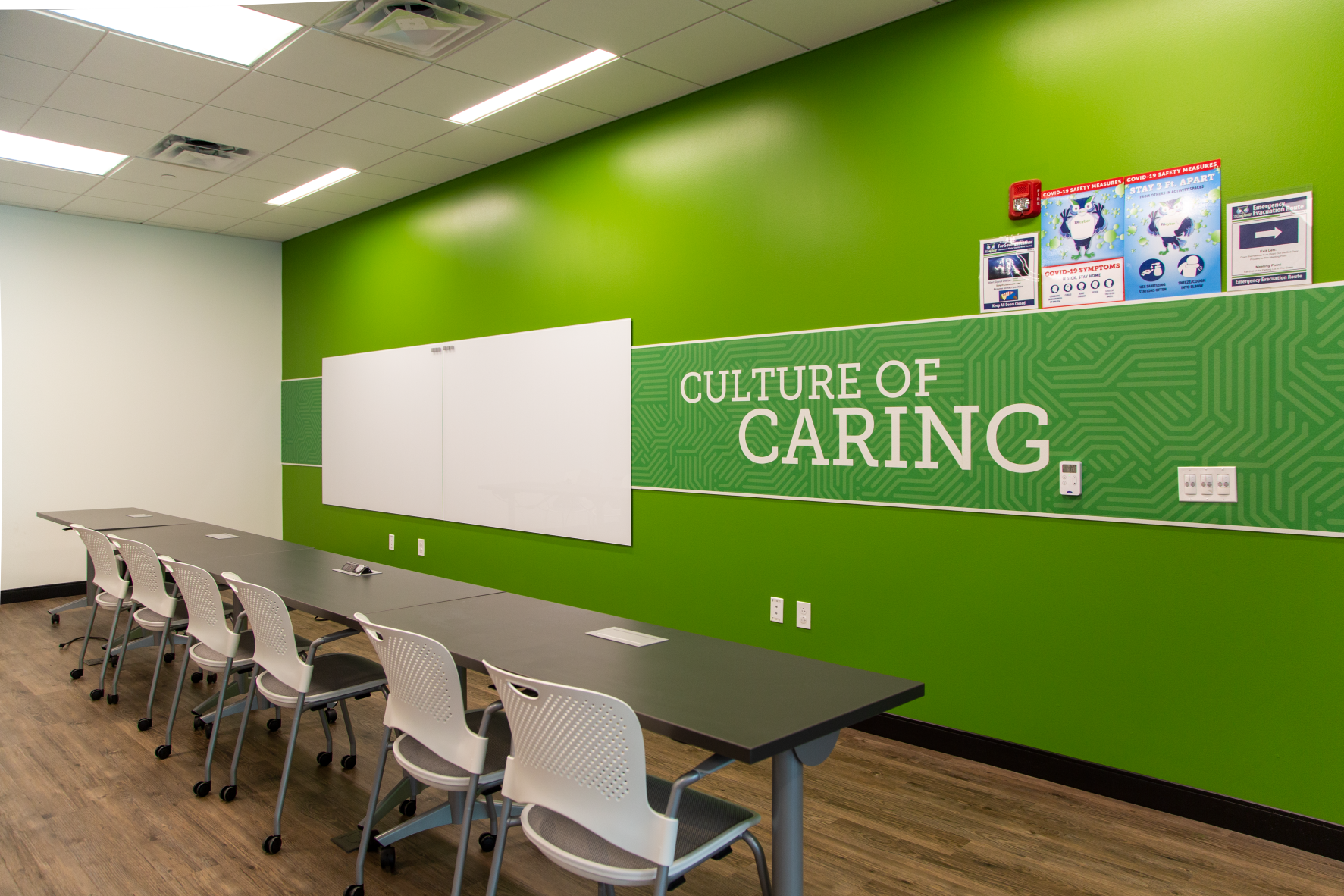 More featured branding in this classroom promotes what's important to PA Cyber, empowering students and instilling key values in each space.
(17/24)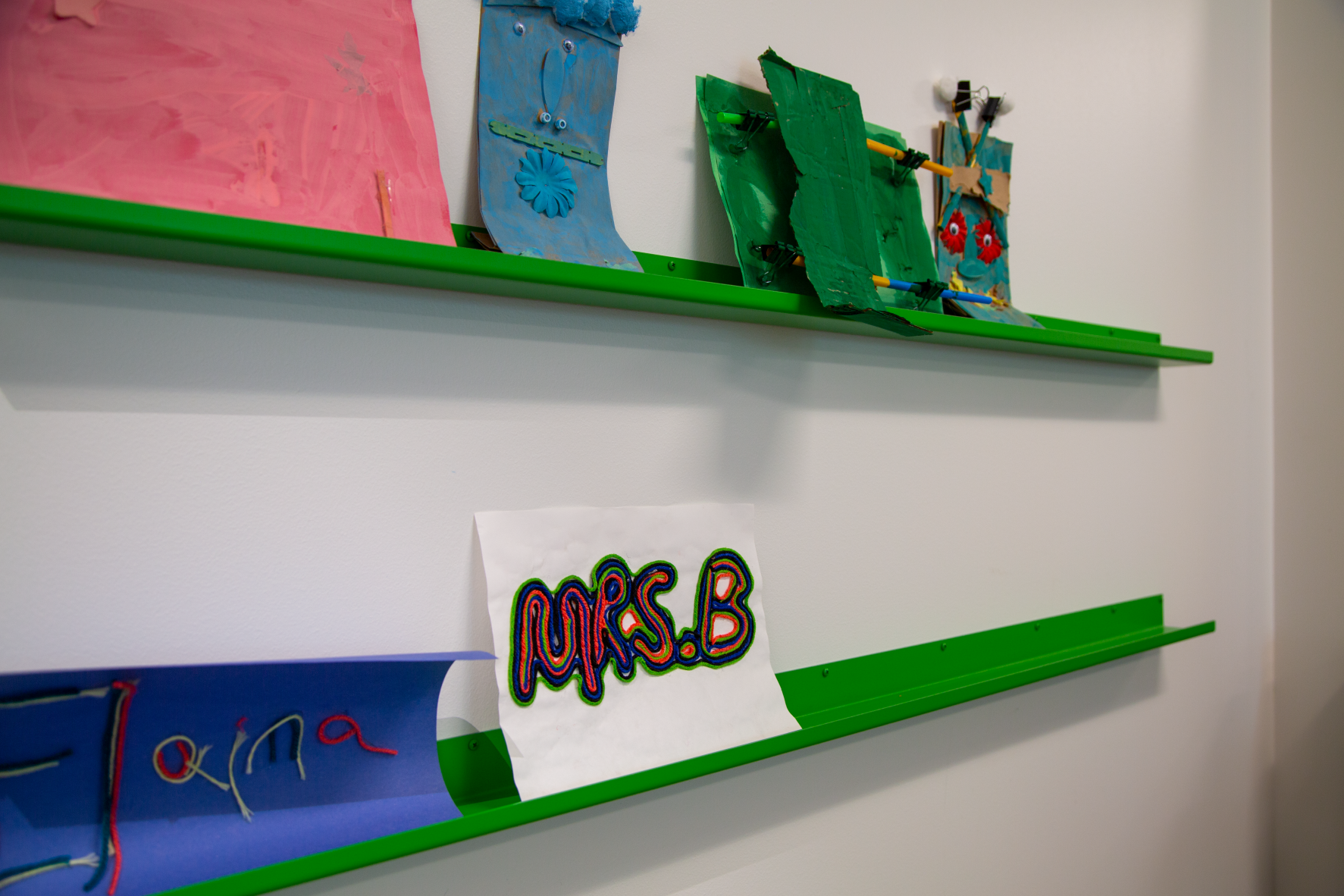 Seen above, the thin, color-matching shelving in this classroom is the perfect opportunity to feature some of the latest student creations.
(18/24)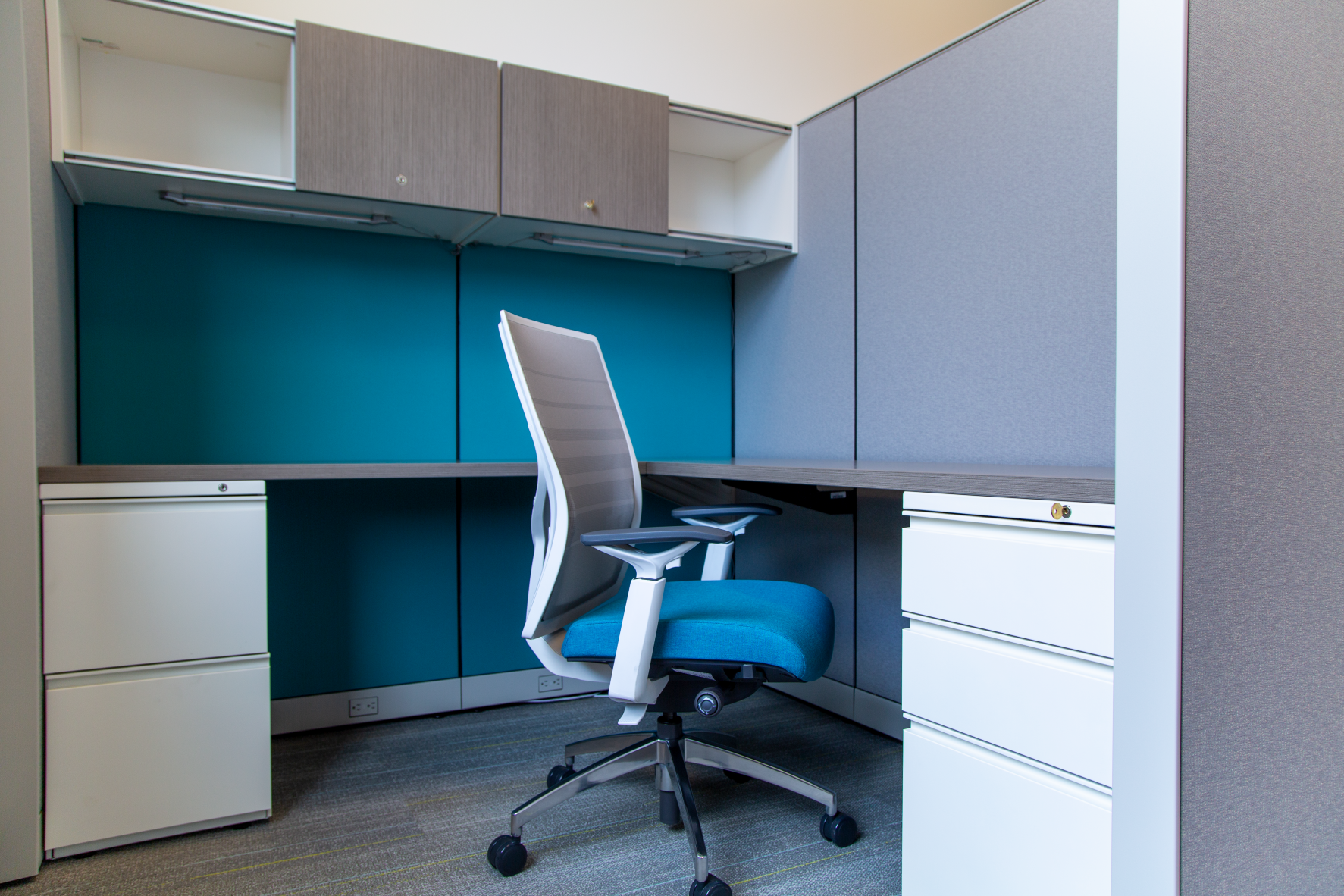 Aside from the classrooms, there are both private offices and cubicle areas (above), all staying true to brand with custom colors.
(19/24)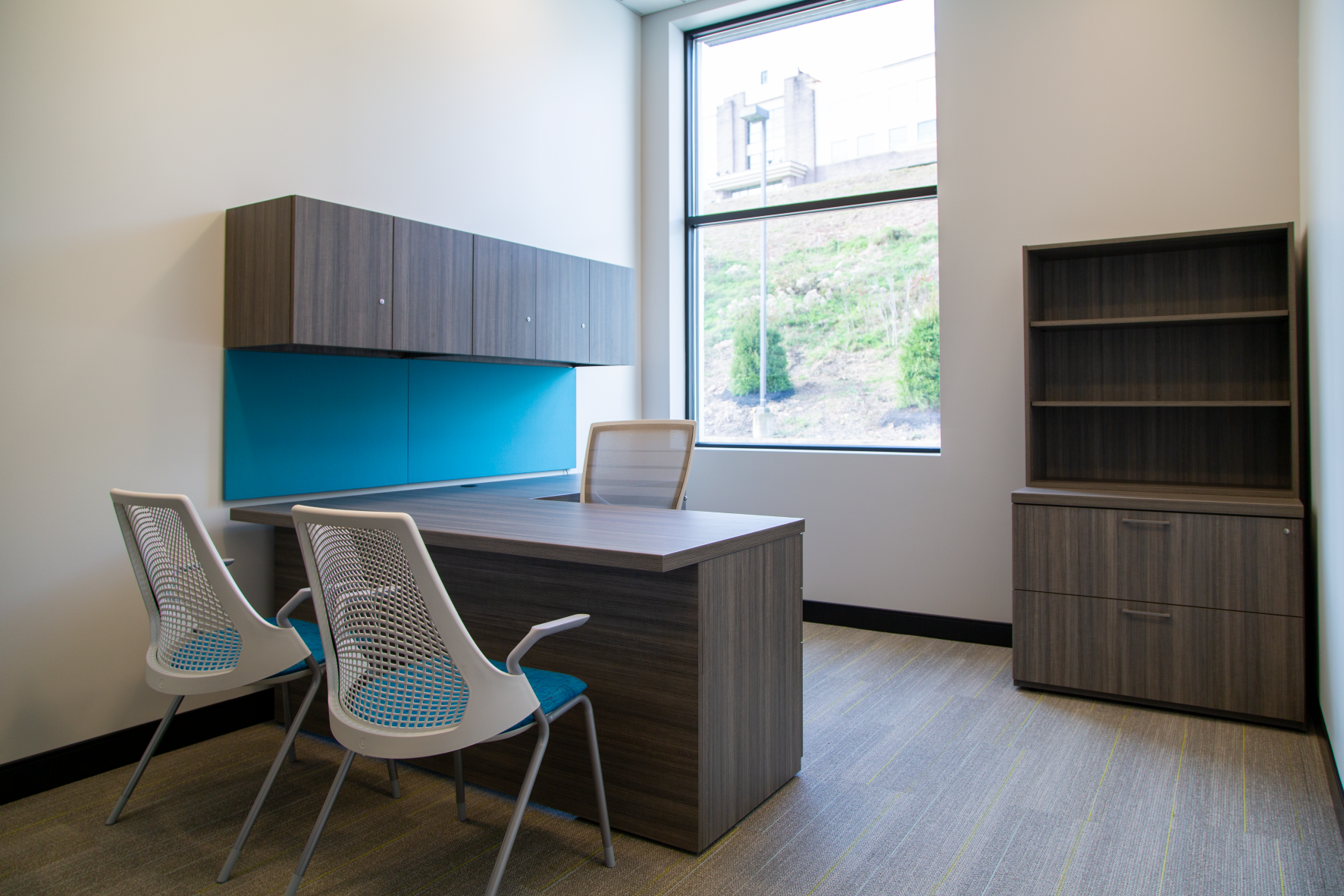 Even the private offices get a splash of color, with SitOnIt Torsa Chairs and Herman Miller Sayl Side Chairs adding both color and ergonomic comfort to the space!
(20/24)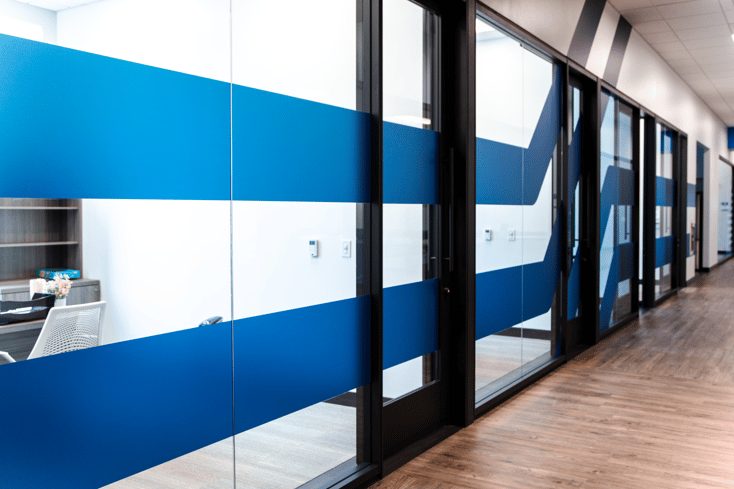 Stretching across the private offices, an enlarged version of the digital line motif adds both elements of color and privacy to this space, extending from floor to ceiling in this shining installation.
(21/24)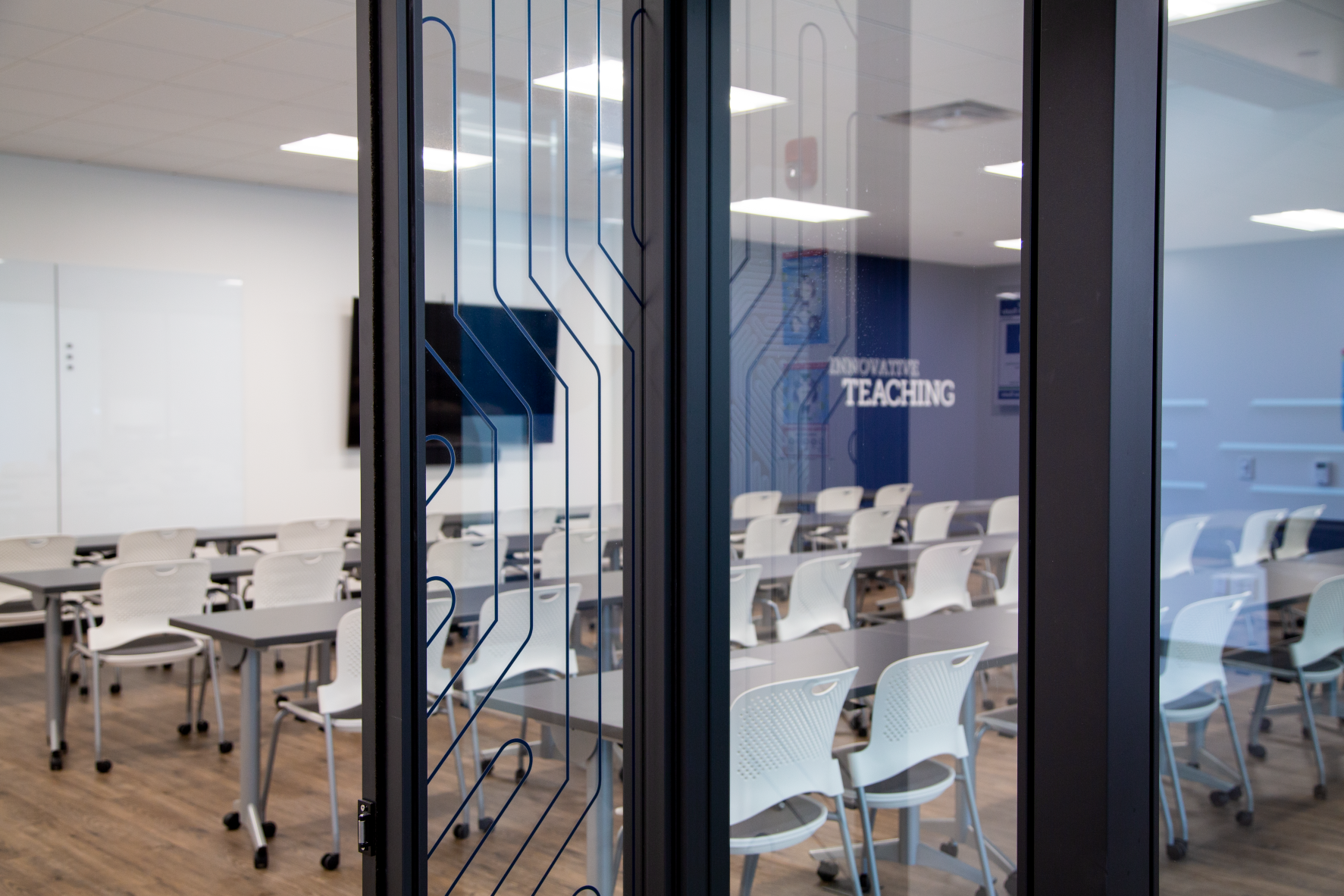 Glass doors create a wonderfully bright and airy feeling in any space, though they can sometimes be difficult to spot! On each classroom/multipurpose room door, you'll find the digital line motif providing an element of privacy as well as visibility, helping to prevent any accidental run-ins.
(22/24)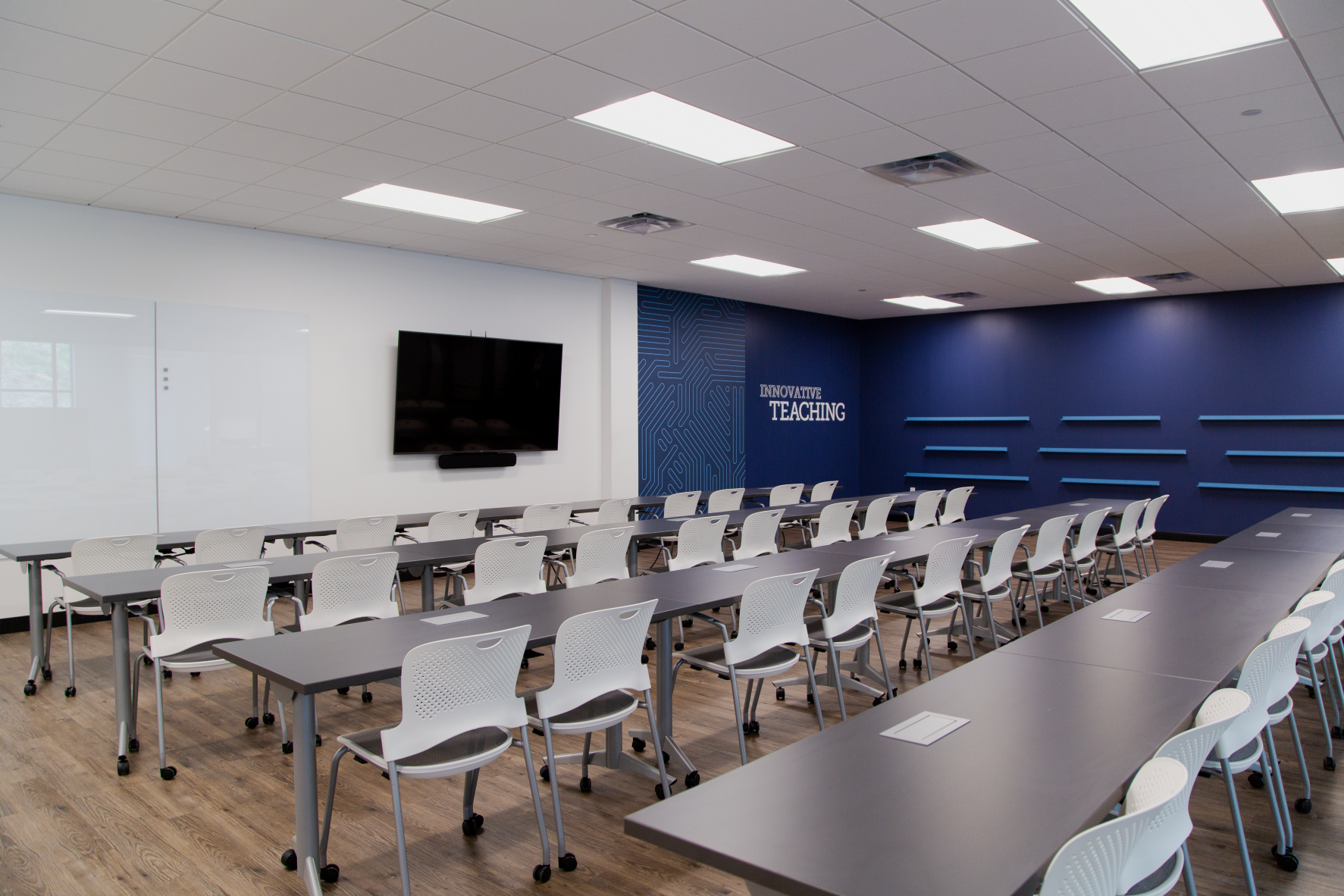 Stepping into the large multipurpose room, you'll find an expansive space for gathering and collaborating, featuring custom branding, Herman Miller Caper Chairs, and National WaveWorks Nesting Tables.
(23/24)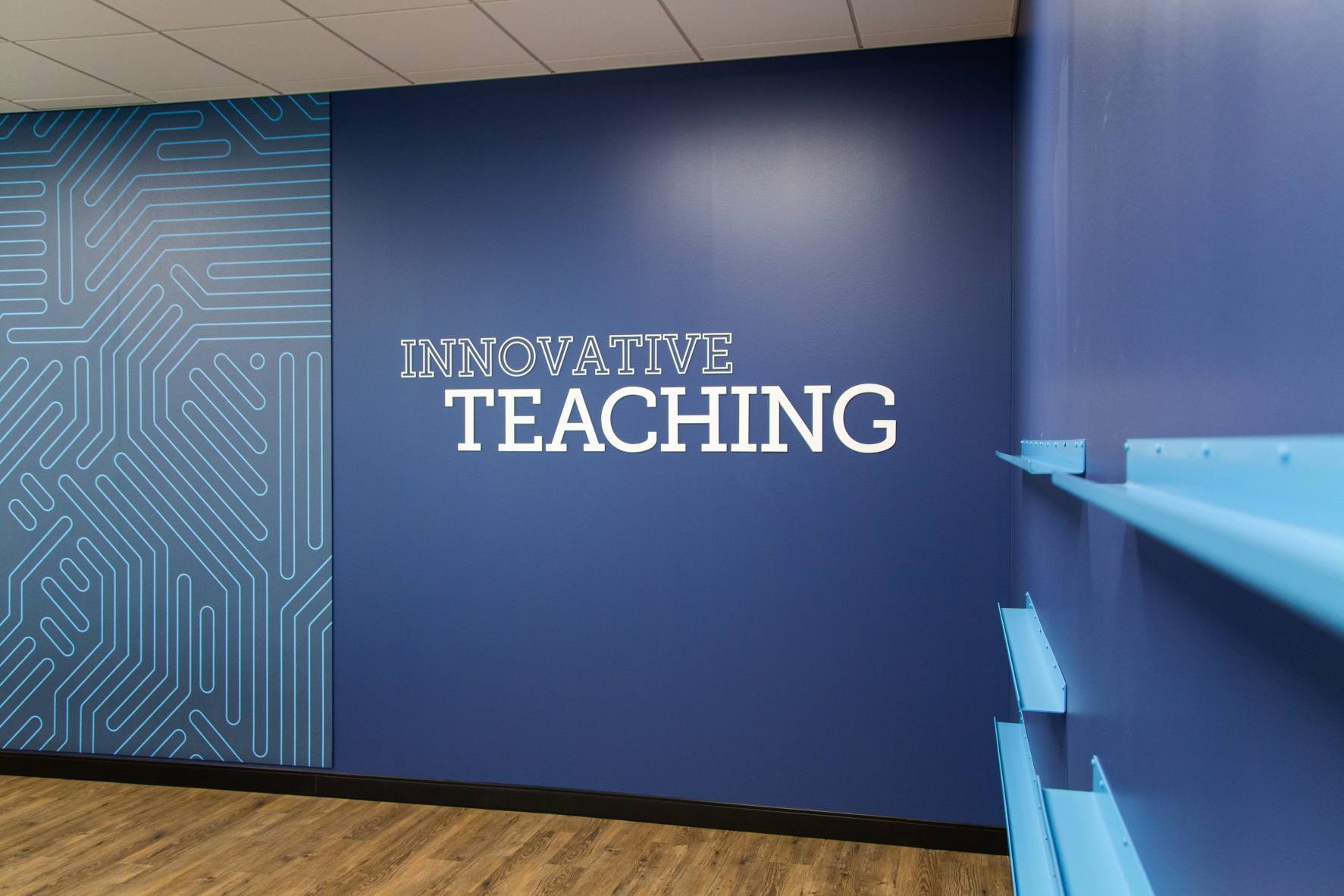 A branded touch in this corner ties in with more colored shelves, providing storage without sacrificing space in this room!
(24/24)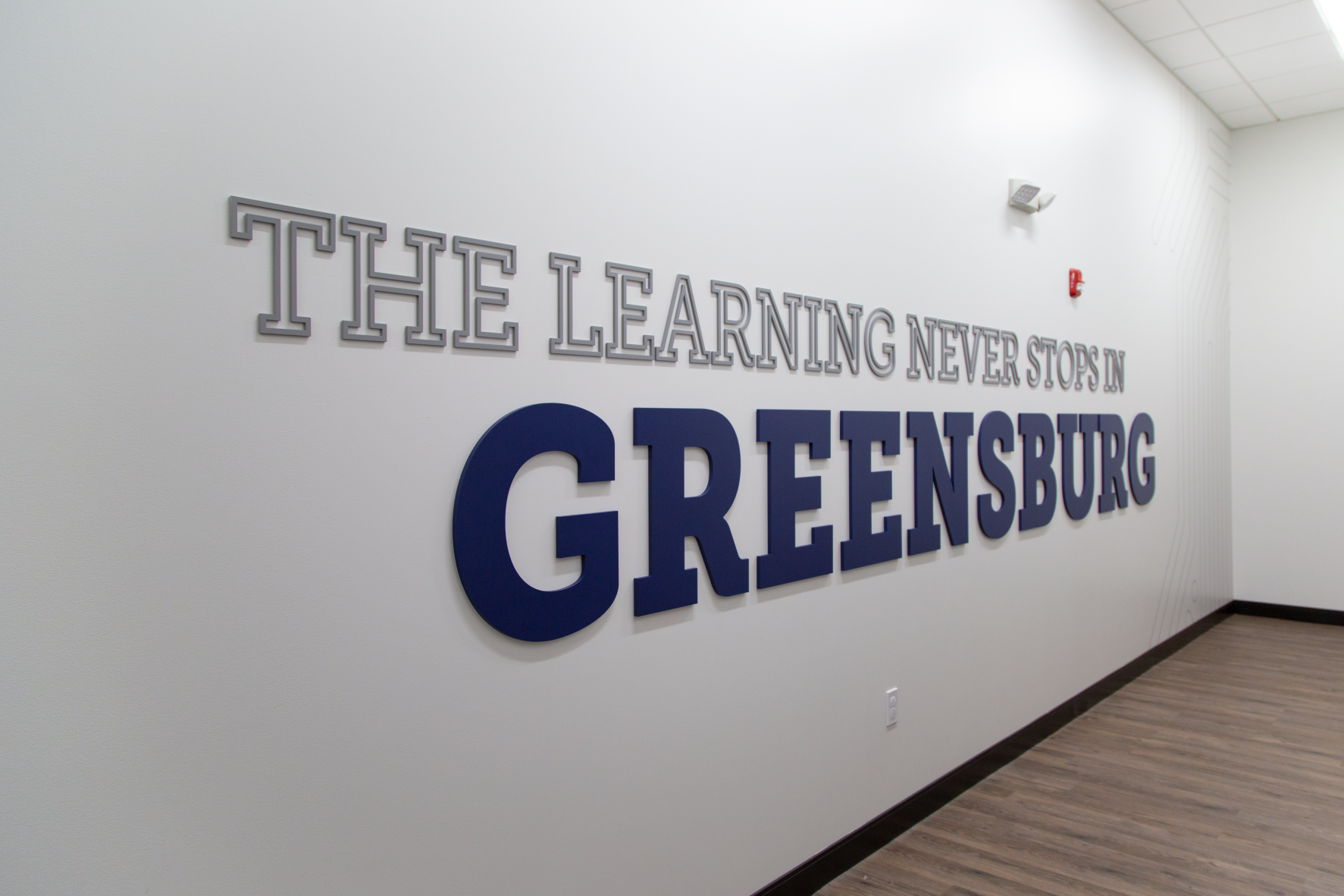 A final touch, this application ties in the PA Cyber slogan with the area, creating a unique identity for this special space.
Branding can have a tremendous impact on spaces just like these, from K-12 and higher education to offices, sports complexes, and more! How could Branding bring your space to life? Reach out, and let's chat about your space, your goals, and how we can help elevate your team to great heights!