How much does branding cost? It's probably the most common question we get asked by clients every day. It can literally be the "$64,000 Question." That's why I'm going to tell you the truth about branding budgets, even though it might not be what you want to hear.
Branding is generally not a tangible object with a per unit cost. Therefore, there is no standardized cost for branding. But, there's a lot more to it than that. We get it. Choosing a branding firm can be a bit complicated because firms tend to have varying offerings and value propositions. Branding means different things to different people and firms, because there are so many pieces and parts to a brand. Here's an easy way to think about it:
First, there are visual identity elements that define your brand like logo, color palette, graphic design elements, and typography. All are incorporated into your website and other collateral.
Second, are the verbal and strategic messaging components that speak to why you do what you do.
Third, is your brand positioning which is made up of your value proposition, attributes, benefits, and personality. It aligns with your vision and strategy.
Finally, and this is our area of expertise, there's the experiential side of your brand. It's how your brand is translated into an experience and brought to life within your walls. It speaks to both your internal and external audience.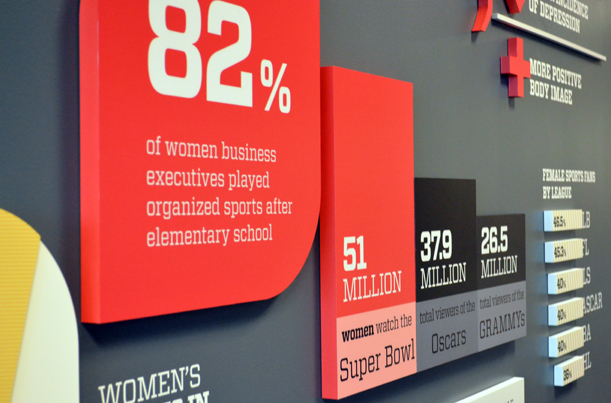 When an organization offers "branding" it may be referring to only certain aspects of branding. For instance, while we can develop logos and other pieces, we choose to focus on branded experiences that are created through excellent environmental graphic design. Prices can range anywhere from the lower end like a few thousand dollars to the higher end in the tens and hundreds of thousands of dollars.
For many, it's hard to know where to start and if you're spending your dollars wisely. It, rightfully so, makes many question Will I get better work if I pay more? How much should I spend on my business?
The question you really need to ask yourself is What are my goals and how much am I willing to spend? By identifying your goals, you know which piece and part of branding you need. For instance, if you already have an established brand, perhaps you're looking for environmental branding to give your associates and customers a great experience when they walk through your doors.

Ideally, our clients start with a budget range in mind. If we know your budget and goals, then we can design options to fit your budget rather than waste your time with concepts that would be out of your price range. We often tell clients that we don't want to design a Rolls-Royce when their budget can only afford a Volkswagen. (And Volkswagens can be amazing!)
Even if you think branding is too expensive for you, it's still worth a conversation. The best client experiences occur when our clients say, "I'm willing to spend X to achieve Y." If we know this up front, we can come up with good, better, and best options.
For us, it's all about having that initial conversation and determining (1) your goals and (2) your budget. Then it's our job to work within those parameters and design something really special and authentic to a company or organization's given brand.