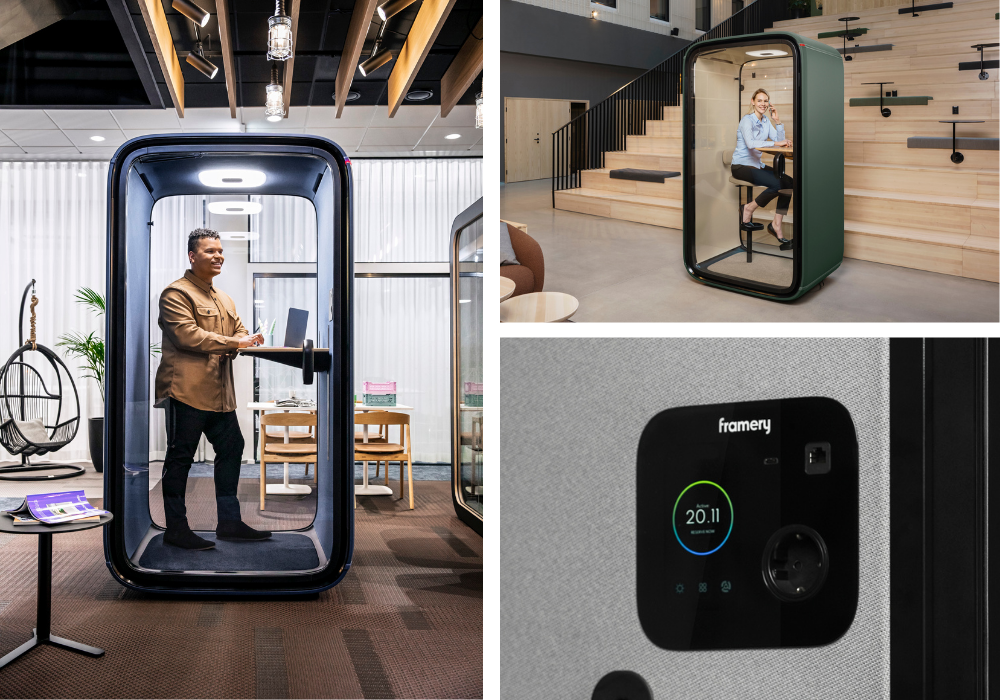 Have you heard about Framery's new One pod? You may know Framery as the masterminds of the soundproof pod, and you may have seen their other pods in action before, but the new Framery One pod takes things to the next level.
With Framery One, they've taken the best parts of their existing pods and added more technology and innovative thinking to create a connected, soundproof, futureproof space. Here are the top 3 things we really love about Framery One - what defines it, and what makes it such a special creation:
---
1.) Connected Like No Other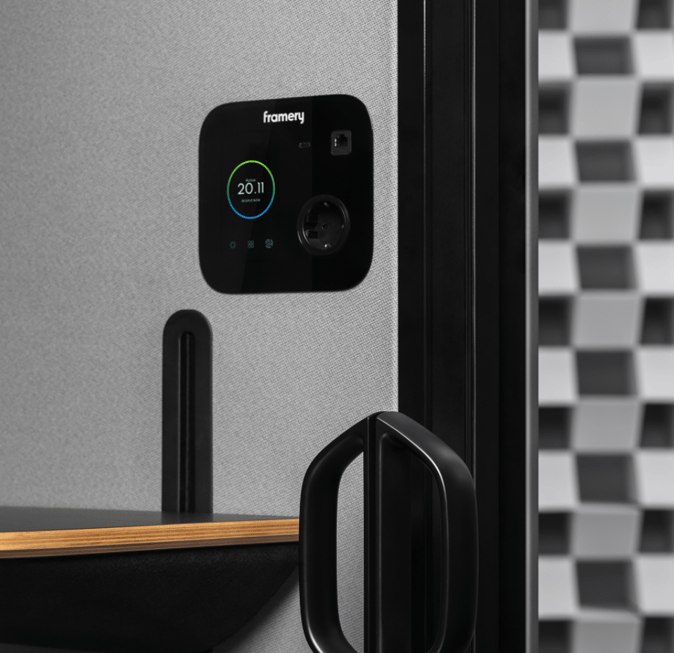 Framery One comes with the built-in technology that today's work demands. You can book a time to reserve a pod using your calendar system, or if the pod is free, you can step inside, and it will automatically reserve the space for you! The high-res touchscreen inside the unit allows you to control the lights and other functions with ease (we love how quickly this makes adjusting the pod to our liking).
Plus, there's Framery Connect, an all-new connected unit management system that can send usage data to better understand how Framery One works for your team, as well as automatically send service and maintenance requests to Framery if something needs help. It's a time-saving tool that makes it faster and easier to keep Framery One working for your team!
2.) Customizable Like No Other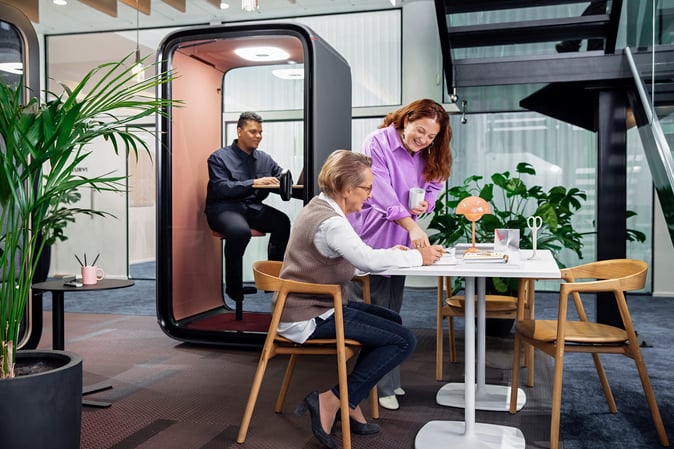 With Framery One, it's truly your pod, your way. Not only can you choose from an extensive array of colors and options, you can also choose your pod to be suited the way your group needs - such as having a built-in seat or opting for a standing desk, for example.
Frosted glass can add an extra layer of privacy to the occupants inside Framery One, able to be applied to one or both glass sides to create a truly private space. Inside and out, the colors and options are yours to make Framery One as unique as your space!
3.) Futureproof Like No Other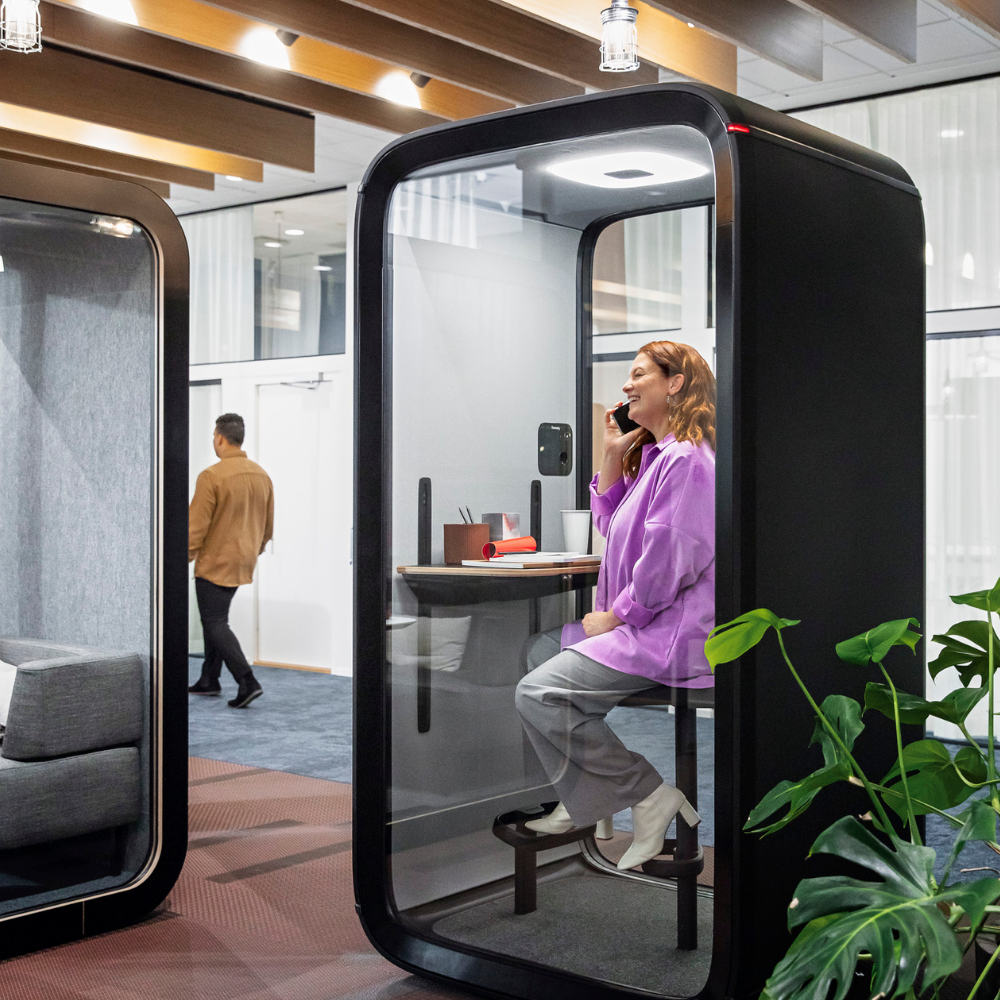 Above all else, we love Framery One for being the most "futureproof" pod yet. We know that the flexible nature of the future workspace means we need flexible spaces - easily adaptable, rearranged and repurposed for whatever future needs demand.
With Framery's portable nature, the pod can be moved and repositioned wherever it makes the most sense in your space, giving your team the kind of space they need (soundproof, connected privacy) wherever it makes the most sense. You don't have to worry about constructing a dedicated phone room or adding a permanent area to your facility with this kind of a space-saving solution!
With over-the-air updates, the technology packed into the Framery One pod will always be up-to-date. You'll always have the latest software and latest technology to keep your team moving forward, all without doing a thing!
This latest and greatest solution from Framery is a prime example of why we love them: providing us with innovative products that are solutions to today's work needs and in anticipation of what the future holds in store. Reach out to learn more about Framery and see how it could benefit your team and space!