What have you heard about the future of work?
Over the last year, we've heard a lot about the way we'll be working and the role of the office in the future. "What's really changing? Will we be working from home forever? What happens to my office?" Through the unknown, we've seen some questionable claims about the future rise in popularity, but throughout this pandemic, we've been keeping in touch with our clients and conducting research of our own to help us all plan for the best possible future - and now, our latest research is published and ready to help!
The Future of Work highlights key takeaways from this latest research, and it helps us make sense of and understand what our employees want out of their future work experience. Using this data, we've been able to form a clearer vision and learn more about what the future of work will actually look like. Now, let's take a look at some of those more questionable claims about the future of work, and with our data, let's bust some of those myths:
---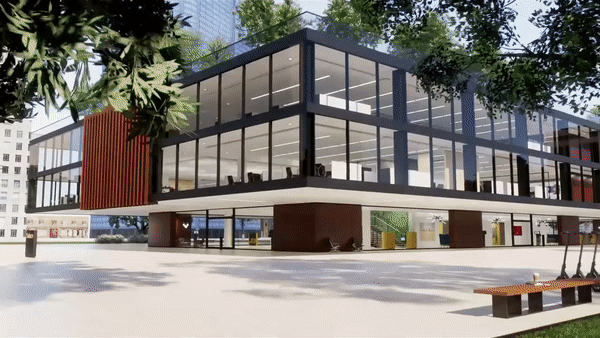 Sulaco's Distributed Work Model incorporates both a main office and home office into their work experience


"Wow... we're getting so much work done at home. Why would we ever go back to the office?"
In the news, on social media, and in every professional organization, we heard the uncertain rumbles about the future of the office. What role does it play in the future of work if we're all working from home or wherever we want?
First and foremost, our research found that the office is not dead. In fact, the office is proving to be more important than ever, with a more defined and critical role in the future of work. The #1 response we received about how employees want to work in the future was exactly in line with what we've been seeing, hearing, and helping our clients to create: a distributed, hybrid work model where some work happens in the office, some happens at home, and some may happen elsewhere, like a co-working space. It's both a celebration of technological advancements and a welcoming of this new era of work that will empower our teams to perform the right kind of work in the right kind of space, ultimately leading to increased productivity, employee engagement, and a better work experience for our teams!
Our survey found that, in actuality, a lot of people want to be in the office. Just 24% wanted to exclusively work from home in the future, and the majority wanted to have the physical office space incorporated into their work experience. 91% said it was important (61% said it was very important) to have an office that they could go to for collaboration, meetings, resources, and gatherings, and some of the things that people missed from the office were the social aspect of being with coworkers (72%), visiting/meeting with customers and clients (49%), and having an easier time with mentoring/training opportunities (31%).
The last year has highlighted exactly what we've missed by working from home, and it's shown us why the office matters so much. The office is the place for collaboration, meetings, and coming together. It's the place where a team's culture is fostered, and it serves a vital role in the distributed work model of the future.
We heard this repeatedly in the Spring of 2020 - that the younger workers were more happy working at home and didn't want to return to the office, whereas their older counterparts were thought of to get better work done in-office and disliked working from home.
Our research found that this simply wasn't true. Only 13% of those aged 65+ actually wanted to be in the office full-time; just 15% of those 55+ (and just 9% of the total survey respondents) wanted to be solely in the office. Today's workforce wants both: a hybrid, distributed work model where some work is done in the office and some is done at home (49% of respondents wanted this particular work model in the future, an amount more than twice as high as the next-most-desired work model).
The distributed work model means that work is happening from different locations, not just the main office, and while the pandemic certainly brought it into the spotlight, it's part of a larger trend that began years ago. We know that the main office and the home office will have different resources, with one being traditionally more work-focused, and some changes may have to be made to empower great work from home.
We know our teams want the ability to work remotely; 85% say it's important to have the choice to work remotely (62% say it's very important), with some of the most common aspects that people liked about working remotely being the elimination of commute times, fewer distractions, and flexible schedules (82%, 79%, and 75%, respectively). With that said, our teams need the same sort of resources that the office has to work their best; 79% said they would be more comfortable and more productive if they had a better, more ergonomic home office setup, and 70% said it was very important to have the technology to make remote work better in the future.
WFH has its place and serves a purpose, just as the office does. We know the office is where collaborative work happens, and it's where culture is created and kept. Leveraging each kind of workspace your team uses for its strengths, and understanding what parts of your team's work is best done where will lead to the most productive, most efficient, and most engaged future work experience.
With all of this in mind, we know that there is no "best" way forward for all companies. Every group is unique, and each team's needs will vary from company to company. That's why we're working with our clients to find how their teams work best, using studied assessments and analytics, and we've been able to help our clients (and ourselves) find personalized solutions for working well in the future.
Check out the full Future of Work Survey Results here, and let's talk about your team to find your best way forward!