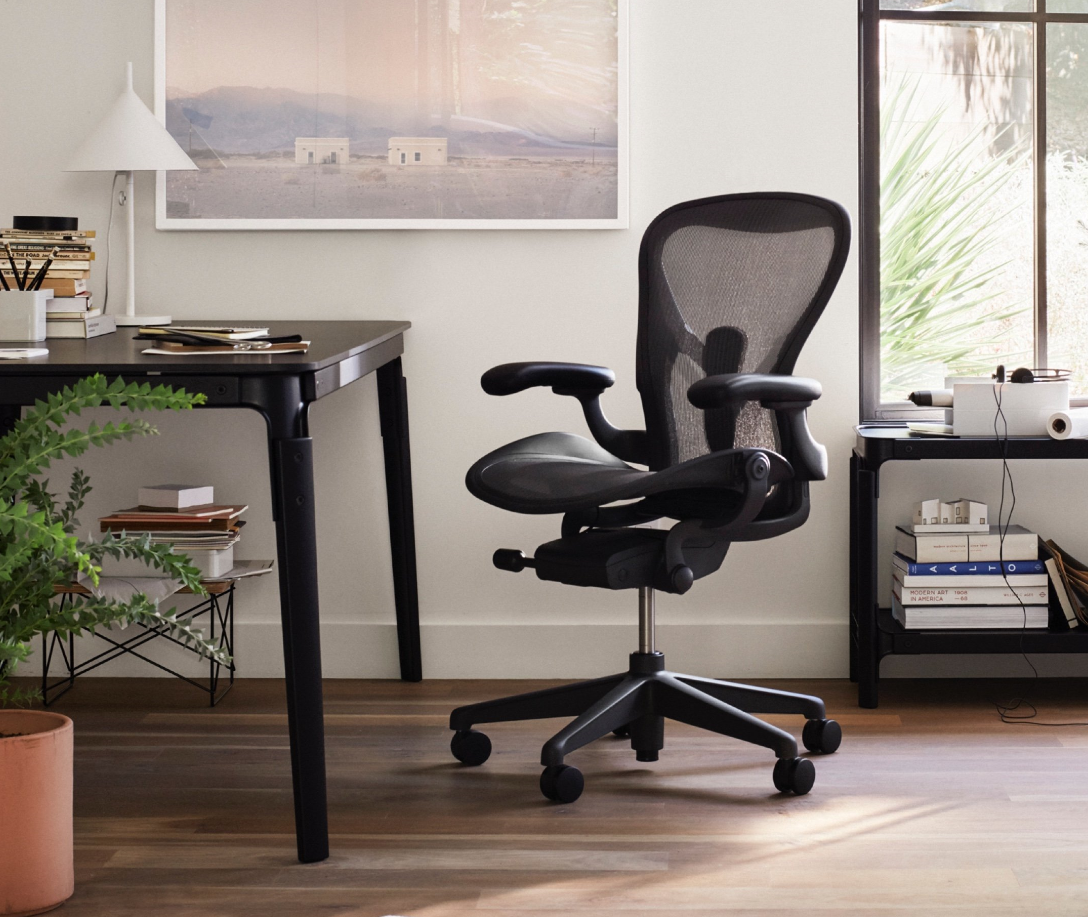 In theory, an inexpensive big-box store chair for your home office might make sense. They're typically a less-expensive option, and who cares if they're not that comfortable or if they break - they're cheap to replace, right? Think again.
In reality, there are so many reasons why a chair like that is actually setting you up for failure, affecting everything from your comfort, productivity, wellness - even your bottom line! Here are some of the biggest reasons why a proper office chair is crucial for your WFH setup and how to make ergonomic comfort within your reach:
While the initial price may be appealing, there's a reason many of these chain-store chairs are so cheap: they're not made with nearly the same level of ergonomic design and wellness in mind, which is hurting you in more ways than one.
Ergonomic chairs are built to be more than just comfortable - they're designed to work with your body and promote blood flow, better posture, and overall, holistic wellness.
There's a reason that, for many who began working from home without a quality chair, there was resounding discomfort as workers missed the office chairs their companies provided. Ergonomic chairs keep you comfortable as the day goes on, helping you stay more productive and working better for longer, compared to some of the less quality-focused alternatives out there.
2.) A Good Warranty Keeps You Worry-Free!
We don't expect things to need serviced or fixed when we buy them, but if and when the time comes, having a solid warranty straight from the manufacturer will keep your mind at ease! Knowing that your chair will keep you comfortable as the years go on makes it a sound investment, and it's something to pay attention to when selecting your next chair!
Herman Miller, for example, stands by their products with a 12-year warranty; if anything needs remedied, just give your local dealer like us a call, and we'll work to get your chair back in tip-top shape - all at no cost to you! What's the warranty on that big-box store chair? Often, these claims processes can be complicated, the warranties are non-comprehensive, and some chairs are excluded altogether from companies' warranties! Make sure to pay close attention when picking out your chair, as that lower purchase price matters a little less when you have to re-purchase the same chair just a few years later!

3.) Ergonomic Doesn't Equal "Expensive"
There's a common misconception that ergonomic office chairs are often out of reach for most home-office users. However, there are plenty of ways to find an ergonomic chair that keeps you comfortable, productive, and healthy, all without breaking the bank!
Financing and leasing options can provide ease of entry to ergonomic comfort. We're proud to partner with Leaf to provide various options to fit your team's needs, including the finance of your whole purchase at very low monthly payments and leasing options to get your employees the comfort they need.
Additionally, we're proud to partner with our pre-owned affiliate, bringing you some great WFH options that are fully reconditioned, cleaned, and ready to go for years to come! Chairs, desks, and everything you need to work your best while feeling your best - we've got you covered! Reach out for more info on these options, and check our latest inventory and see how we can keep you comfortable without breaking the bank.