Over the past decade we've seen dramatic changes in healthcare construction in terms of demands and delivery. This extends to cost factors and green building requirements, which are having a profound and exciting impact on the development of healthcare facilities. Changes are often difficult to predict so new buildings are being designed to be flexible and adaptable. It can get especially tricky with the redevelopment of existing buildings. Those responsible for redeveloping existing buildings know it can adversely affect air quality or have long construction timeframes.
However, no matter what your individual needs are there are a couple of things that apply to all healthcare facilities. Regardless of whether you have an existing or new facility, it's important to meet today's green building standards and create an attractive work and patient environment. That's easier said than done though, right? Not necessarily.
Prefabricated interior construction is changing the world of healthcare construction with a technology-driven approach to building better. It can improve building performance and reduce the waste creation typically associated with conventional construction. Other benefits include cleaner air during construction and the ability to adapt to changes based on your evolving needs.
Perhaps the most impressive benefit of using prefabricated construction is its people-first approach. In all construction projects it's important to understand the human factor, but in healthcare this understanding is truly paramount to the design. Design impacts patients, staff, and even visitors. This includes giving nursing staff more control over their environment and creating a more caring, less clinical environment. Look at the stark difference below between a hospital room that was built using traditional construction methods and a patient's room that was designed using prefabricated construction technology.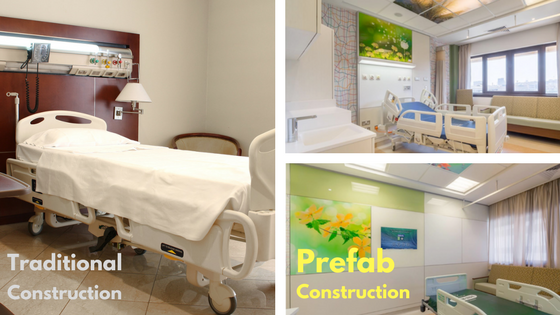 Construction leaders like DIRTT, a prefabricated construction company who challenges us all to build better, give you the option to experience design freedom so you can focus on human needs. From countless surfaces and finishes to patient-centered design solutions tailored to patient care in a warm and welcoming environment, it's a prefab construction solution that puts people first. It's a belief in a holistic and patient-centered design approach that balances medical needs with personal factors like patient demographics and family situations. In the end, it supports maximum design freedom to build environments that truly support healing and health.
Watch below to see a case study about how prefabricated construction positively impacted Spring Hill Maternity Hospital in Alabama. You'll hear patients and staff discuss how it has improved patient numbers and scores, while having a minimal impact on the facilities during the build.
As the world of healthcare construction and design continues to evolve, prefabricated construction gives you choices and options you haven't had with traditional, conventional construction. More and more, healthcare funding largely depends on patient satisfaction and outcomes, but perhaps we should all make an effort to build better not only for our bottom lines but also because it's the right thing to do.