Talisman Capital's combination LVT and carpeted flooring
The world of flooring for commercial use has exploded in recent years! There seem to be unlimited options when it comes to looking for the right fit for your space, and with so many choices, it can become overwhelming to find the perfect material to suit your needs (not to mention the color, cut, and design!)
We sat down with a member of our flooring team to get the inside scoop on what materials and finishes are currently trending. Using their insight, we were able to formulate a guide of some of the hottest floors offered (with some extra nuggets of knowledge to streamline your flooring journey!) Whether it's the most durable or the most beautiful, we've outlined the 5 most popular flooring options in spaces today - sometimes with a few of them combined together in one space - so come along with us and learn what makes each of them so unique:
1.) Luxury Vinyl Tile





Custom "under the sea" LVT for Pointview Elementary
Technology of vinyl has advanced, allowing you to get very close to the look of natural wood at a reduced cost. Vinyl can also come in decorative patterns and is often more resilient to damage than normal hardwood!
Pros: Flexibility in design, easy upkeep, relatively inexpensive
Cons: Can be hard to remove, can fade in certain conditions (e.g. direct sunlight)
2.) Ceramic Tile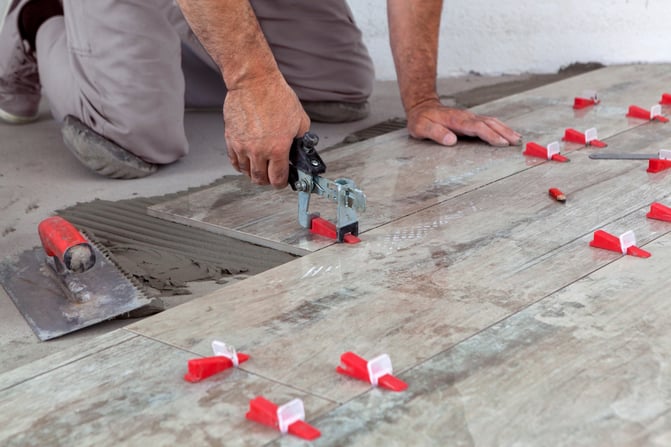 Ceramic tile is not just for bathrooms! It can also be used to create custom, beautiful designs for any space. Tile is arguably the most durable of the flooring options, especially if it's glazed, which allows for natural waterproofing. There are so many different looks you can create with tile, using colors and different patterns based on the cut and placement to craft a truly unique space.
Pros: Durable, waterproof, many design options
Cons: Fading art form; it can be difficult to find talented installers
3.) Carpet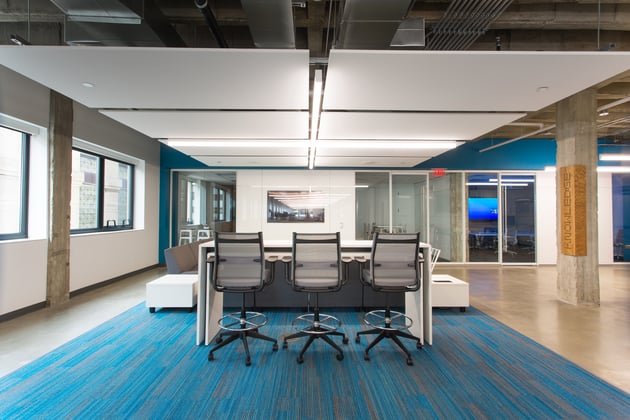 Encova Mutual Insurance shows off their combination sealed concrete and carpeting
If you have a large office space to cover, carpet might be your best option. If your office has a significant number of employees taking calls or meetings, carpet will aide in noise reduction for the space, reducing echo and vibrations. On the flipside, upkeep is more involved with carpet as it is less durable compared to a material like tile, needing to be cleaned more often and checked for any water issues. Carpet manufacturers (like Shaw and Tarkett) often carry LVT as well as carpet and other materials, pairing well together across the floorplate to create seamless transitions.
Pros: Noise reduction, easy replacement, customization with LVT
Cons: More prone to moisture problems, needs more frequent cleanings
4.) Engineered Hardwood

Hardwood floors featured in this multipurpose open-air workspace
Engineered hardwood has a different structure than the residential hardwood that you may be used to! It consists of natural wood on the top and bottom layers with 5-7 layers of plywood in between. While this can greatly reduce the cost compared to natural hardwood flooring, its composition prevents it from being refinished, reducing the comparative lifespan.
Pros: Beautiful, luxurious features
Cons: Somewhat difficult upkeep, slightly less durable than hardwood, more prone to moisture problems, can get expensive
5.) Sealed Concrete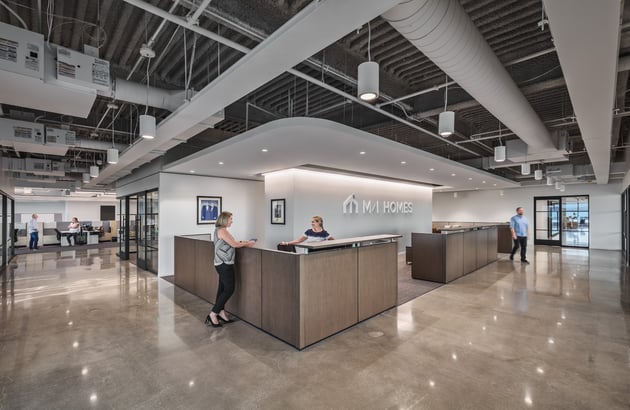 Freshly polished sealed concrete in the M/I Homes headquarters
Industrial design has become a well-loved interior trend, not complete without a sealed concrete floor! There is no better pairing for exposed beams and a mixed-use space than the beautiful look of a finished concrete floor. From office parks to industrial parks, and from smooth polishing to a gritted, durable finish for hard-working spaces, concrete can be the modern answer for just about any space!
If you're looking for a more high-end and customizable option, explore terrazzo. Terrazzo is 100% custom-made for each space and allows you to pick chip size, color and material to get mixed into your aggregate, creating a completely unique feature for your space. One of the most famous uses of terrazzo: the Hollywood Walk of Fame!
While concrete and terrazzo are similar in their binding process, both maintain a distinct look and feel suited for their respective spaces, with terrazzo featuring much more of the shine and glimmer of the various chips of stone, quartz, granite, or other beautiful aggregate that's mixed in.
Pros: Great for maintenance areas and mixed use
Cons: Finish rubs off, must be ground and grouted yearly
After you find the proper flooring for the needs of your space, take it a step further and make sure you have the correct maintenance plan in mind! Especially in climates like the midwest, colder weather and high foot traffic will be joined by sidewalk salt, dirt, ice melt, and moisture from snow. This puts a strain on many flooring surfaces if not cleaned and treated quickly, making it all more important to get your flooring surfaces cleaned and sealed regularly to make them last for years to come!
---
Thinking of making your space even greater with the addition of one of these flooring options?
Reach out for more info and to see the options in customizing your own!