Chances are, your organization wants to use sustainable options to create an inspiring workspace, but your decision-makers may not be sure how to do so. If you're looking for a flexible option that can adapt to your space over time and meet your needs, DIRTT manufactured interiors provide a smart, sustainable solution for your company.
DIRTT is an acronym for "Doing It Right This Time" in reference to the ways we are able to give clients and the interior construction industry a new way to build better. While traditional construction may be a suitable option for some projects, it may not always be the most sustainable option for those organizations who want to grow or change with their space. It can also be difficult to use as technology changes. DIRTT provides a different choice for companies who want a sustainable alternative that can evolve.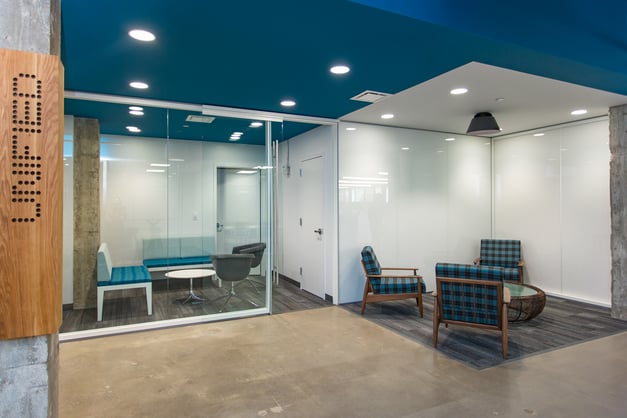 Each DIRTT project is custom-built for the end user. This approach helps reduce waste, specifically in cost, time, and resources. With DIRTT, there is no cookie-cutter approach to building out spaces. DIRTT provides the ability to have a truly custom solution in a new or existing space, large or small, providing the designer and client with the ability to control the final product. As a result, this creates additional opportunities to reduce waste.
Part of DIRTT's philosophy developed from learning what conventional construction fell short on and integrating those shortcomings into a solution. Many of these improvements directly affect a sustainable approach to building, including:
Use of technology: ICE® (DIRTT's design software) calculates every detail to design, price, manufacture, and install. This technology is so accurate that it helps substantially reduce waste versus the typical 15% waste that traditional construction produces.
Speed of install: Achieving a sustainable solution also means your investment in labor and time should be sustainable as well. DIRTT arrives on-site ready to install and only requires a small construction crew and much shorter installation time - resulting in lower labor costs and the ability to make changes quickly and with little impact as your organization evolves.
Use of less real estate when space is maximized: When DIRTT solutions are configured around an existing space, it allows designers to work with end users to capitalize on the space. This minimizes real estate costs and the impact on the environment.
There are many environmental and sustainability benefits when using a DIRTT solution. The choices you make for your workspace today can have a tangible effect on the future of your organization's environmental footprint.