In our line of work, we hear all of the arguments for and against the open office plan. That's why we don't push for open offices. Instead, we tell our customers to provide choice and flexibility. This means listening to your employees and providing settings and spaces that are right for them. Every office is different, and should be designed based on how we as individuals work. That said, providing choice and flexibility can - and most likely will - result in a mixture of private and open settings. But, how do you truly make your employees feel happy about their environment? And, what is their biggest complaint?
Our own research conducted in 2018 tells us that 88% of today's workforce wants privacy, but at the same time 85% want settings that allow for collaboration and working together. So how do we, as leaders in spatial environments, accomplish both?
The reality is work is changing vastly and quickly. What's relevant in one office may not work in a different office. What works in an open office plan may not work in a multipurpose space. Our job (meaning all of us: end-users, facilities, architects, interior designers, human resources, etc.) is to create great spaces that provide the best employee experiences. However, everyone is different. There's no magic blueprint that works for all. But, what if there is a common cause for employee unhappiness that holds true across all industries and organizations? The problem - noise in offices.
"What if there is a common cause for employee unhappiness that holds true across all industries and organizations? The problem - noise in offices."
Today, 70% of people work in open plan offices, and 50% of them find the lack of sound privacy the most frustrating aspect of the work environment. Studies show that noise can lower productivity significantly on average by 10%, but in some more extreme cases that number jumps to 35-50%. What can be even more frustrating is interruptions in work flow occur on average every 11 minutes, and it can take up to 25 minutes for a person to refocus on the task at hand!
In fact, the biggest cause of lost productivity in open workplaces is 'conversational distractions.' These distractions are mainly due to phone calls and random meetings that take place in open office plans. Overheard conversations are the worst offenders for interrupting effect in work flow.
"Overheard conversations are the worst offenders for interrupting effective workflow"
So if 70% of the worlds' employees are currently working in open office environments, how do we reduce the noise and make people happy? Enter Framery, a pioneer and leading company in manufacturing and developing soundproof private spaces and pods that enables and reinforces happiness in the workplace. It's furniture products work within any space to solve noise and privacy issues in dozens of the world's leading brands' offices, including Microsoft, SAP, Deloitte, PWC, and many more.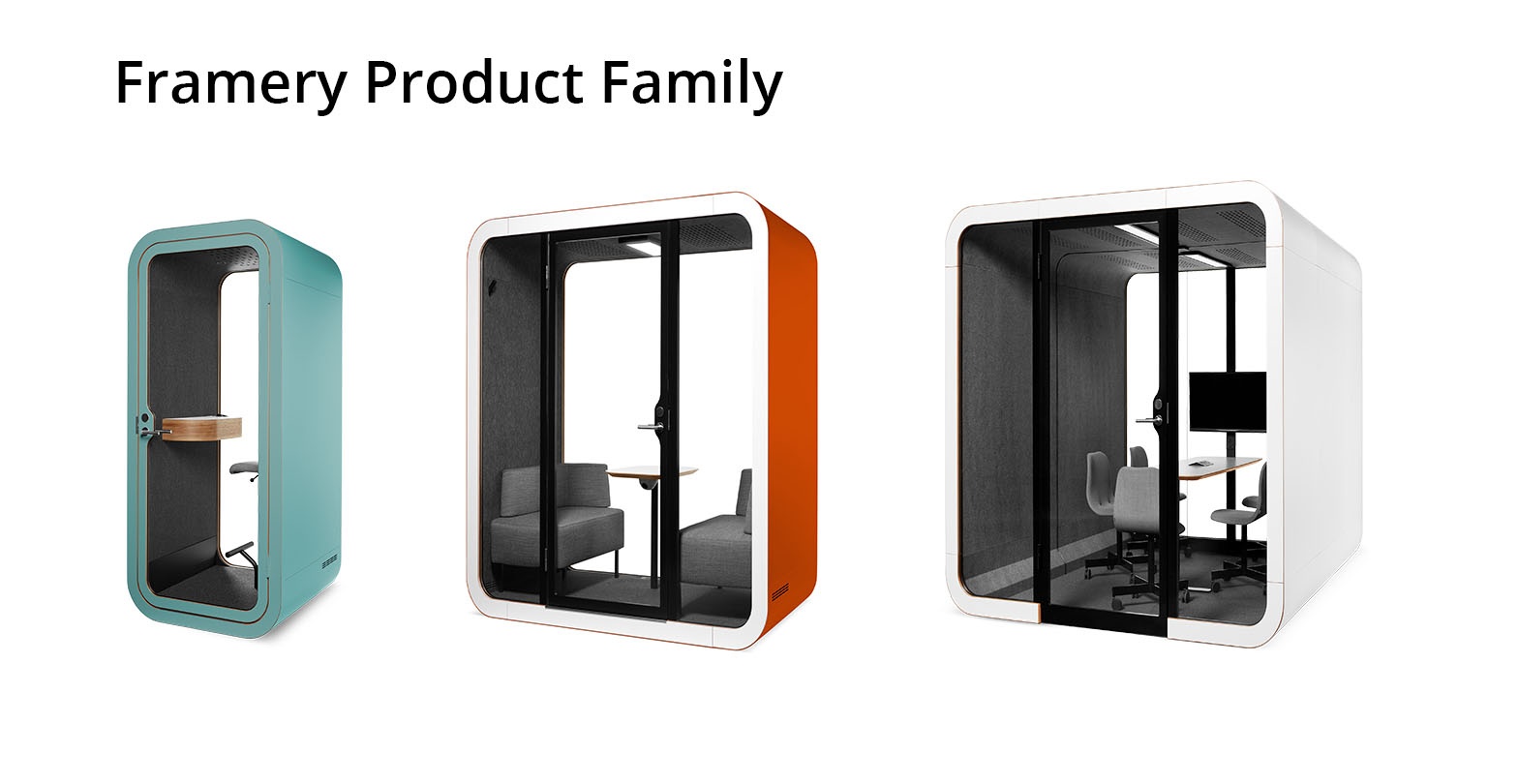 Research confirms that personal productivity drops when there are distractions at the office. It's been recommended that open office plans should be complemented with many, easily accessible quiet workshops. It's about answering the needs for privacy and concentration.
Studies show, reducing conversational noise in the office results in:
48% of employees have an improved ability to focus on tasks
They experience a 51% decrease in distractions
Workers have a 27% decrease in physical symptoms like high blood pressure and increased heart rates
We know if two companies are vying for the same applicants, those applicants will choose based on where they think they'll be happy. Happiness wins hands down. Happy people produce better work, and better work generates success. That's why it's critical we find new ways to give our people privacy and collaborative spaces.
Framery is owned by Finland-based Vaaka Partners, it's founders and management team, and has received several prestigious design and growth awards over the years. Framery was established in Finland in 2010. All of its products are proudly designed and produced at its Tampere headquarters.