We recently had the chance to talk with Tim Straker, VP of Marketing and Global Customer Experience at Herman Miller, about what the client experience is, why it's so important, and how everyone in an organization can impact it.
Client/customer experience seems like a new term people are throwing around. What is it and why is it important?
The idea of managing a customer experience is indeed a popular area of focus. For Herman Miller, our goal is to deliver a consistent customer experience everywhere our customers find us. In showrooms, at global and regional events, online, and of course through our dealer partners around the world.
What's the difference between the associate experience and the client experience?
Ideally, there shouldn't be a difference. There isn't for us. When you visit a Herman Miller showroom, or our headquarters in West Michigan, the types of things you experience as a guest are the same attributes enjoyed by our employees. Our concierge is there to welcome both. Our manicured outdoor environments are meant to be enjoyed by all. Our coffee bar amenities are designed to be enjoyed by everyone. The confluence of employees and customers makes the experience rich, real, and relatable. We're not a stage where theater is produced. We're a Living Office designed to be inviting and engaging to all.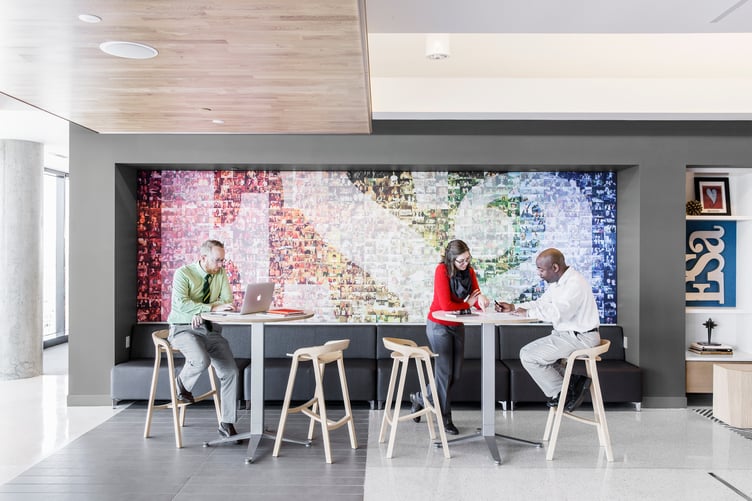 What are some steps you've seen organizations take to focus on the client experience?
For us there are subtle shifts. Like having a concierge to invite guests in versus a reception desk to keep people out. Or more substantial shifts like creating bigger centralized plazas, or more usable circulation space where meaningful interactions can occur. When an employee break room is in a dark corner in the back of the building, people retreat into the space. Proving bright, open, collaborative spaces to meet, greet, and share creates positive energy and reinforces the idea of community. Employees appreciate it. Customers feel it.
Are there keys to success when delivering on a great client experience?
Customers should be cautious to not create a false sense of "theater." It's like when we were kids and we had a beautifully designed living room that no one was allowed to use, and therefore felt roped off or inaccessible. Delivering a great customer experience means understanding the needs of the family who live in the space, as well as guests who visit. Understanding how the space supports the needs of people who live there and the work that occurs within will lead to an interesting narrative that tells a story of health and happiness for modern workers, which ultimately leads to a prosperous organization.
Are there key parts of the customer experience that you don't often see implemented?
The important part about a customer experience is sharing what's important to you in an authentic way. For Herman Miller, how our guests feel in our spaces is important. We try to anticipate their needs with furniture, food, hospitality, and design. More importantly, our agenda is the customer's agenda. We're only here to tell our story in a relatable way that shows how we can help our customers tell theirs. We create places that support a wide variety of work by using a wide variety of solutions. Our way might not be your way, but we tell a story you can relate to, then help you bring your own environment to life in a way that's right for you.
How is a company's customer experience different than their brand experience? How does a company's culture impact their overall experience?
Really, they are one in the same. And both are a sibling to brand values, mission, and vision. The best customer experience happens when you live all three honestly. A culture can't be manufactured - it's organic and not artificial. Think about the best brands in the world…they all have something in common. They have followers, and usually because of what they stand for as much as what they produce. Herman Miller is a premium brand, and like most premium brands, the value goes beyond product.
How does Herman Miller immerse associates in culture?
We have things like corporate values and design tenets. But the difference is we use ours every day. We make decisions using our values, we create departmental goals by referencing them, and because of a long history of problem solving design, we co-create by using muscle memory.
How can everyone in an organization impact the client experience?
Everyone in the Design Yard (or in any HM showroom) is part of the customer experience team. They participate by looking up on a customer tour and smiling. Standing up when someone enters their space and saying hello and inviting them into their space. By talking about the company and products they use. By being honest about what didn't work and how we fixed it. By keeping their workstation clean and uncluttered so that our customers can see the product and imagine it in their own space. By taking pride in the environment and adding energy to it. A Herman Miller space feels like a space where people want to be.
This article was featured in the 2017 edition of Great Spaces magazine. Download your free copy of the latest edition of this award-winning publication below!