How long does it take to have something custom-built? Obviously it depends on the product itself, but the larger it is often the longer it takes. What if you could have an entire space custom-built to your needs in less than a month? That's the power of prefab construction!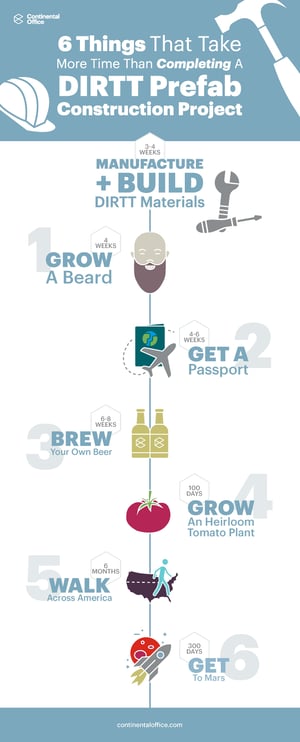 It doesn't get quicker or easier than DIRTT. It's a unique solution for a traditionally slow and complicated construction process. We've come to expect that most construction projects won't be completed on schedule, which doesn't make a whole lot of sense. Right from the start, DIRTT saves time. With an increasing pressure on construction project schedules, this is a big deal. Cost-certain quotes are prepared and received three times faster and projects are delivered in three to four weeks. The industry standard lead time is 12 weeks. Not to mention, there's no DIY involved. DIRTT prefab arrives on-site fully assembled and then attaches into place. And it can be readily reconfigured over time as business needs change.
The built environment is changing rapidly. Shifting work styles and a technologically saturated world that's evolving at warp-speed are a couple of the main contributors. The built environment needs to embrace technology and adapt to modern needs. Prefab construction offers an alternative that's flipping the industry on its head. Instead of destroying and rebuilding, it enables a seamless transition to accommodate for future advancements in the way we work and use technology.
Innovative companies that push for prefab construction are entirely rethinking how construction projects can be delivered and assembled. Rather than viewing prefab construction as a disrupter or a threat, they're embracing a faster, easier, better way to build.
See if prefab construction is right for you by downloading this handy checklist!