That's a tough question to answer. As the world continues to change, so do our needs. No matter how hard we try to stay up-to-date with new forms of self-directed, creative, and collaborative work, old working styles remain in our lives and in our workspaces. Today, a work team may work in numerous locations across the globe with new and emerging tools and technology to support them. At the same time, those same locations may still have forms of directed, repetitive, and individual work. That's why new solutions for co-creation, display, remote connection, and nonlinear development are either replacing or being layered on existing systems.
At Continental, we've recently implemented a lot of changes including new technology in our locations. Our conference rooms have been equipped with interactive meeting room booking technology. What this essentially does is provide us with a complete office search and room scheduling system beyond what typical systems like Outlook provide. It creates a great experience for the people that book the meetings as well as the people who attend them. A really insightful feature is that it also helps us keep track of room utilization as well as what drives usage. And, it helps us manage changing schedules. For instance, if someone reserves a room and doesn't enter the room within an allotted time period, the room will cancel the meeting and show it as "free" space again allowing others to reserve it.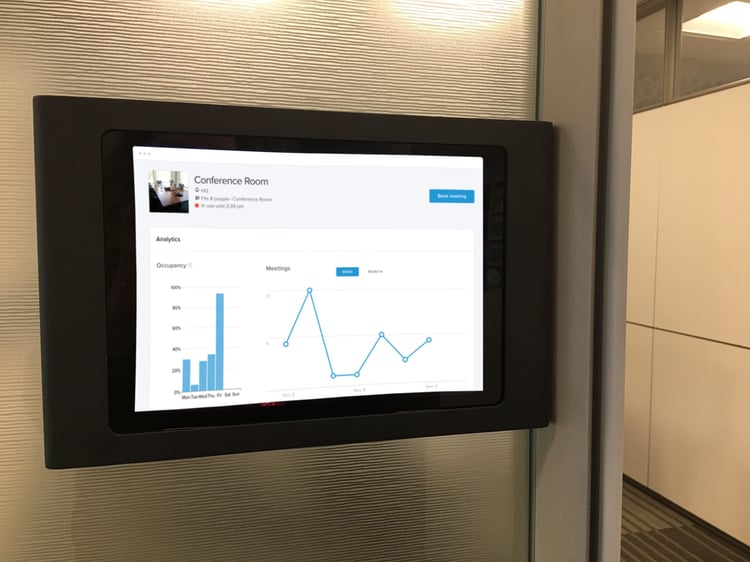 Another way we're meeting new needs is by installing technology that allows us to teleconference and communicate not only with clients but also with our other offices in different cities. Installing screens in more conference rooms (even those that may only seat 3-5 people) gives us better ways to communicate and collaborate with each other by sharing screens and/or seeing each other face-to-face digitally. It also eliminates miscommunication that can often occur via conference call when attempting to describe something without being able to visually see it.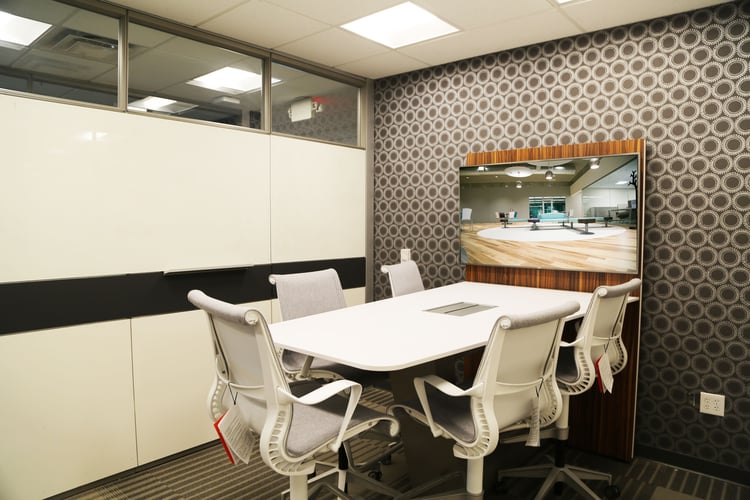 Another trend we're seeing (and have implemented in our office spaces) is dual monitors. As we continue to move toward a paperless society, dual monitors are becoming more crucial in our day-to-day work. One of our 4 pillars is community and environment. The use of dual monitors not only provides a better associate experience, but also helps us stick to our values as an organization by reducing waste.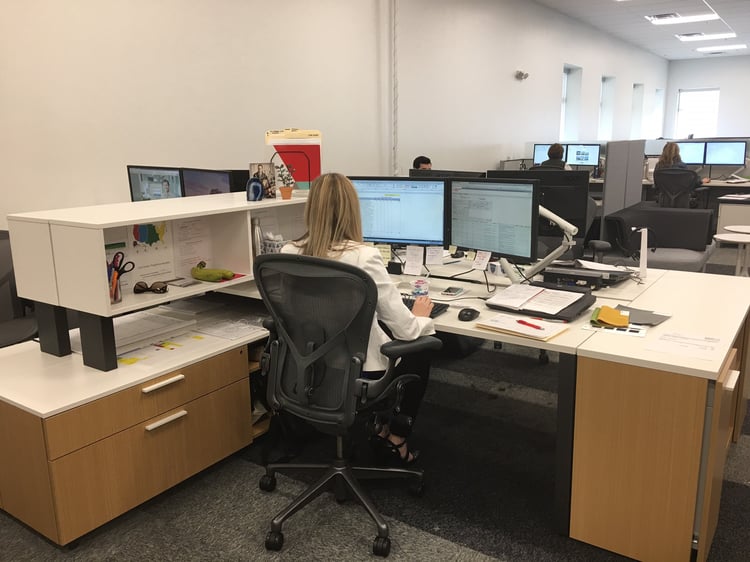 However, while increasingly important, it's not only about technology. It's also, and maybe even more importantly, about providing the right settings and options for your associates. It's critical that we build spaces to support people in the tasks they are performing. Herman Miller's Living Office concept does just that. It considers both activities and settings. It then takes into account an organization's goals as well as the attributes that make the company and its people unique.
Here are just three Living Office Settings that were designed to support distinct work activities for specific individuals and organizations. Their surroundings, furnishings, and tools offer a better, more natural experience. In the end, providing desired spaces and experiences means superior outcomes for organizations.
1. Haven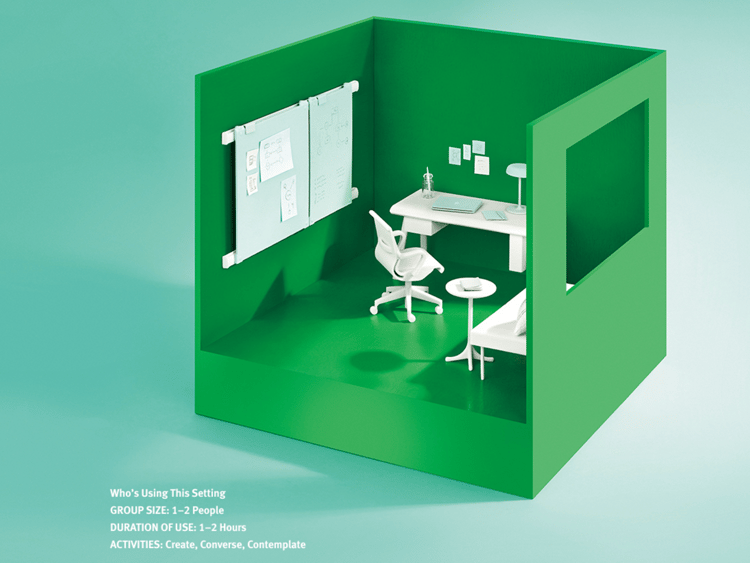 Quiet, Please
Havens offer people the privacy and quiet they need to complete complex, creative tasks without distraction from others. Herman Miller's research shows it's not only important to offer a range of Haven configurations, but also to have different levels of individual control within the setting like lighting, privacy, sound, and ergonomic support.
2. Clubhouse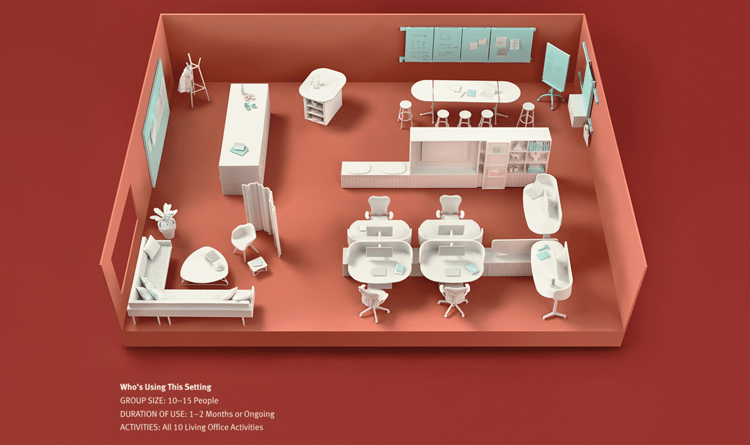 Improv, Improved
A Clubhouse provides a creative team with a flexible environment. It supports the way you actually work by allowing you to flow freely between tasks, sharing work and coming up with new ideas all while engaging each other on the fly. This setting helps teams stay connected to one another and broaden the purpose of the work at hand, enhance individual productivity, and inspire innovation.
3. Workshop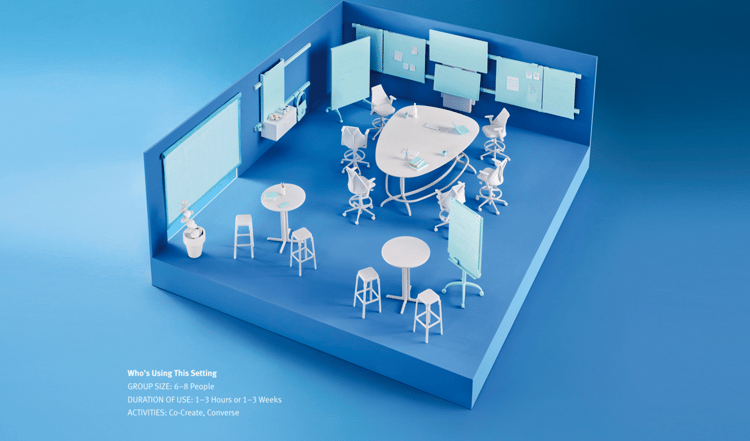 Mindshare
A workshop helps bring people together and gives them the tools they need to efficiently create and share ideas - whether they're two feet or 2,000 miles apart. It allows teams to ideate and collaborate. It's a flexible, engaging space that fosters creativity.
Overall, if you're wondering if your modern office space is becoming outdated, it's best to evaluate the way people are working and performing tasks. Determine if you have the right tools and spaces available to them. If not, consider layering in new technology, tools, and settings to help your people be the most productive they can be.