A Brief History of Drywall
The U.S Gypsum Company invented drywall in 1916. It was originally called "Sackett Board," named after the Sackett plaster board company. At first, it was sold in the form of small, fireproof tiles. However, within a few years it transformed into multi-layer gypsum and paper sheets. In less than a decade, it became the drywall we're familiar with today - a single layer of compressed gypsum between two sheets of heavy paper.
Although it only took several years for it to evolve as we now know it, it took 25 years for builders to begin using drywall in mass building. During those years, they still preferred plaster. But why choose that over something with so many uses and benefits? Truth be told, they thought it looked cheap. It lacked the fine art that plaster had, in their opinion. Builders believed using drywall would make buildings and homes look shoddy and cut-rate.
That perception changed in the U.S. in World War II. As much of the labor force was shipped off overseas, there was a need for quick and inexpensive building materials to help offset a labor shortage and war costs. It was then that we started to see houses and factories built in a fraction of the time with a smaller labor force. By 1945 when the war ended, drywall had risen to the dominant building material in the U.S. due to the aforementioned reasons and a need for more housing after the baby boom.
In honor of drywall's 100th birthday, DIRTT (a leader in prefabricated interior construction), created this great video:

Is There an Alternative to Drywall Today?
You're probably thinking why would anyone want an alternative to drywall? It's inexpensive and requires less labor than plaster, right?
In fact, it's been a tried and true method of interior construction for a century. But, there can be some disadvantages like its thin texture that can be prone to dents and holes. It's also pretty permanent and won't be flexible if your organization needs to grow or evolve.
But there's an alternative. DIRTT is a clean tech construction company that's revolutionizing the construction industry. They use video game technology to build flexible interior construction rapidly, cost effectively and sustainably. What may be even more impressive is the fact that building a DIRTT project allows you to flip the cost/labor equation. It means that your total budget is made up of 30% labor costs and 70% material costs rather than the opposite. Most conventional construction projects using drywall equate to 70% labor and only 30% in material costs.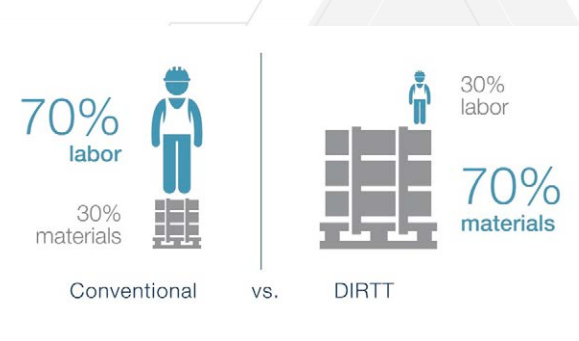 DIRTT was started in 2005 as a way to build better. It's actually an acronym that stands for "doing it right this time." While they've completed thousands of projects, drywall is still by far a more widely used product. Although drywall didn't catch on for 25 years in the US, it's likely that prefab construction solutions will become the standard in a much shorter timeframe. With technology and the world moving faster than ever before, we can't wait to see what the future looks like for interior construction and DIRTT.
Here's a short video about that will tell you a bit more about their technology-driven approach to construction.