Businesses aren't that different from people. They function much like humans do as a living, breathing place. They have needs to fulfill, like attracting and retaining top talent, stimulating innovation, increasing efficiency, and strengthening brand connection. Through global research and a robust study, Herman Miller found that the Living Office elevates the experience of work for people through a human-centered approach that helps organizations to define priorities, achieve strategic goals, and fulfill a greater purpose.
A workplace that helps draw – and keep – top talent is essential. It's the best talent that detects problems and finds solutions, all while bringing creativity to the table. Gary Slack, CEO of Slack and Company, says it best, "The whole concept of Living Office is to elevate the pride and joy that people have spending time at the office every day." After implementing a Living Office workspace, companies begin to realize tremendous change. In a recent survey conducted at CHS, Inc., 91% said they're proud to bring visitors to the workplace, as opposed to 64% before. At Tavistock Development Company, 57% said their work environment is a reason they stay at their job, up from 17%.
The most successful organizations are the ones that generate better ideas faster. When you support the creative flow throughout an entire office, you prime your organization for innovation and creativity. The Valley of the Sun United Way said that after implementing a Living Office workplace, 84% felt their organization was open to new ideas, an increase of 20%. According to a staff survey at Tavistock, a whopping 98% felt the design of their workplace allowed them to interact informally with coworkers, whereas only 57% felt this way beforehand.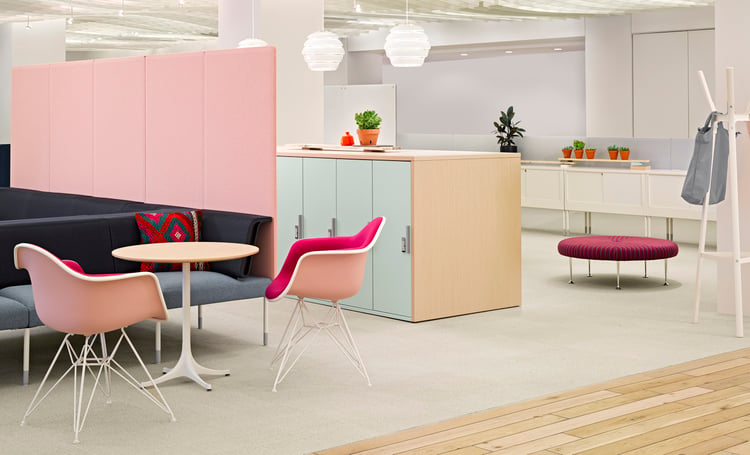 Optimizing processes not only helps people to work more effectively, but drives down unnecessary costs. When a workplace supports all kinds of different activities, the numbers speak for themselves. At CHS, 94% felt their workplace was more comfortable and functional after implementing the Living Office, up from 45%. At the Valley of the Sun United Way, 80% could rearrange their workplace to suit their needs, while only 45% could before. In addition, associates felt more closely connected to their colleagues, noting that everyone was more accessible and impromptu meetings more frequent.
Recognizable and trustworthy brands are powerful. When a workplace is designed to support both purpose and character, it strengthens the brand connection. Harry's, a startup organization in Manhattan, found that in a Living Office setting, 100% of staff agreed with their organization's values and beliefs. 93% of the staff at CHS felt their workplace presented a good corporate image, up from 54% prior to Living Office implementation.
It all boils down to humanity. When humanity is put into a workplace people can feel their best and do their best, and culture flourishes naturally. The results of an organization directly reflect the creativity, drive, and contentment that's found within it. And that's taking care of business.