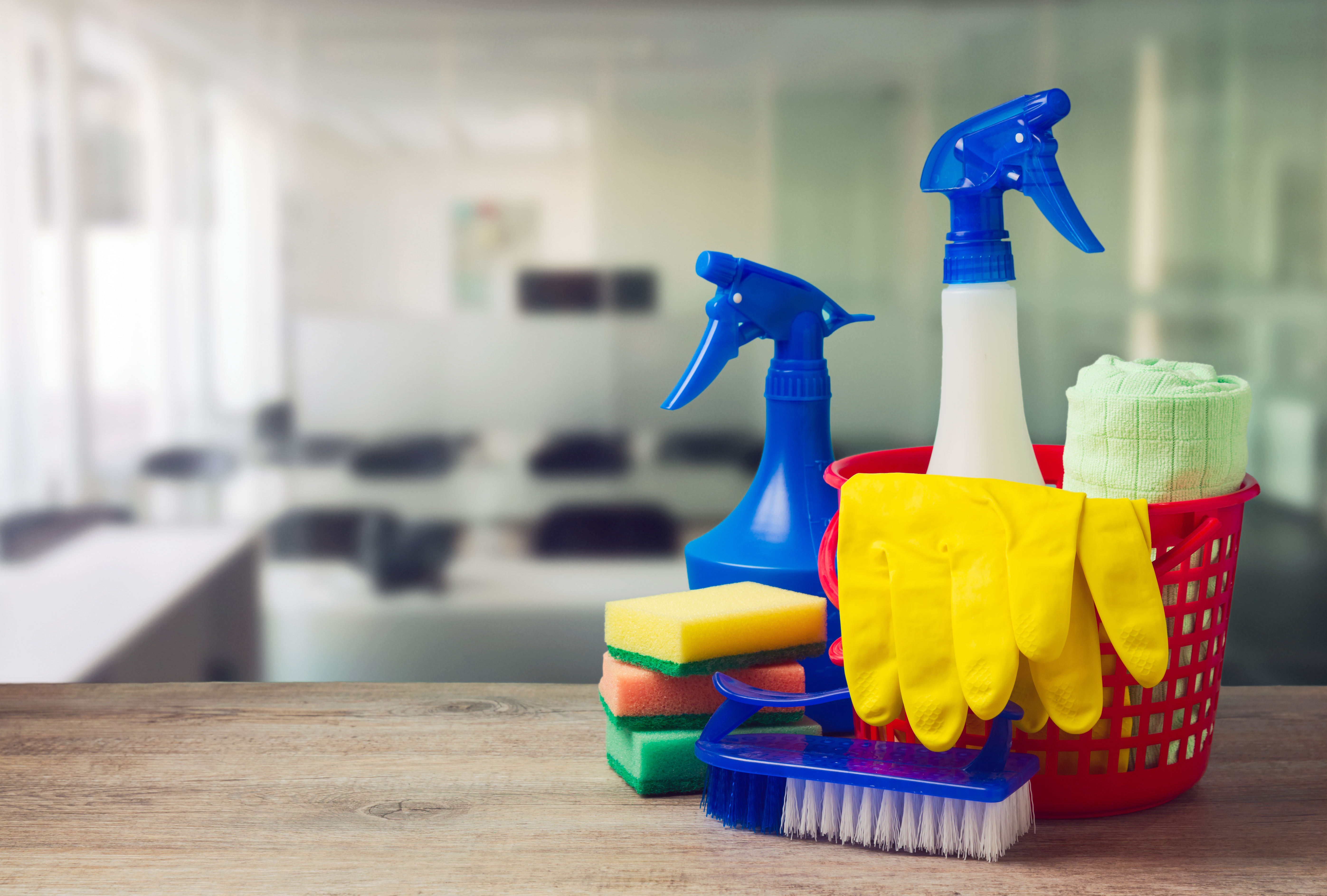 The sun is shining a little more, and the weather is starting to warm up! It's time to do a little "Spring Cleaning," and while most focus on tidying up their living room, kitchen, or other areas at home, it's more important than ever to clean out those spaces where you work, too! Here are our tips for 5 areas within your space that you may want to focus on to keep your space healthy and in tip-top shape:
Your Personal Workspace
Whether you work at a designated desk, floating area at multiple locations, or anywhere in between, a clean space leads to more productivity and better work! Your workspace is just as important (if not more important) as any other area in your space, so make sure it's spic and span to maintain efficiency and mental strength. Here are some areas in specific to focus on:
Monitor(s) for your computer
Keyboard and mouse
Physical desk(s) or anywhere else that you frequently work
Lamps, lights, switches, doorknobs, and handles
Chair arms, seatback, legs, seat, etc.
Cubicle walls, papers and documents on desks, and general objects on your desk
Desk drawers and lateral files

Take a look at your organizational system for any physical files you have. Are they organized in a way that makes the most sense for the way you work right now? Consider a new system if your work or style has adapted over time, and if space is a premium, consider digital options for some of your physical files.
Breakrooms
Where do you take your breaks? Does your organization have common spaces for breaks, snacks, or quick meetings? Breakrooms, kitchens, and other areas where employees gather for a breather are a breeding ground for germs. Make sure you clean out and wipe down:
Coffee station
Microwave, dishwasher, oven, and any other kitchen appliances
Cabinet door and drawer handles
Refrigerator(s)

Do you have a routine cleaning of the communal refrigerator? Considering a weekly, biweekly, or monthly purge that can be scheduled on everyone's calendar to keep your refrigerator clean on a regular basis. Prevent years-old sandwiches from piling up with a friendly reminder in meetings, notes on the refrigerator door with the day/time of the cleaning, etc. to make sure nobody is surprised that their expired coffee creamer is gone.
Countertops (behind and under anything on top of them)

Take a look at your countertops. Do you and your team use everything on them regularly? Consider finding a new home for less-used appliances, freeing up more surface space for company events.
Conference Rooms
Another breeding ground for germs, conference rooms have a special twist as they often bring in guests and visitors from all over, in turn bringing in an extra layer of dirt, germs, and grime. Keep your conference rooms both clean and sanitary by wiping down and cleaning out:
Chair arms, seats, seatbacks, and legs
Tabletops
Phone systems or any other tabletop technology pieces
Remotes
Door handles and light switches
Cleaning the entire flooring area underneath tables
Storage systems and cabinetry
Blinds and window fixtures – dust and wipe down
Entryways
Your reception area is your first impression – make sure it's the one you want to give! With such a high foot-traffic area, it's important to give your entryway a little extra TLC to keep it shining. Pay close attention to:
Every corner of the floors! Clean any "walk-off" rugs, and make sure any quickly visible elements (such as your flooring, walls, furniture, etc.) are in tip-top shape. You want the first things your guests see to be without flaw, and damaged floors/walls and furniture will not give the impression you're trying to make.
Exterior and entry doors and door handles (salt and other elements can build on exterior doors)
Seating/tables in reception area
Entry glass (doors/walls)
Remaining leaves and other seasonal debris in front of your entryway
Tech elements (TVs, remotes, etc.)
Reception area desk and chair (arms, seat and seatback, legs, etc.)
Digital Spaces
Last, but certainly not least, consider your digital workspace. Think about your file/document management system, and take a look at everything you have. Are you taking up a lot of storage space with things you know you'll never use again? Are you slowing down your computer with large files you rarely access? Consider the following areas, and take a peek to see if they need tidied up:
Downloads folder
Trash Can/Recycle Bin
Shared Drives/communal document storage spaces

If you need to clean up an area which multiple people utilize, make sure this is a collaborative effort to ensure that all parties understand the system and know where to find the documents they need.

Programs and software

Did you download a program only to find it didn't work for your needs? If you have programs or software installed on your computer that you know you'll never use again, remove them!

Emails
Take a look around your space, imagining that you've never seen it before. Try to look as objectively as possible at your space: are the furnishings starting to get dated? Do the design elements match your current brand vision? Is the space really reflective of who you are or who you want to be? We've been helping clients make great spaces since 1939; from furniture and flooring to full branding needs and whole-space interior construction, we truly are a single resource for creating great spaces. Let's see how we can turn your space into the way you've always envisioned it!