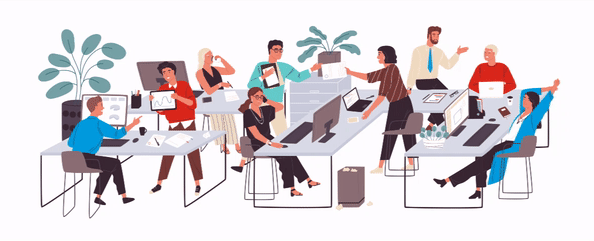 So, you're taking a look at your workplace, and you're realizing something: now that people are working remotely (part-time or fully), and now that people in the workplace are distanced and separated, you're left with too much furniture for current needs.
What are you to do? Well, there's always our AIM (Asset Inventory Management) solution that can securely store what you don't need, but there are other options still that you may not have thought about. Here are 4 great ways to tackle those unused pieces in your workplace and help your space make more sense:


1.) Recycling

Take some time, have some meetings, and discuss with your team the future of your current office needs. Is this "working remotely" thing a passing trend for you while we safely make it through COVID-19, or is this the new normal for some or all of your team?
If, like many, you're making operational changes that put more people in positions of remote work, that unused furniture in your space is just taking up room that could be converted into other uses! Fortunately, our teams are trained and capable to come in and quickly disassemble, remove, and recycle your unneeded pieces, giving you the flexibility to create whatever space your new team really needs out of your physical location!


2.) Buyback

How amazing would it be to free up room in your workspace, get rid of unused furniture, and get paid to do it? That's the reality for some with our Buyback service! Depending on things like condition, manufacturer, and age, we are able to buy back furniture; cubicles, chairs, desks, tables - it's all potentially cash in your pocket just sitting in your office right now!
How do you know if your furniture would qualify for our Buyback service? Easy! Reach out to us to discuss what pieces you have and what you're considering selling, and we'll be in touch to get the right information and provide you with a fair market offer on the assets you no longer need!


3.) Donate

Of course, whenever possible, we love giving back to our community. If we can, we'll help breathe new life into your pieces by donating them to an organization in need, providing for those who could truly use it in these uncertain and difficult times.
Our commitment to our community means a commitment to keeping things out of landfills, if possible. By donating your furniture to an organization in need, you're helping support the local community in multiple ways!


4.) Home Delivery for WFH Employees

You want your team to be comfortable and productive while they're working remotely, but their ergonomic furniture is back at the office. What do you do?
We've got the perfect answer! Thanks to our in-house AIM (Asset Inventory Management) service, we're able to keep track of your pieces and deliver them straight to your team's doorsteps. It's the control and real-time data you need and the right home solutions your team needs, thanks to AIM's great technology! Empower your team to work and feel their best, and put these assets to good use!
Are some of your employees working remotely from here on out? Provide them with the furniture they need to work at 100% (keeping track of it with AIM), and utilize this newfound space in your workplace to create the type of environment your team now needs! A flexible space that could be used for gatherings in the future, a drop-zone or workplace for those who need to quickly get something done - the opportunities are endless!
---
These are just four options that our clients are choosing, but there are countless more solutions to help your space make sense for your team's current needs. Reach out to see how our workplace services are helping us all get through this together, stronger than ever!