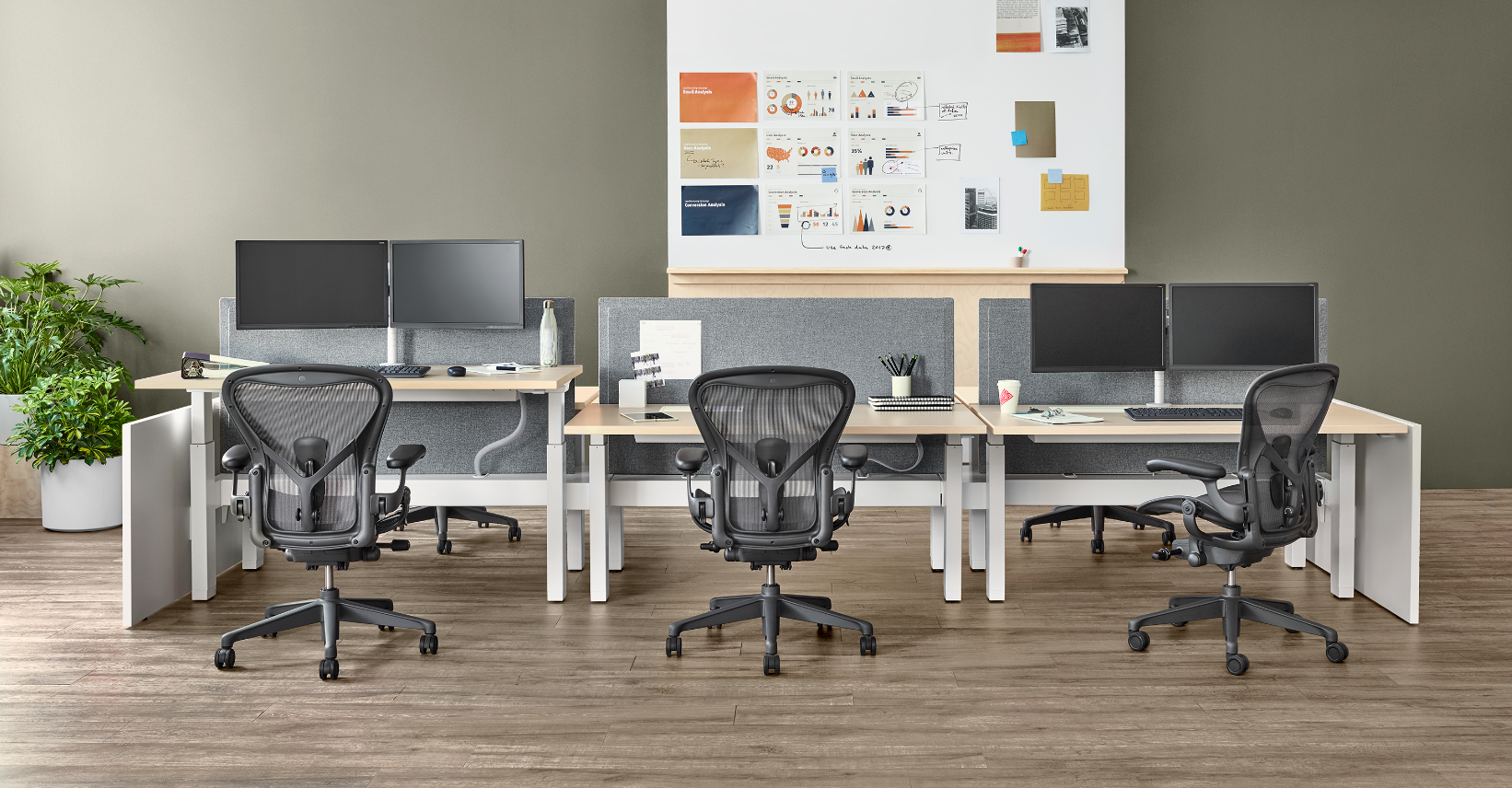 Are you going back to the office occasionally, part-time, or in shifts? You may notice something pretty quickly: while the way we work has changed, your office layout hasn't. Unused desks, chairs, tables, conference areas, etc. are plentiful, and even though we're sitting 6+ feet apart from others, empty chairs in-between make us feel a greater distance, a glaring visual reminder of our new normal.
When our work style changes, our workplaces have to adapt accordingly. So... what do we do with the furniture we don't need right now?
AIM, or Asset Inventory Management, is here to help! AIM is our proprietary, technology-driven solution to the problem that many companies are currently facing: too much (unused) furniture for their current workplace needs, but not wanting to get rid of it entirely, knowing those pieces will likely be needed later in the future.
As we all begin and refine our return to work processes, AIM is helping many of our clients with safe, secure storage solutions that keep their assets protected while we change our offices and workplaces to better suit current needs. We'll keep your tables, cubicles, chairs, desks, and other office assets secure in our facilities, and when the time comes to return them, it's a smooth and speedy process!



Digitally Driven
So... why not just put everything in an ordinary storage unit? Continental Office takes pride and care of your assets, because we understand better than anyone else just how valuable and vital these pieces are to the future success of your team. We'll keep your assets safe and secure in our controlled storage area, putting control in your hands with our technology-driven resources!
AIM was designed with our clients in mind, enabling them to keep track of their furniture and monitor assets from anywhere at any time. With the Client Portal, you're able to not just keep tabs on your pieces, but also easily view any scheduled appointments or deliveries with us, track orders, and more!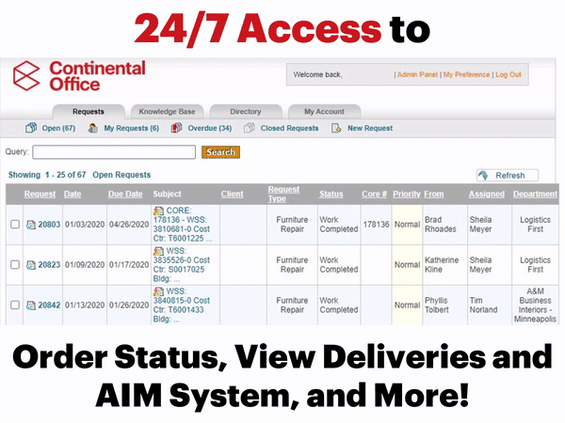 Through the Client Portal, you'll have access to up-to-date information on orders, work requests, deliveries, and of course, your assets while we keep them protected and safely stored for you.


Empowering your team to work and feel their best is what we do, all with the services to keep your space as great as it can be through any situation. Are some of your employees now working from home permanently? Empower them by moving their ergonomic furniture from the workplace to their home office, keeping track of it with AIM's data-driven resources, and moving it safely with the help of our trained, in-house delivery team!
Learn more about our various workplace services, and see how we can help make your return to work a seamless, safe process!