The workplace is no longer someplace you go to strictly do work; it's a place to have an experience. In increasing numbers, organizations are realizing the importance of workplace design that keeps employees happy and productive. We recently conducted a study where we surveyed 262 employed respondents in the Midwest/Mid-Atlantic regions and found the top four things associates want at work are flexible settings, better communication, a healthy workplace, and the right technology.
One emerging tech trend in design is the utilization of virtual reality (VR) in organizing spaces efficiently. VR allows designers to develop a space and lets clients walk through it, getting everyone on the same page. Clients understand exactly what they're going to get and therefore, it takes the guesswork out of the equation. They'll know if it will work for everyone because everyone can experience it before it's implemented; they can give the space a "test drive."
We recently spoke with Maddie Davis of Enlightened Digital to talk more about virtual reality.
What is VR?
Unlike its sister tech, augmented reality (AR), which superimposes a graphic onto your real-world view (think Google Glass), VR seeks to create an immersive, real-time 3D environment without the traditional limitations of a T.V. or phone screen.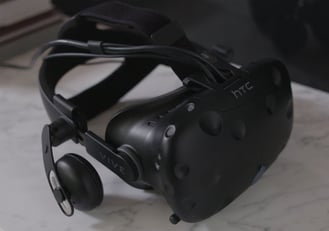 Various lenses per each eye, in between, and in the peripherals of the field of vision help to shape the impression of the image or video being shown as being wider than it actually is. The lenses are then angled to create a stereoscopic image, mimicking the way each individual's eyes naturally track moving imagery.
This lens design, along with heat and motion tracking, help a VR program adjust your field of view based on where you're looking or standing, thus creating that immersive experience that has exploded in popularity in recent years.
Walk-through Design Software
What potential application does this have for designers and architects? Many professionals are already using software programs that incorporate VR in order to augment their design process and help them determine the scope of their projects.
One of the hardest parts during the design process is describing what a space will look like or simply providing 2D drawings or renderings, especially if some of the design elements or themes are subject to change. Architects have made ready use of VR technology in the past to create life-like, 3D design mockups that enable them to walk clients through a virtual rendering.
This "show-and-tell" aspect means that a designer can get everyone on the same page more easily, and change elements of design on the fly as needs change.
Custom Prefabricated Design Elements
Many clients first experience VR as it relates to the design of their space but it shifts the conversation to other aspects, like prefab construction or environmental branding. Prefabricated design elements allow spaces to change as the needs of businesses change over time. Instead of traditional, rigid construction mainstays, like drywall, prefab construction elements like movable walls open up the possibilities of what a space can become.
Creative Collaboration & Control
In 2017, tech company NVIDIA announced their Holodeck project, a platform in which sights, sounds, and haptic effects combined to create a realistic virtual environment in which designers could import full-resolution design models and use VR elements to edit and collaborate with other project managers within the program itself. Herman Miller's CET Designer is a software solution for space planning and the configuration of products. From idea to reality, it allows designers to specify and present to clients with the interactive technology.
Experiential Design
Simply put, experiential design connects people to places. Surrounding elements create an experience for us as individuals. Those elements can include everything from graphics to three-dimensional design elements constructed and fabricated in such a way that, together, they tell a memorable story. These can be incorporated into the VR experience to visually show how an entire space, from top to bottom, will come together.
The Takeaway
VR is revolutionizing the way that firms approach the design process, from start to finish. The ability to work without the constraints of typical media, and visualize a multitude of opportunities in real time, allows businesses to seize opportunities as they happen, which is one of the principal mantras of success in any industry.
This is a guest post by Enlightened Digital and may not represent the views of Continental Office.