Last month I attended a Creative Mornings Columbus event featuring street artist, Stephanie Rond. At first I was unsure what I could learn about street art that I could apply to my own profession. And I think that was largely the point of this event, and of this forward-thinking organization in general. We all have talents and knowledge to share with one another, to get our creative juices flowing, and we should be doing this much more frequently.
Think about your own organization. Whether it's big or small, you likely have different departments and functions within it. Do you know or understand what these different teams and people actually do at your company? Do you work on cross-functional teams for different projects? Do you come together to make your organization more successful? If not, it's never too late to start. Not only do you become a better-rounded professional but you strengthen your company at large by becoming a more cohesive and collaborative unit as a whole.
This event, hosted by architecture firm NBBJ, raised some thought-provoking questions. One asked by an NBBJ employee was how their firm could work with street artists to strengthen their work. It's important to remember that if we're open and receptive to new ways of thinking and working, we can be at the forefront of change and pave the way to success in our industry. And often all it takes to start this process is to lend an ear.
I find Stephanie's work unique and inspiring. I gained a new understanding of and appreciation for art and artists in general and I was surprised to see a wall in NBBJ's office covered in graffiti art. It enhances their space, making it both fun and vibrant, and I'd be willing to bet it sparks some creativity in the team that works there. Stephanie noticed it too.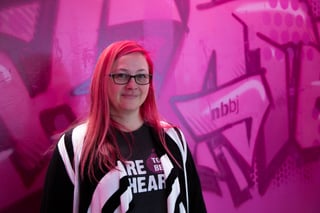 We can all learn something new, which can enhance our own work, when we work together. If you missed this event, you can watch a recording of it here.