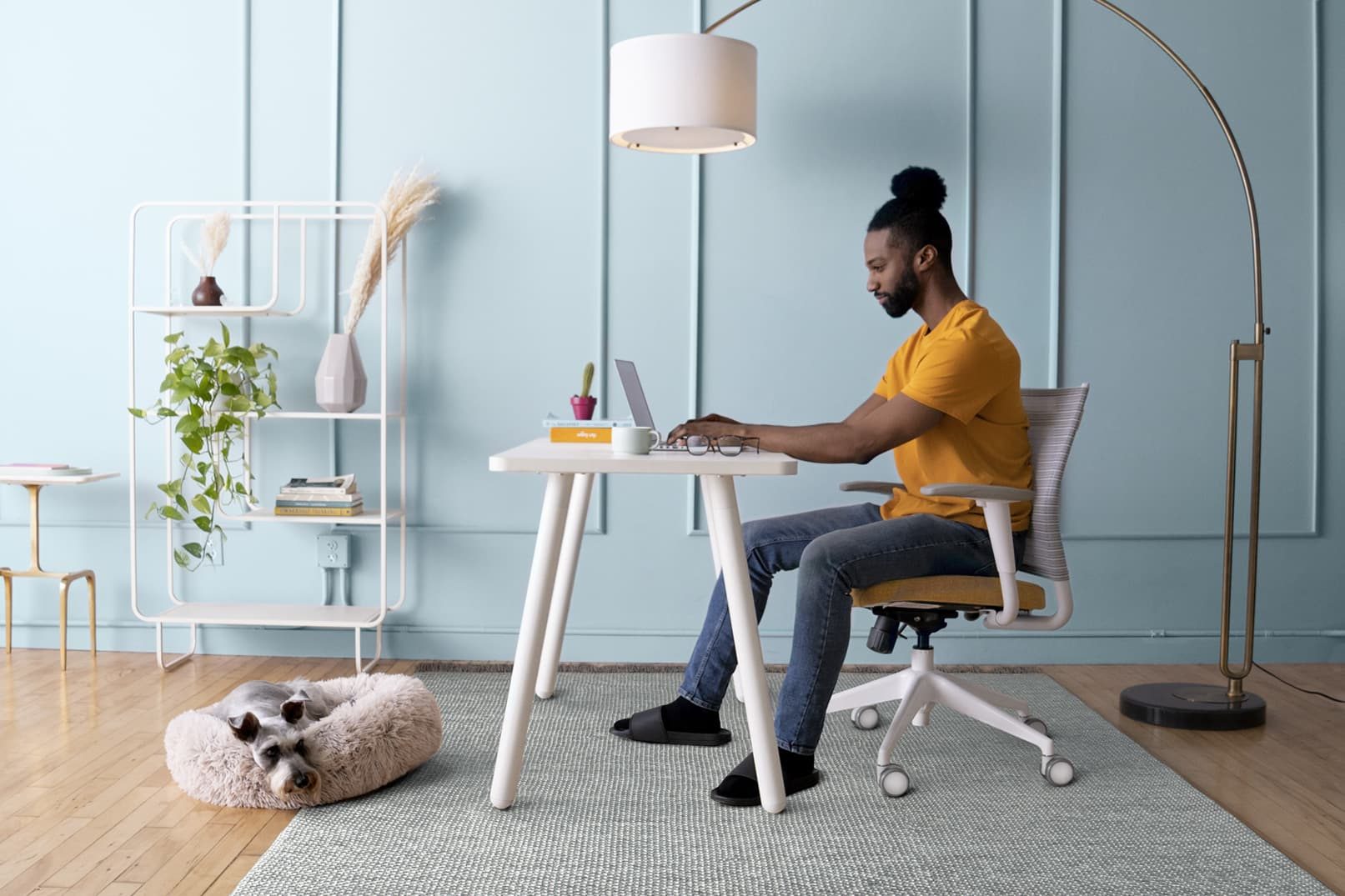 With so many great work-from-home options out there, it can be tricky to find just what will work best for you and your space! Fortunately, our friends at SitOnIt have made some of their best-selling products even more appealing, and through Continental Office, we're able to bring you a savings of 53%-off with free shipping in just 48 hours!
If you've been putting off that chair, desk, or whatever you need to work better and more comfortably, this is your opportunity to find great products at great prices. Check out our favorites below for some inspiration, and shop online here to find what works best! (Make sure you add to cart and click "Check Out" to see the savings apply to your selections):
Wit Chair

Stylish, comfortable, and customizable for your space, the award-winning Wit Chair features a soft, padded seat and a flexible mesh back to keep you working your best, hour after hour! Available in mid-back and high-back styles, with or without arms, and in a variety of different colors, your Wit will fit your space perfectly!
Reya Table

Why do we love the Reya? Because there are SO many options and ways to customize it! This modern table is available your way, with angled or straight legs, bamboo, white, or black legs, four different surface options, and three different sizes!
Combine that with the amazing discount available now, and it's simply a no-brainer: the Reya is a great option for any size space and for any kind of use!
Novo Chair

Timeless style, thick padded cushion, and the options to make it yours: the Novo is the ergonomic choice to keep you going! Adjustable lumbar support makes work more comfortable for longer, and options like mid-back or high-back (as well as many different colors for seatback and mesh back) bring style and comfort to your space!
Switchback Height-Adjustable Table

Your work, your way. The Switchback height-adjustable table holds a place that's near and dear to us, as its focus on flexibility helps you stay as comfortable as possible each and every day. Easy to adjust with push-buttons mounted on the table, Switchback allows you to elevate your work (literally), all with the customization you'd expect - four different surfaces, two different base colors, and three different sizes to fit your space and your needs!

Combined with SitOnIt work-from-home accessories, like easy-adjusting monitor arms to free up workspace, power supplies and cable management, filing cabinets and storage options, and so much more (all at 53%-off!), these great products have never been within closer reach. We're so excited to bring you this affordable option, and we can't wait to help you work your best!



NOTE

: Your discount will automatically apply once you proceed to checkout. Browse and shop online, add items to your cart, and click "Check Out" to show your savings and watch them add up! If the discount is not automatically applied, use code "938433" to receive your special Continental Office discount.