Marburn Academy is an independent day school and a visionary leader in the education of bright students with learning differences, such as dyslexia and attention difficulties. Their conviction is that every child is capable of succeeding. For the past 30 years, Marburn resided in a former elementary school in the Northland area of Columbus, Ohio. For the past decade, this space was overcrowded and cramped, with a configuration that was less than ideal for a learning environment.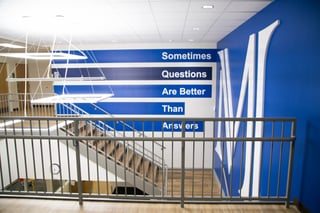 Marburn wanted to create a new space where their students would feel encouraged, inspired, and comfortable. They envisioned this space with fresh furniture and floors and expressing a new brand through simple, powerful, and authentic messaging. They wanted to create a consistent and timeless experience for their students, allowing them to learn through their environment.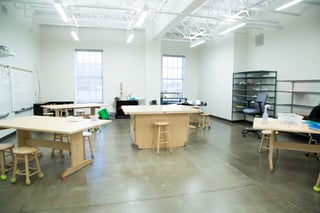 The four-year project, from initial budgeting to move-in, accomplished Marburn's objectives of creating a space where their students feel safe and welcome. Their beautiful new 64,000-square-foot building on a 17-acre campus in the suburb of New Albany has not only helped them to grow, but helped them to soar. The state-of-the-art facility showcases their new brand throughout the space, as well as provides cutting-edge technology and adaptive classrooms for young learners.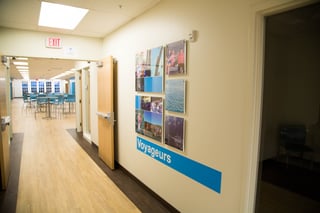 Elements in the new space include Marburn's mission/vision statement, which can be prominently seen at the entrance of the school. A gallery wall displays artwork by students and alumni alike, a "Voyageurs" wall features photos of students' travels around the city of Columbus and the world, and a donor wall recognizes the hundreds of individuals who helped to make this new space a reality. Wayfinding and signage are also incorporated into the space, from the furniture to the floors to the branded environment, using colors to identify "Divisions" and help with navigation and safety.
Marburn Academy is paving the way for intentional learning spaces, improved student experience, and academic success, not just across the city of Columbus, but across the nation. To learn more about this unique project, watch the video below.