73% of professionals said they would be more comfortable working from home if they had a better home office setup, according to our recent Return to Work Survey. Products like an ergonomic chair, a sit-to-stand desk, and monitor arms aren't just luxuries or wish-list items - they're the key to working productively, and they're what will keep you working harder, smarter, and longer without strain! But how do you know if your set-up is truly ergonomic?
Herman Miller, a longtime leader in ergonomic advancements and physiological wellness, has just introduced a brand new tool to help you see exactly how comfortable your "work from home" (WFH) setup is! This free assessment is a great way to benchmark your current arrangement, identify some pain points you may not have even realized yet, and learn how to make changes - both big and small - to improve and work your best!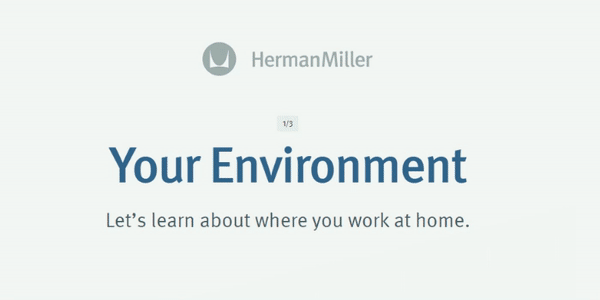 So... What's With All The Questions?
Keeping you comfortable throughout the day also keeps your more productive, happier, and healthier while you work. By taking into account all factors, their unique survey is able to provide specific, custom tips tailored to help you work as comfortably and productively as possible.
For example, having plants in your workspace (the idea behind biophilic design) can dramatically improve your mood and productivity while decreasing stress, even if the plants are fake! Real plants, however, take it an extra step by providing fresh, filtered air right in your workspace!
Outside sound got you down? There are a variety of recommendations that Herman Miller makes to combat loud ambient noises, wherever you're working. From sound masking and white noise machines to plants, textiles, and other sound-deadening objects (with plenty of other suggestions in between), there are specific ways that are unique to your space that can easily help!

Even for your body, Herman Miller has personal suggestions to help combat fatigue and promote holistic wellness. Did you know that for optimal ergonomic comfort, your computer mouse should be closer to your body to prevent shoulder strain? Did you know that the backs of your knees should be 2-3 fingers away from the edge of your seat, and that your knees should be at a 90 degree angle with thighs parallel to the floor? There are plenty of suggestions that their experts and physicians have studied and learned over the years, all to benefit your way of working!
Get your FREE Ergonomic Assessment from Herman Miller, and discover just how you can work your best while feeling your best!