Last week, we held a Learning Studio Design Workshop at all three of our locations. With the help of Herman Miller's higher education team, Casey Nick and Grant Ponte, we learned a great deal about how classroom design affects learning, student engagement, collaboration, and more. While many traditional classrooms are still present in today's universities, learning spaces are changing along with changing pedagogy in education.
Our workshop brought together educators and designers to discuss how active learning spaces can proliferate on our college campuses. When spaces flex and adapt to meet the varying needs of students, both educators and learners benefit as a result. Some ways to bring about this design change in a classroom is through the use of a variety of furniture, focal points, and even colors. Some classroom areas may require space for more formal classroom interaction while others may need to accommodate for pair or group work. For longer class periods, students may want to change postures throughout the class or based on the activity at hand. A learning studio can make all of this happen.
Research compiled on learning studios shows how impactful these spaces are. Out of 3,000 students surveyed, 16% responded they were more likely to feel comfortable asking questions, 22% were more likely to feel valued, and 28% were more likely to be able to conduct group work. Additional ways learning studios benefits students include enhancing collaboration, fostering faculty and student engagement, increasing student expression of thoughts, allowing learning to happen everywhere, blurring the line between learning and work, and the list goes on. Learning studios enable schools to maximize the real estate of a classroom and the brain.
At the conclusion of our workshop, participants completed a hands-on activity that allowed them to conceptualize their own learning studios using clay, pipe cleaners, and marbles. Participants were encouraged to use all of the space provided and to get creative! The completed designs ensured students could move throughout the space and be active. A variety of seating options were incorporated, allowing students to come together, discuss problems, and find solutions. And the overwhelming majority of participants incorporated technology into their designs, showcasing this critical component needed for successful learning spaces.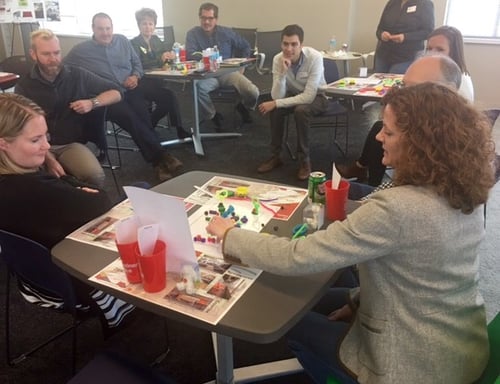 While we learned many lessons at last week's worskhop, perhaps our biggest takeaway is that the classrooms of tomorrow can become the classrooms of today if we simply adopt the principles of learning studios and make each square foot count.