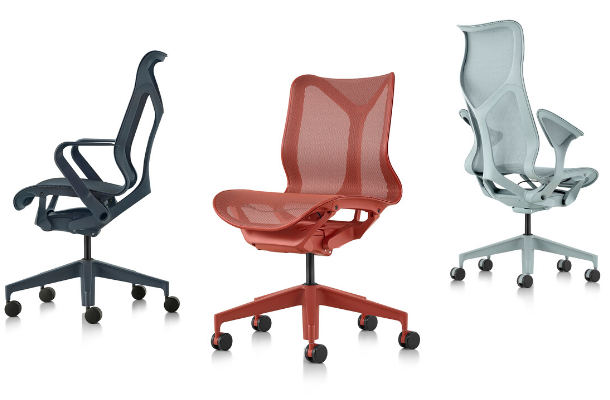 For Berlin–based designers at Studio 7.5, their latest chair for Herman Miller represents something of a holy grail. It's a design that creates a new reference point for instant, personalized comfort. Cosm's new Auto– Harmonic Tilt is a goal they've worked toward for years. And if that's not enough, it looks pretty amazing too!
What exactly is auto–harmonic tilt? It's the secret sauce. While other popular task chairs do provide comfort and prompt good posture that help us work in an environment that supports our well–being, they don't self– adjust. "You should have a chair that allows you to change postures as easily as possible," says Roland Zwick of Studio 7.5. "You can only do that with a chair that is correctly adjusted, so we wanted to build a chair that does that part for you."
For comparison, think of your car. A tilt is to a chair what a transmission is to a car. Like transmissions, some are manual, and others like Cosm are automatic. But, what about these other automatic self–adjusting chairs? They exist, but there's a caveat. With other automatic models, the chair decides how you should sit by forcing your body to conform to the tilt's movement. Cosm's Auto–Harmonic Tilt puts you first and responds to you – no matter your posture. This gives you a personalized and balanced recline and comfort.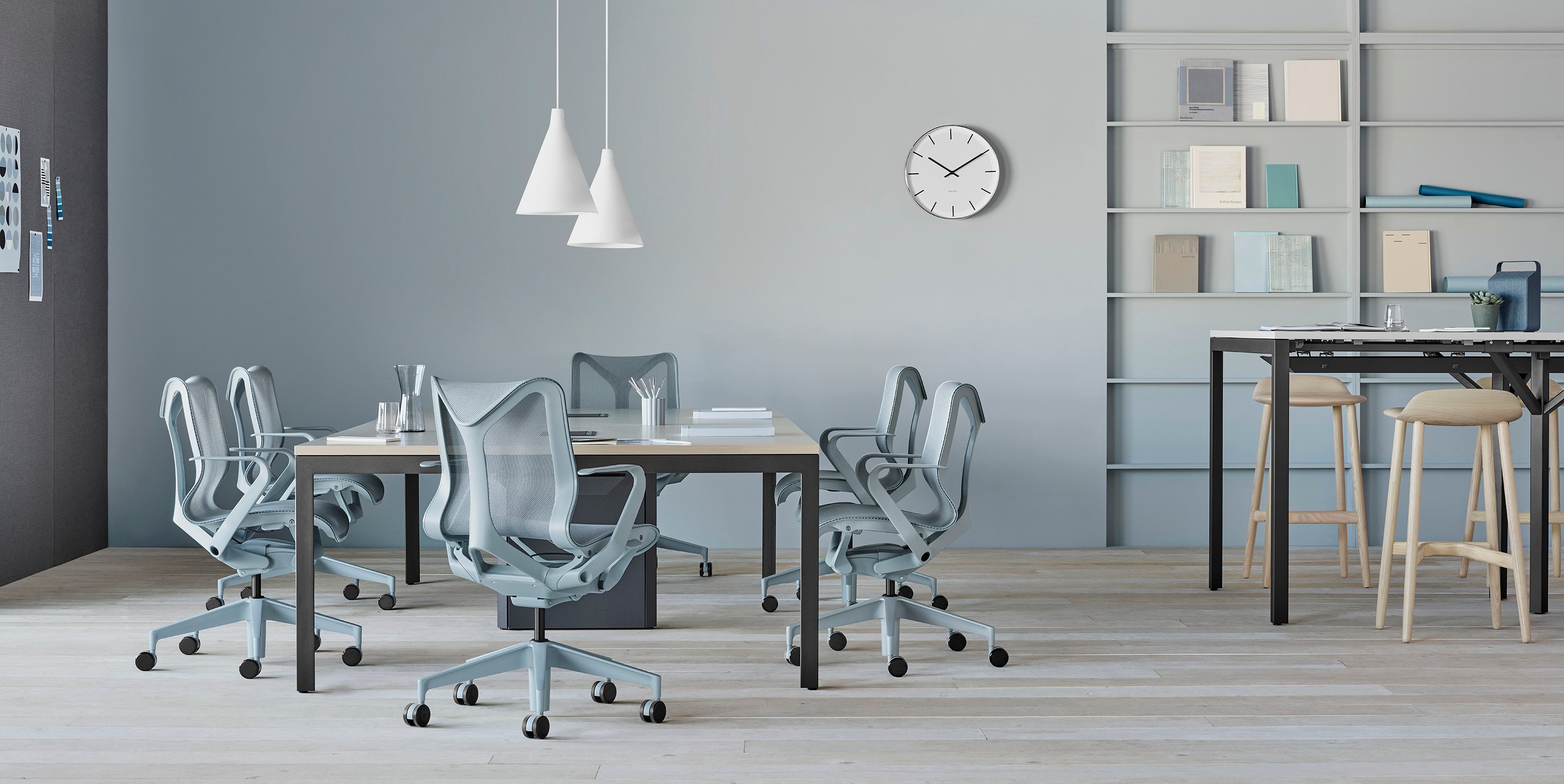 How is it possible for this chair to adjust to your style so perfectly? Studio 7.5 and Herman Miller perfected the self–adjusting tilt by inventing a complex, finely tuned mechanism. Accounting for the sitter's vertical force, which is always in flux, the gears within the tilt move the fulcrum along a leaf spring to automatically adjust the chair's tension.
Cosm's ergonomic design is only further heightened by its Leaf Arms, the first of their kind. It actually began as an unsightly piece of foam wrapped over wood, but over time, it shifted shape and size. It even had a multitude of nicknames: motorcycle seat, half–pipe for arms, and even Dumbo ears.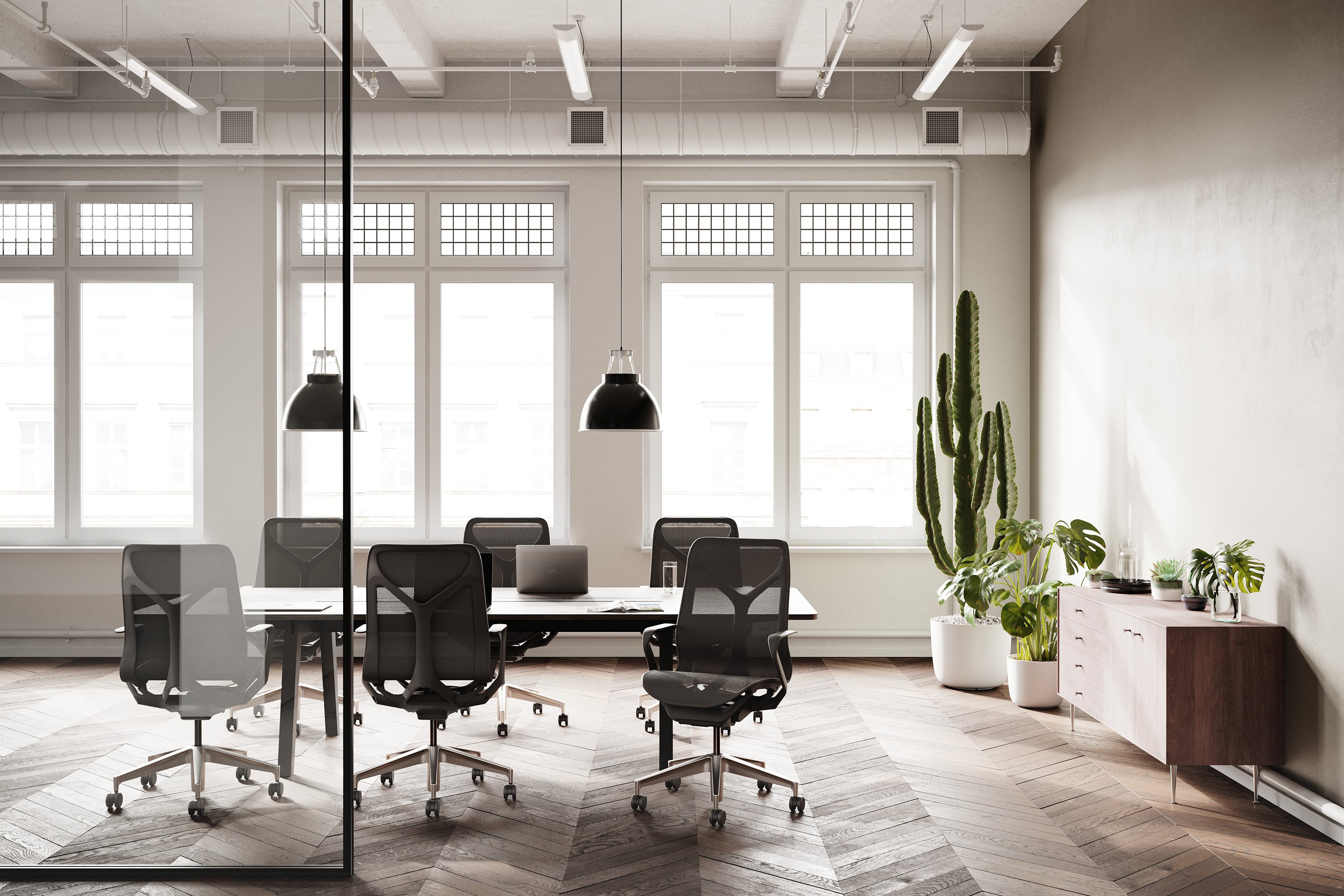 The finished arms, however, complete the functional and aesthetic intent of the chair by providing a simple and super slim visual appearance with ultimate comfort. Designed to keep in mind how we work today, the arm was designed to...
This blog post is an excerpt from the F/W 2019 edition of our award-winning publication, Great Spaces. Download your FREE copy of the latest edition to read about this and other incredible and innovative products!