We love creating great spaces, and making the world a better space to live in. Community service is a critical aspect of our company's DNA. We started Continental Cares over a decade ago because we wanted to make a deeper impact and get our whole team involved in initiatives together.
Our industry leads itself to waste; we have the potential to fill up landfills and we don't want that to happen. We're also part of a creative industry, and we believe that we have something special to give back with our talents. We've structured our program towards what we're passionate about and good at, which is finding creative solutions to make our communities even better.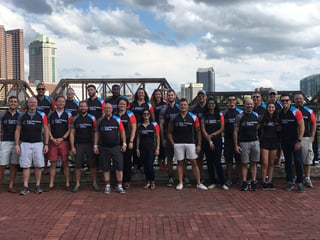 Through our Cares program, we've been able to raise more than half a million dollars for Pelotonia in the fight to end cancer, donate numerous trucks full of furniture to the Central Ohio Furniture Bank, and recycle up to 1 million pounds of flooring and other materials annually. We also work with many manufacturer partners that are LEED and WELL certified and provide products that are made of recyclable materials and are recyclable as well.
Every year around the holidays, we participate in a special project for the Ronald McDonald House Charities of Central Ohio and Northwest Ohio creating holiday wreaths for residents. Over the years, we've become more festive and creative, and now we have a contest where we award wreaths ranging from the "Most Colorful" to the "Crowd Favorite." This year, we were lucky to have representatives from RMHC come to our office to cast the deciding votes. Dee Anders, CEO and Executive Director of the House, said,
The holiday season is special at the Ronald McDonald House, and that is because of support from good friends like Continental Office. It means the world to the guests staying at our House to know that [people] care about them. We can't thank them enough for such creatively generous support!
Besides reaching outward, it's important to remember that giving back starts from the inside out. The health and wellness of associates allows them to extend that same level of care to others. Coordinating things like walking challenges, fitness classes, providing ergonomic furniture and accessories around the office, as well as healthy food and drink options all help to educate and strengthen your team. It begins with associates, and moves on to their families, and then out to the community at large. Giving back is a gift that keeps on giving.