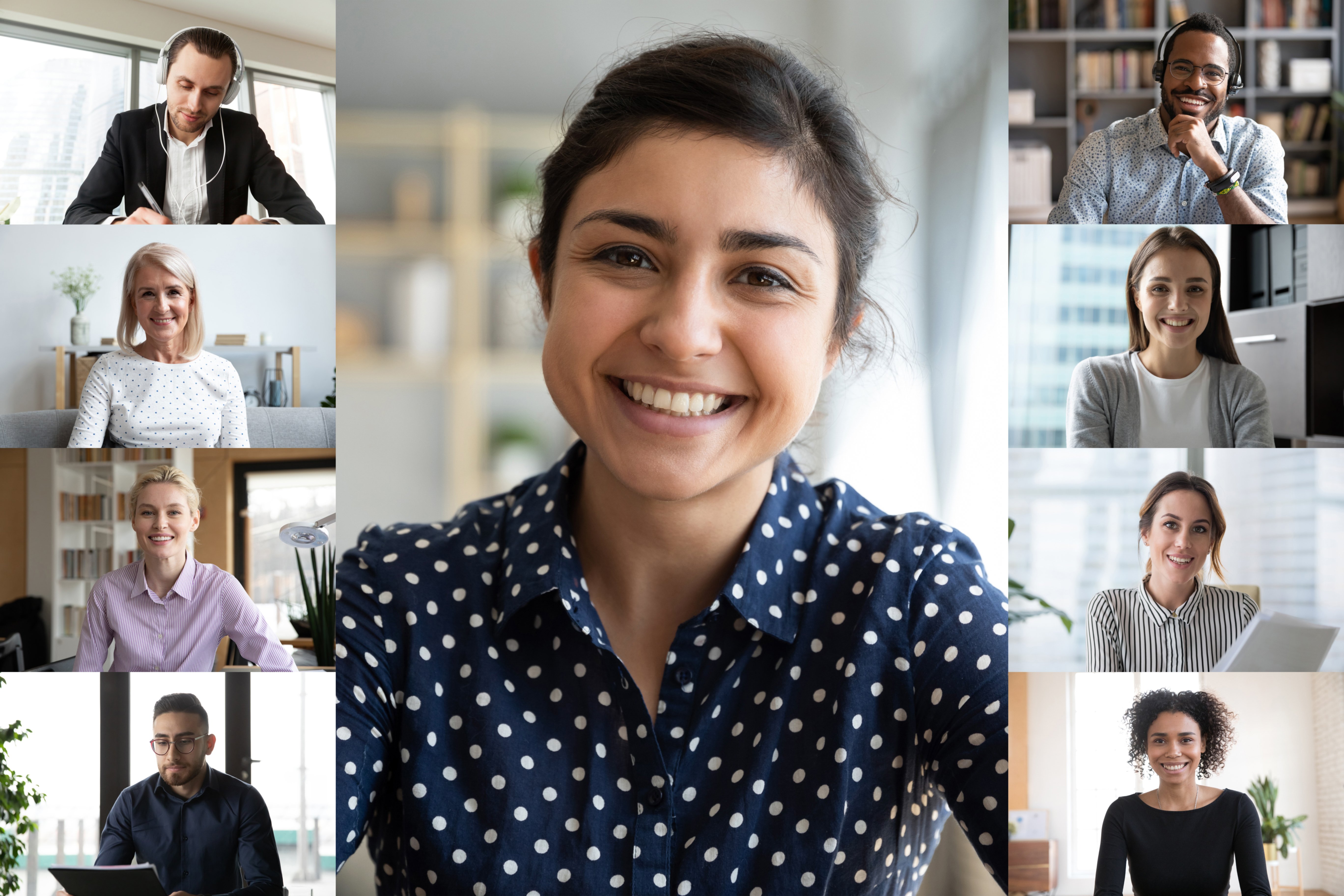 Whether we're working from home or in the office, one thing is for sure: video conferencing calls are here to stay! As we Zoom our way into this era of working, we can't be caught Slacking on appearance - especially within shot of the camera! Regardless of where you're working, here are our top 5 tips and things to consider that will help you look your best:
1.) Camera Angle

Too high? Too low? How can you tell? If you're using a laptop that's sitting on your desk, we're going to bet that it's likely too low for you, causing unflattering angles or for others on the call to potentially miss something! Herman Miller's FLO monitor arms or Laptop Stand can easily raise up your screen (and camera) to give an eye-level picture to others on your call.
A laptop stand or camera sitting atop monitor arms will also help to keep your camera at a good distance from your face; you'll want to be framed in the center of the screen, not so far back that you're invisible, but also not so close up that your pores can be counted. It's also about comfort, as we know that looking down or looking up at your screen puts added strain on your eyes, neck, and back, and an ergonomic position won't just help you look better on camera - it'll help you feel better, too!
2.) Lighting

We've all been on those calls where someone is either completely washed out or shrouded by darkness, making it both difficult to see them and harder to focus on their message! However, not everyone has the same working set-up right now, and as some make calls from basements and others from a sea of natural light, we each must find the right balance of lighting (natural and/or artificial) to look our best on camera!
After you've gotten the camera angle to a nice eye-level position, think about the lighting in your workspace. Do you have natural light? How does that change throughout the day, and what can you do to make sure you're not too bright or too dark as the day goes on? Desk lamps, like the Design Within Reach Lolly, Brazo, or Type 75 can provide a great amount of light for darker spaces. Direct forms of lighting (like a ring light) can be good too, but only if they're adjusted to illuminate you, not blind you and wash you out. The best lighting is typically natural, or lighting from a slightly-above-eye-level position; otherwise, you run the risk of either looking like you're in an interrogation room or telling a ghost story!
3.) Your Camera/Webcam

Let's now take a moment to think about the camera itself. Some of the most powerful laptops on the market today come with surprisingly sub-par cameras built in, and it's important to identify the quality and type of camera your computer comes with to see if you could benefit from one of higher quality.
If a separate webcam would help your situation, you're in luck: a nice, high-definition webcam often won't break the bank! Things to look for:
Is there a microphone included? How will you be heard?
What's the picture quality? 720p, 1080p, 4K (2160p), etc.?
Is there a built-in light to help with lighting in your space?
How will it affix to your monitor/screen?
A nice angle and lighting won't matter too much if all your viewers can see is a grainy, blurry blob. Check out your current camera situation, and see if you could benefit from a new webcam!
4.) Background

What can that beautiful new webcam see? Your office or home office? Break room or dining room? No, we don't all have the same working set-up right now, and many of us are working in spaces we didn't initially plan for, but wherever we are, we can spruce it up to make it look great for the camera. Some things to consider, especially if you're working from home:
What's behind you? Open doors, laundry, or mirrors that could reflect you?
Do you have political items, personal items/decor, or anything else that you may not want to present on camera? You might be the focal point, but what's behind you will still be in shot!
Generally, what can the camera see? If your floor is in sight, make sure to keep it picked up and clean.
It's not just where you are, either. Freshening up your workplace will help you feel better and stay organized, too! Adding a beautiful touch of decor from Hay or some planters and greenery will liven up your space, make you feel better, and look great on camera, too!
5.) Distractions

By now, both you and your space are looking great. There's just one thing left to plan for: the unexpected. Both in an office and at home, distractions and interruptions can (and will) happen, though we can still plan ahead to try and minimize these as best we can for our meetings.
Especially from home, consider - where are my children, my pets, or others whom I live with? Will any of them need my immediate attention during this call? Am I expecting any packages, workers, lawn care, etc. who may need me at the door? Do I have other meetings before or after this that I expect could bleed into the other? Is my phone on silent? If my internet connection is sometimes spotty, do I have my cell phone or another form of mobile hotspot nearby that I can use to regain an internet connection?
At the end of the day, we're all working hard to work and feel better, and we know that things have been far from usual throughout 2020. These easy tips to make you look and feel better on camera will help make things feel a little easier, a little more solid, and will help you feel a little better as we all work together. See how your workplace ranks among ergonomic set-ups, and get some free, personalized tips to see how you can work better and more comfortably!