The concept of "work-life balance" is changing. We used to think of it as simply making sure we spent as much time doing things outside of work, called "life", as we did at work. However, the concept is now shifting to incorporate "life" as part of the work day. Workplace environments today are designing places and spaces that facilitate positive associate and client experiences, and blending fun into the environment itself to help foster productivity and creativity.
"Workplace environments today...are blending fun into the environment itself"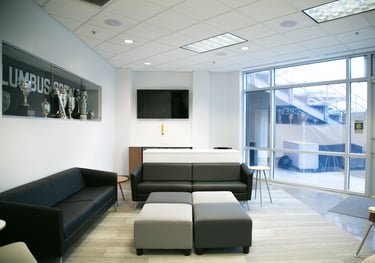 Take for example the addition of things like beer taps, meditation rooms, and outdoor patios to offices. While these areas are utilized after work hours and on weekends, I'm seeing more of their use during the work day as a means for spontaneous interactions or a creative outlet. Social time takes away some of the stress a day at work can create, and allows us to recharge our batteries for the next task at hand. Much like changing where we sit throughout the day can provide us with a change of pace and a new perspective, so too can a space dedicated to a little bit of downtime enhance our health and wellbeing.
In addition to engaging and energizing current associates, the addition of recreational spaces in a cutting-edge office environment can draw new employees to your company or bring in new business. When employees feel comfortable at work – a sense of camaraderie with their coworkers and that their employers care about them – they'll produce their best work and be the best version of themselves. And when clients feel comfortable working with you, they'll have a great experience and be more likely to refer you to others.
Workspaces need to inspire. Not just to delight associates and clients, or to attract new ones, but to impact your bottom line. When people can step away from their desks or get outside to connect (or disconnect), it can literally change the way they think and work for the better. Which is better for your business, too.