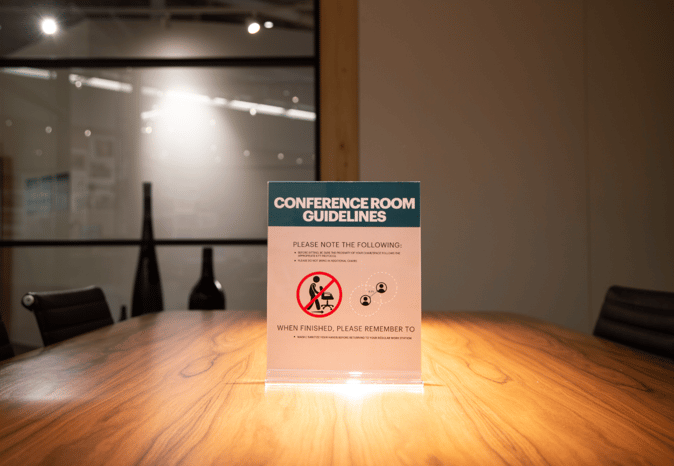 There isn't one business or industry that's been unaffected by COVID-19. Though some of us are already going back to the workplace and have adopted a bevy of new guidelines, others are still waiting and working remotely, and many are somewhere in between. To help our clients plan for their own returns and see first-hand just how this pandemic has affected workplace attitudes and work conditions, we launched a Return to Work Survey of working professionals, spanning all industries, sizes, and in multiple states, and the results are in!
We learned a lot from our 420+ respondents, on their perceptions of the workplace, how working remotely has impacted them, how they prefer to work, and what they want in the workplace of tomorrow today. Here's what we learned, and here's how that impacts us all:
1.) Ongoing Disinfecting and Regular Cleaning is Paramount
Today's workers seriously value cleaning and disinfecting, now more than ever. 96% of those surveyed say increasing cleaning and disinfecting protocols on a regular basis is important to them, and 95% expect the workplace to be fully disinfected prior to returning. Of our C-level respondents, 88% said they will be changing policies about cleaning and disinfecting, as well as openly sharing those policies with employees. The workplace is getting cleaning and healthier, and we're happy to help make that happen! Check out more on our hospital-grade disinfectant services that kill COVID-19 and other harmful health threats:
Watch our Cleaning & Disinfecting Video to Learn More: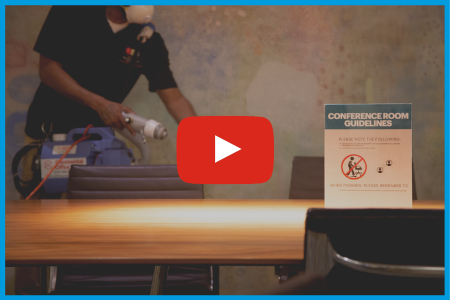 2.) Reconfiguring Space for Physical Distancing is a Reality
By and large, today's workers think some changes to their space will have to be made in order to return. 76% think that shared seating should be eliminated, 71% think adding dividers and partitions for open workstations is important, and 89% think we need to limit the number of people in common areas, including conference rooms. Fortunately, many of these changes are relatively quick and easy, and our teams have helped scores of companies with everything from plexiglass dividers to space reconfigurations and more, all with 6-foot physical distancing in mind. See how we're helping all types of spaces work for their teams:
See how we're helping all types of spaces work for their teams: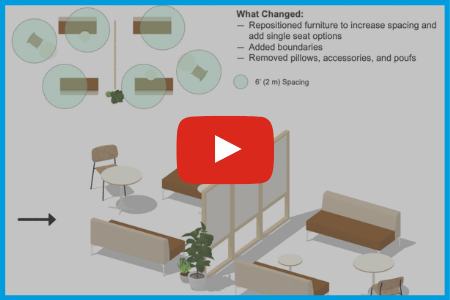 3.) Part-Time Remote/Work From Home is the New Normal
Flexibility will be the name of the game going forward, according to our respondents. 67% of C-level leaders said COVID-19 has changed the perception of working from home, and they're planning to have some/all of their employees work remotely from now on. An important finding about remote work preferences related to age – namely, that younger workers valued remote work more. 74% of those aged 25-44 said it's "very important" to be able to have a work from home option, compared to 53% of those aged 45-64. In any case, the data doesn't lie: people want to work from home, at least some of the time! We've crafted special Work From Home Packages to help make this a reality for your teams – check out some of our most popular options!
4.) People Can Be Productive While Working From Home
In keeping with our last finding, working from home doesn't mean working less, or not being as productive. In fact, 72% of people said they feel either just as productive or more productive working from home compared to working in the office, and that's for a variety of reasons! 64% said that without the commute, they can get more done; 53% credit having a flexible schedule with the increased productivity, and 59% said that less distractions in the workplace (like office chit-chat, noise distractions, etc.) mean they can work more efficiently at home.
Another thing we learned – our teams may want to work from home, but they aren't well-equipped with the right furniture. 73% said they would be more comfortable working from home if they had a better home office set-up, like an ergonomic chair, sit-to-stand desk, monitor arms, etc. If you, like Google and other companies, are considering giving your employees a credit to purchase WFH furniture and help make their home office better, reach out to see how we can help. We can work with you and your remote employees to find the perfect solutions for their unique needs!
5.) People Still Want a Physical Workplace Environment
Here's a key finding: just because people like and want to work from home doesn't mean that the workplace as we know it is dead. A whopping 94% of people still want to have the physical workplace as an option to work within, and providing a physical space for your team to collaborate and work in is still important.
Adaptability is key, finding solutions that will help you now and in the future. Our DIRTT Interior Construction creates solutions that can be easily reconfigured, moved, added onto, and changed to fit your changing needs, and many of our clients are finding it particularly helpful in their return to work plans. Learn more about it, and see how DIRTT can help you space work for now and in the future!
6.) Without a Physical Workplace, People Miss Out
Though many want to work from home (and feel as though they'd be more productive), there are definitely elements that people will miss without a physical workplace. Of our respondents, 72% said they will miss the social aspect of being with co-workers; 49% miss visiting with customers, and 46% feel less connected to their team when working remotely full-time.
Whether your return to work plan involves a newly remote team, a full return to the office, or a mixture of both, we're experts at helping you be your best. Discover how we can help you, like many of our clients, make a planned, safe, and clean return to the workplace!
See the FULL Return to Work Survey Results Below: