Founded in 2008, Pelotonia was established with the objective to fund life-saving cancer research. To date, the organization has raised over $130 million and 100% of every dollar raised has gone directly to The Ohio State University Comprehensive Cancer Center - James Cancer Hospital and Solove Research Institute. It's a huge part of the Columbus community and of our culture at Continental Office. We're proud to partner with this dynamic organization that aligns with our values and gives in unprecedented ways. We recently had the chance to speak with Doug Ulman, CEO of Pelotonia. As a growing organization, they're currently undergoing updates to their space. We were able to get a glimpse into the changes happening at the Pelotonia headquarters, and what's to come.
What prompted you to want to evolve your space?
We had outgrown the layout of our space so we wanted to refresh the office and add more collaborative spaces for our team to engage internally and with external partners.
Ultimately what do you want to accomplish with this evolution, both short-term and long-term?
We want our space to represent our brand. We are all about creating experiences that build community and our space should reflect just that. We aimed for a place that allowed our team to pursue our social mission while inspiring our community and providing opportunities for them to engage with our organization.
Are there new areas or settings that you plan to add or have already added?
We have added two new conference rooms equipped for collaboration and we have also added additional common spaces for small groups to brainstorm, collaborate and create impact.
How does it change or impact the way you work today?
The design of our space created pods for our teams to work in and it also opened up our space to create ultimate transparency. No offices. Just work spaces and collaborative spaces.
How do you think it will impact your culture?
We have always wanted a culture of openness and transparency and the new design takes that to a new level.
How will it affect your associates' experience?
We hope our awesome team members will enjoy the opportunity to utilize new spaces and also gain inspiration from the open layout and the environmental branding.
Are there additional considerations a not-for-profit organization needs to factor in when planning a space?
We absolutely have to be cognizant of every dollar we spend. Fortunately we were able to obtain such wonderful support from Continental, L Brands, MI Homes and so many others who contributed to make our redesign possible.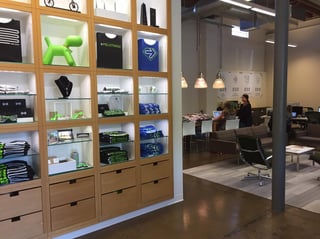 What would you tell someone who's thinking about evolving or creating a new environment for their team?
Start with your end goal in mind. What and how do you want people to feel? Think about the details that will get you to that desired outcome. I believe that space and design is of the utmost importance. Your space must reflect your mission and your culture. It should be obvious what you are all about. If you are thinking about a redesign - take the plunge!
Does a branded environment play an important part in the associate and guest experience?
Yes! We want our team and our community partners to gain inspiration from our space. We want to be constantly reminded why we are here and what we have set out to do. When anyone comes by to visit, we want them to feel a part of what we have built and more importantly, a part of our mission to end cancer. Our new space makes all of that possible.
We love supporting Pelotonia in their efforts to raise money for cancer research, and we're proud to have ridden with them since their very first race. See how we were able to also help create their larger, new space to be functional, purposeful, and uniquely Pelotonia!