DIRTT, known for modernizing the construction industry, proved they are a lot more than a modular wall system. Their solutions support reconfiguration and feature extreme levels of customization. At NeoCon this year, we saw this demonstrated in a variety of industries including healthcare, corporate, education, and even residential.
This is what NeoCon 2015 taught us about construction industry trends and DIRTT:
Customization is here to stay
Recently, DIRTT purchased the Swedish Krüsi CNC Machine System, which allows customized cut, organic-looking pieces (as shown in the honeycomb roof image below). Each individual honeycomb is unique, offering the end-user the ability to own a one-of-a-kind piece. In addition, we saw a lot of metal laser cutting details (also shown below in the side wall) that give your space individuality.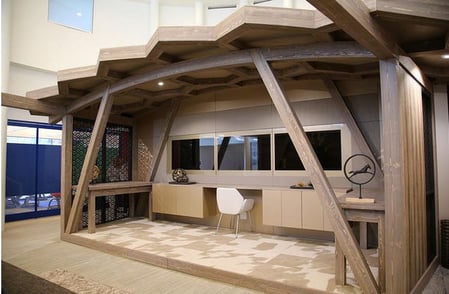 The focus is on healthcare
One of the other noticeable areas DIRTT is really striving to provide a unique experience in is that of healthcare organizations. From features like embedded, touch-screen electronic patient records to exam tables that can be folded back up into the wall, healthcare organizations can customize rooms according to patient needs. They've even created a way for hospital staff to stock patients' rooms from behind the walls so that the patient isn't disturbed, by incorporating pass-through millwork into the DIRTT wall.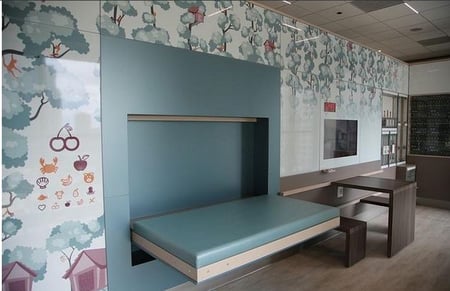 Bathrooms are important, too
We saw what could arguably be one of the most beautiful bathrooms we've ever seen in Chicago. Granted, it has a gorgeous view that overlooks the Chicago River, but most importantly, it had extra details that gives the user a sense that it was designed with care and function in mind. From its water faucets, soap dispensers, and hand dryers that were all situated beautifully on the sink to laser cut details with tiki dolls behind them, this bathroom had it all.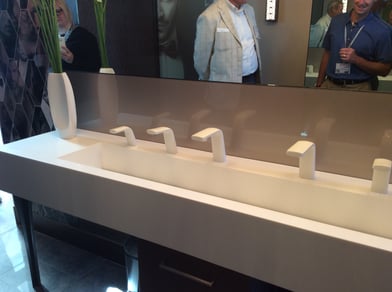 DIRTT is a virtual reality experience
DIRTT is widely recognized for their ICE® software, which is like a video game for design with the brains for business. While the software currently allows for changes quickly and easily, even in 3D so that you can see a graphical, interactive map of your design, it's now being taken a step further. Our team put on virtual reality Oculus Rift gaming goggles that allowed us to walk through a virtual space. Customers will be able to wear these glasses and walk around, to fully immerse themselves within a space and review plans. The experience gives you a true feel for the space, unlike any other design experience we've encountered.
DIRTT is always at the forefront of new and exciting design trends. It's always pushing boundaries and coming up with innovative technologies and experiences. If you'd like to know more about DIRTT and other modular interior solutions, click below.