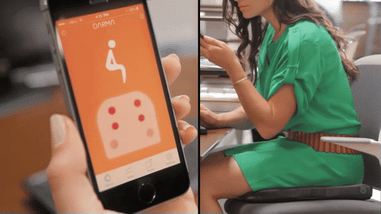 We asked that same question after we visited our friends at National during NeoCon, the most important event of the year for the commercial design industry, earlier this week. While we were in their showroom, we saw Darma Sit Smart technology - the world's first smart cushion that monitors your posture, sitting habits, stress level, and coaches you to sit better, much like wearable technologies.
While the cushion can be placed on top of any chair, Darma has partnered with National to offer this solution. Those who purchase National office furniture seating can have the cushion sewn directly in the chair - no need to place the innovative cushion on top. It then interacts with the users smartphone or tablet; it's completely wireless. There's no need to wear anything or attach any monitors. The user simply needs to sit.
Why do we care about sitting?
"Sitting is now a recognized health risk," according to Dr. Joan Venikos, former Director of Life Sciences at NASA. "The hours that you sit are directly related to the incidence of various cancers."
Venikos also stated that sitting increases the risk of other illnesses and conditions, such as heart disease, stroke, dementia, diabetes, and more.
She is a "rockstar" advisor at Darma. The technology, developed by Dr. Junhao Hu, is the first system that tells you how you are sitting so you can correct your posture change and reduce stress while proactively making an effort to be healthier.
Watch the product video below to see for yourself why sitting matters:
Darma is expected to be availble later this year, but they are accepting pre-orders. If you'd like to learn more, please contact us by clicking the button below.