A lot of tools and resources exist to help general contractors estimate construction costs. In fact, there are so many that it can get a little confusing. Here are just a few that we found after doing a quick search: 2017 Assemblies Cost Data, 2017 Building Construction Cost Data, 2017 Commercial Renovation Cost Data, 2017 Concrete and Masonry Cost Data, 2017 Facilities Construction Cost, 2017 Facilities Maintenance and Repair Cost Data, 2017 Green Building Cost Data, 2017 Interior Cost Data, Markup & Profit, A Contractor's Guide, and the list goes on and on.
With all of these "resources" it can almost seem impossible to quote an exact cost. Even with a construction cost estimator tool, the key word is still "estimate." As a contractor, that puts you in a less than ideal situation and can set you up for disappointing your client. As a facilities manager/end-user, it creates a bad experience and can wreak havoc on your budgets.
A book by Geoff Powell, a senior lecturer in construction contracts, entitled Construction Contracts Preparation and Management: From Concept to Completion identifies that the construction phase of a project accounts for 75% of the total costs. He goes on further to state, "Certainty of the final construction cost is almost impossible to achieve, despite the best efforts of everyone involved. In estimating the likely cost of a project, many factors will come into play."
Is this still true today? Fortunately, it's not impossible any longer! With the right technology and the right manufacturer, you can achieve cost certainty for your construction costs. It's not a construction cost estimator; it's called ICE® and it was developed by DIRTT as a way to build better. While there are many benefits to building with DIRTT, ICE® allows you to make real time changes and calculate costs on the fly.
"Estimating is an antiquated way to budget," according to Kelly Greene, an environmental specialist for DIRTT. "Today, technology like ICE® exists. It allows you to provide cost certainty from the beginning of a project and recalculates it every time there's a change. It really just comes down to making people aware that this is available to them and will allow them to build better and on budget."
Look at the screen shot below from ICE®. As you can see, it provides the complete bill of material information. This example quote is for a project managing over 33,000 parts and pieces, and costs $211,483.77. By managing costs down to the penny, it brings price certainty into an industry where most are used to estimates.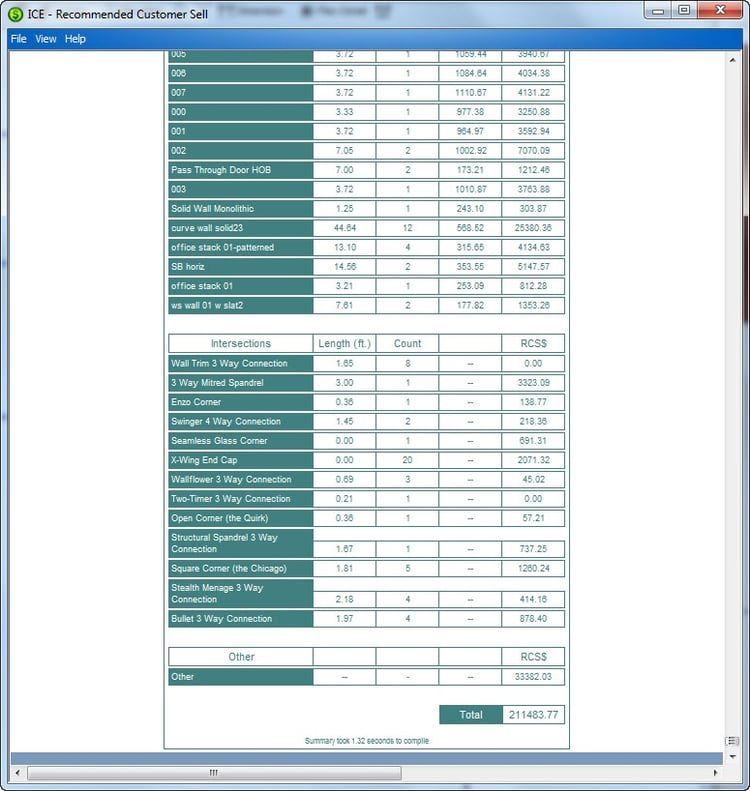 Some prefab construction can be considered a personal asset, so DIRTT offers financing flexibility. It can allow you to conserve your working capital and keep your cash on hand to grow your business. With convenient tax benefits, your purchase could be eligible for up to 100% of accelerated depreciation allowing for a quick tax write-off. When buying a DIRTT solution, the financing allows you to include other parts of your project such as business equipment, including A/V, software, HVAC, and technology. You can even bundle your total project under one affordable payment including sound masking, installation, art, accessories, and any other soft costs.
So while others are doing their best to estimate or even develop ill-advised cost plus contracts and/or time and material contracts, you can feel confident that you'll stay on time, on budget, and have financing options with DIRTT's ICE® technology.