Let's face it, interviewing for job opportunities goes both ways these days. Companies are seeking talent and the right cultural fit, and so are candidates. In fact the Gen X and Gen Y generations are so particular that 70% of them plan to change jobs in the near future (according to a recent study by University of North Carolina's Kenan-Flagler Business School). That's why it's becoming increasingly important to understand newer generations in the workforce and the environments in which they want to work. The way we've been attracting and planning for this talented generation is no longer enough. But do we really know what they want?
We recently visited The Ohio State University to speak with students who will be entering the workforce soon. They overwhelmingly told us they want a comfortable environment. One that feels like home, is flexible, has natural light, and that allows them be plugged in at all times. While they had a lot more to add to their wish list, like bringing pets into the office and complimentary food, the four attributes below are what we heard on a consistent basis regardless of area of study:
(1) A comfortable environment
(2) Work space that feels like home
(3) A lot of natural light in the workplace
(4) To be plugged in at all times whether at work or home
We found that Millennials are seeking workspaces and places that are not only innovative and inspiring, but also joyful, fun, and promote collaboration and community. This trend may have started with big tech companies like Google, Facebook, and Zappos, but other companies are following suit to remain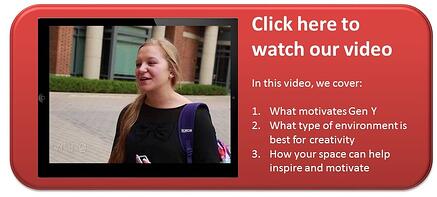 competitive in attracting top talent. For instance, look at Genentech (now a member of the Roche Group). The biotechnology company provides dog sitting for its employees, offers free beverages in campus break rooms, and on-site services like haircuts, and weekly car washes. Chesapeake Energy, one of the nation's largest natural gas producers, installed a 72,000 square foot fitness center complete with an Olympic-sized pool, sand volleyball court, rock climbing wall, and quarter-mile walking track.
Over the past several decades we've grown used to a different work environment than what Millennials are describing today, in terms of both perks and design. With talent attraction and retention becoming increasingly vital to profitability, Millennials who are entering the workforce are causing a notable departure from what is considered traditional workplace design. What used to be a building lined at the perimeter with executive offices surrounded by bland, energy-zapping cubicles is now becoming a comfortable, inspiring open floor plan.
But it's not just what Millennials want. Herman Miller reports that 75% of the time private offices go unused, while 60% of the time workstations remain unused. For this reason, we are seeing perimeter offices disappearing, floor plans opening up, and trendy breakout areas and cafes replacing the traditional work space. By replacing closed offices and largely unused conference rooms, we're seeing forward thinking companies changing the way we work.
We've also been seeing a rise in a sustainable, laid-back approach to interiors with adaptable furniture systems. These systems are designed to promote a healthy work style allowing associates to move more frequently, increasing blood flow. They are also designed to be flexible. Because workers are only spending about 40% of time at their personal workstations and non-group tasks have decreased to about 20% of the working day (according to Building Design + Construction), personal workspaces can be reduced in size to eliminate excess space. Another factor is shrinking technology size. We're seeing technology requiring less space, therefore reducing the space we used to plan for it.
A study released in 2014 by LinkedIn found that the most in-demand employers for students were Apple, Google, Microsoft, Proctor & Gamble, and Unilever. This begs the question, how is the rest of the working world to complete with big corporations who have already made the shift to recruit and retain a Millennial workforce? The answer is to understand what they are seeking in terms of workspace design and perks.
While this new generation of workers may be driving us to challenge and change the way we think about workspace, industry leaders are being prompted to look at how we truly work rather than how it is we think we work.