Click on a topic to start learning more!

Durability Matters
Maintenance Expense
Moisture Control
Full-Service Flooring Contractors vs. Installers
Style and Movement
Additional Reading:
A Cold, Hard Look at Concrete
Floor Maintenance Philosophies
3 Things You Might Not Know About Carpet Tile
The ABCs of Commercial Floors
How to Protect Your Floors from the Elements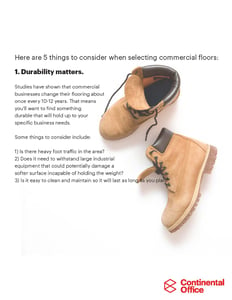 Studies have shown that commercial businesses change their flooring about once every 10-12 years. That means you'll want to find something durable that will hold up to your specific business needs.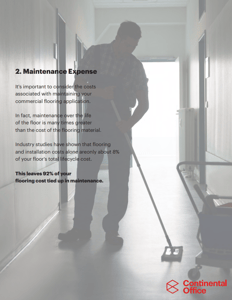 Industry studies have shown that flooring and installation costs alone are only about 8% of your floor's total lifecycle cost. This leaves 92% of your flooring cost in maintenance.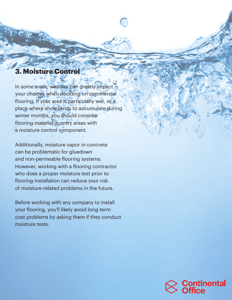 In some areas, weather can greatly impact your choices when deciding on commercial flooring. If your area is particularly wet, or a place where snow tends to accumulate during winter months, you should consider flooring material in entry areas with a moisture control component.
Full-Service Flooring Contractors vs. Installers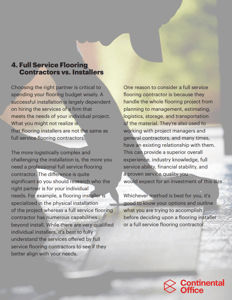 Choosing the right partner is critical to spending your flooring budget wisely. A successful installation is largely dependent on hiring the services of a firm that meets the needs of your individual project. What you might not realize is that flooring installers are not the same as full service flooring contractors.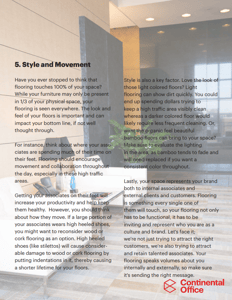 Have you ever stopped to think that flooring touches 100% of your space? While your furniture may only be present in 1/3 of your physical space, your flooring is seen everywhere. The look and feel of your floors is important and can impact your bottom line, if not well thought through.