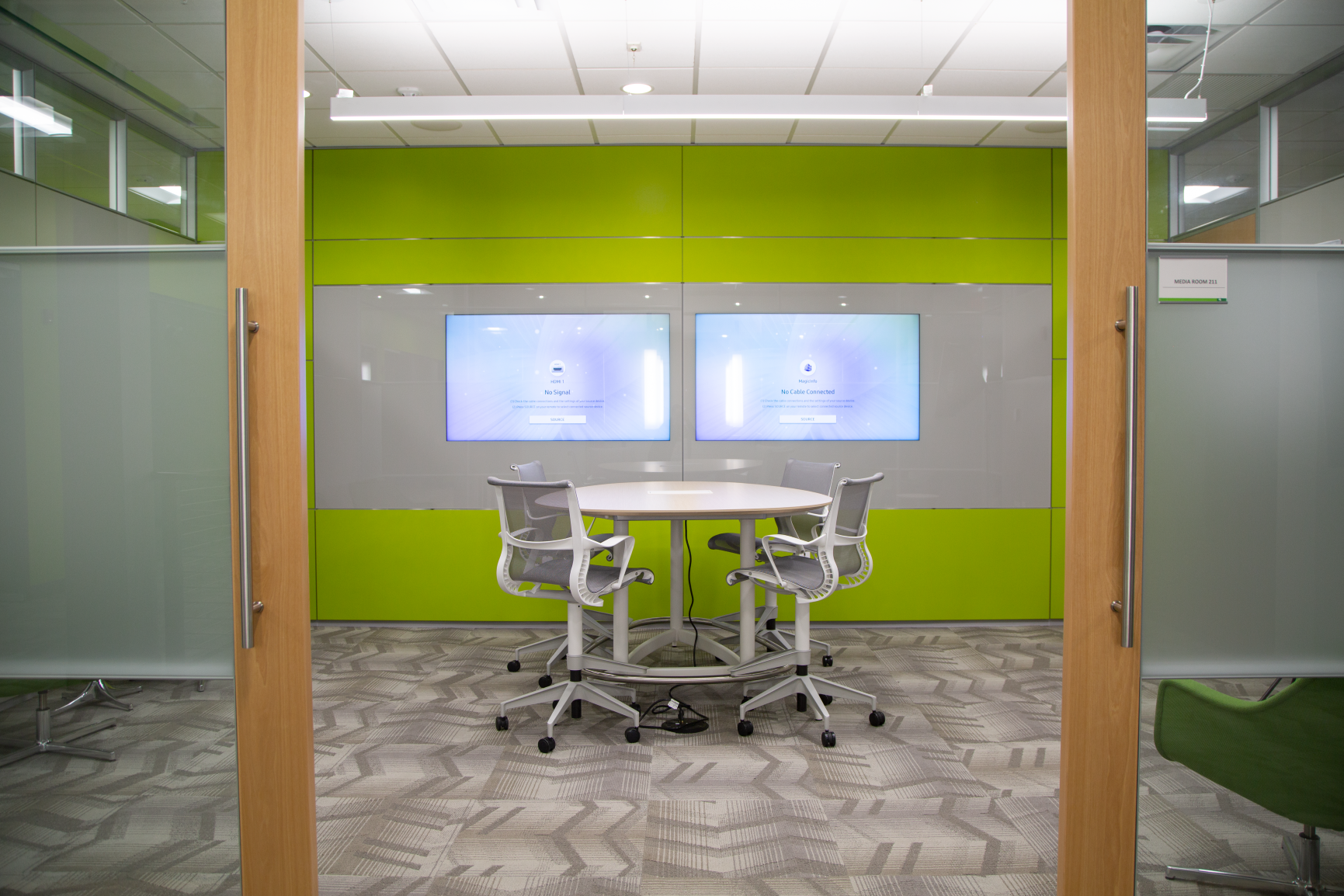 The options and opportunities with DIRTT interior construction are about as limitless as your imagination, and when the City of Dublin needed to build out and create their new City Hall, DIRTT was the perfect solution that gave them the integrated technology and custom look they needed!
For part of this special space, the City of Dublin needed a technology-rich area that allowed them to shoot videos and conduct interviews, one that could serve both for video recording and production as well as general meetings. With the integrated tech solutions that DIRTT can provide, they were able to have flush-mounted TVs integrated into the wall, as well as a control panel and other tech pieces integrated right into the wall. Since DIRTT panels are interchangeable, things can change in the future (add more tech, change out a control panel, etc.) without the mess, time, and expense of changing traditional drywall. Simply swap out a panel (or even just the tech on a panel), and you're good to go!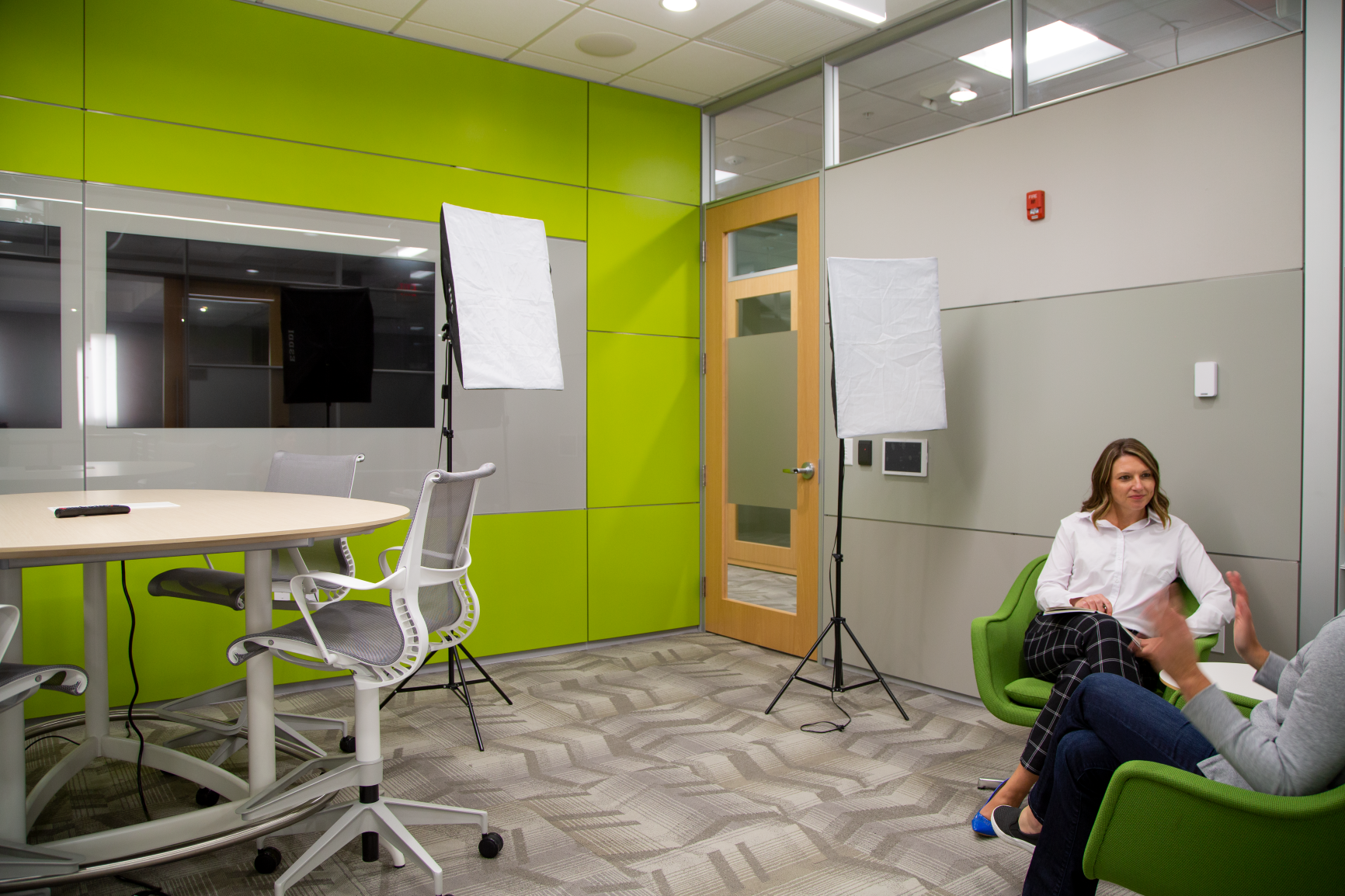 For Dublin's City Hall, our DIRTT team found creative solutions to the existing building's architecture that helped this space shine - literally! Natural light was important to bring into as many spaces as possible, and with DIRTT's custom solutions, we were able to take small, thin sections of the wall and install glass panes, keeping the interruption of the space to a minimum and providing even more natural light to keep the space shining!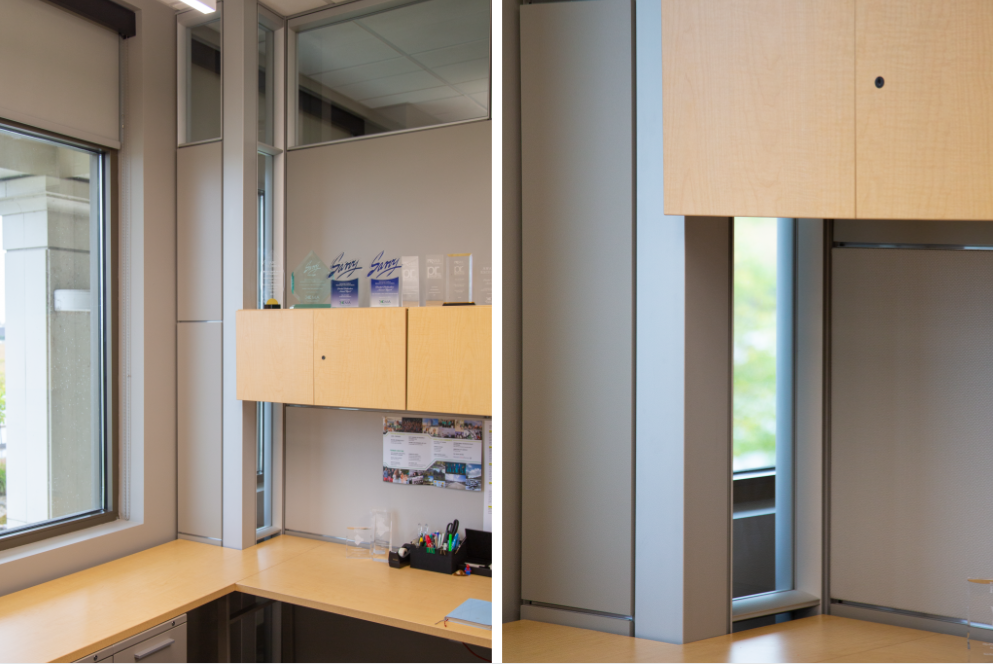 Even in tight spaces, DIRTT is able to provide solutions of any size - including glass to help bring more natural light to a workspace!
Our Furniture and Flooring teams were able to tie the space together, providing durable flooring and ergonomic furniture to keep things looking and feeling great, year after year! Take a look at some of these DIRTT highlights, as well as our Flooring and Furniture applications: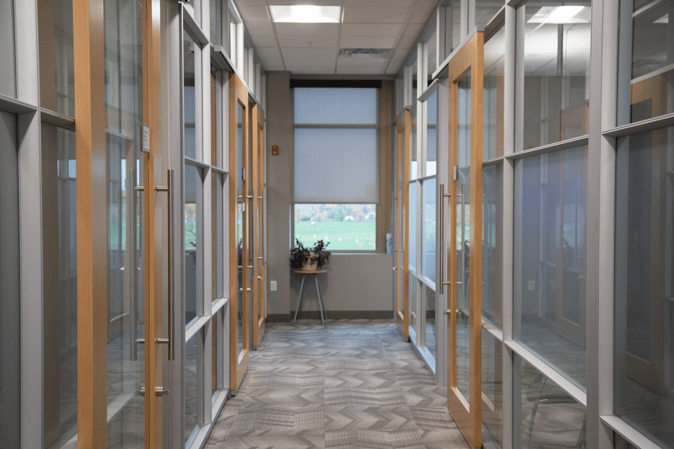 Easy-to-maintain flooring and easy-to-clean DIRTT walls and sliding doors help to keep the City of Dublin's City Hall a healthy, beautiful space!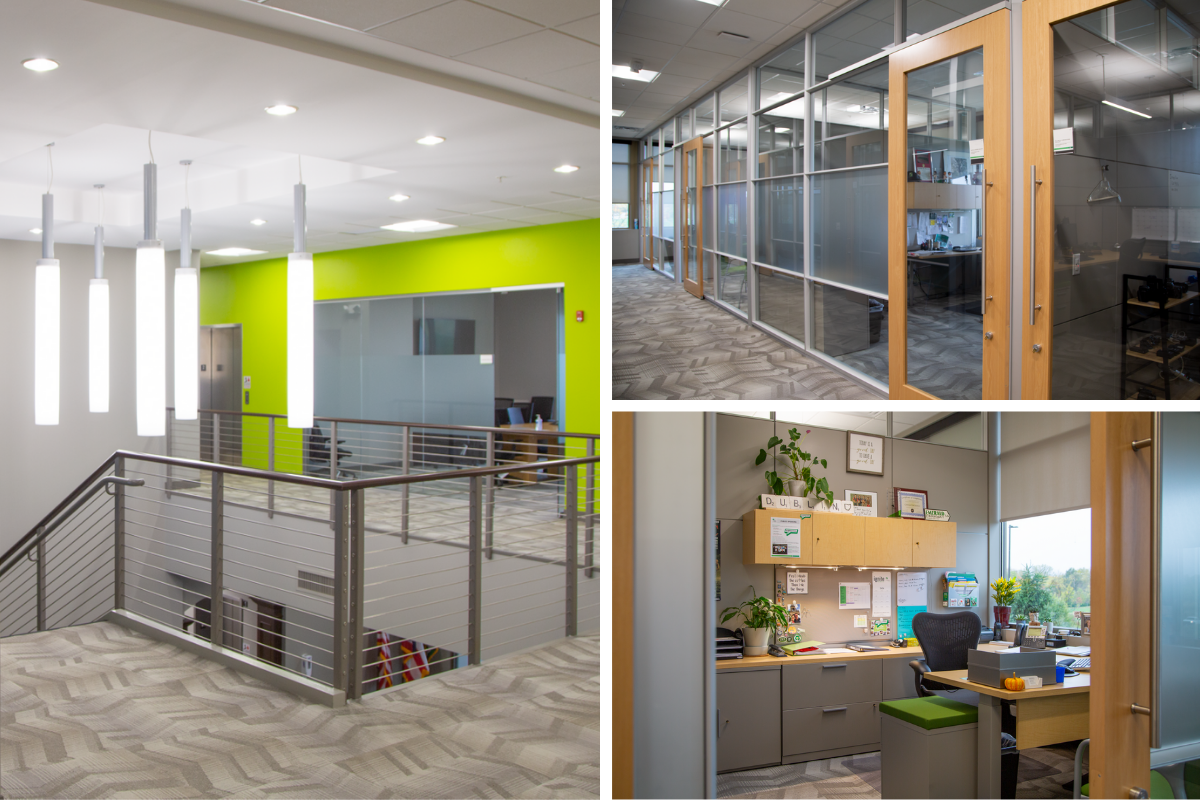 Herman Miller furniture, like the Mirra 2 task chair and sit-to-stand desk allow for all-day comfort and ergonomic support in this incredible new space.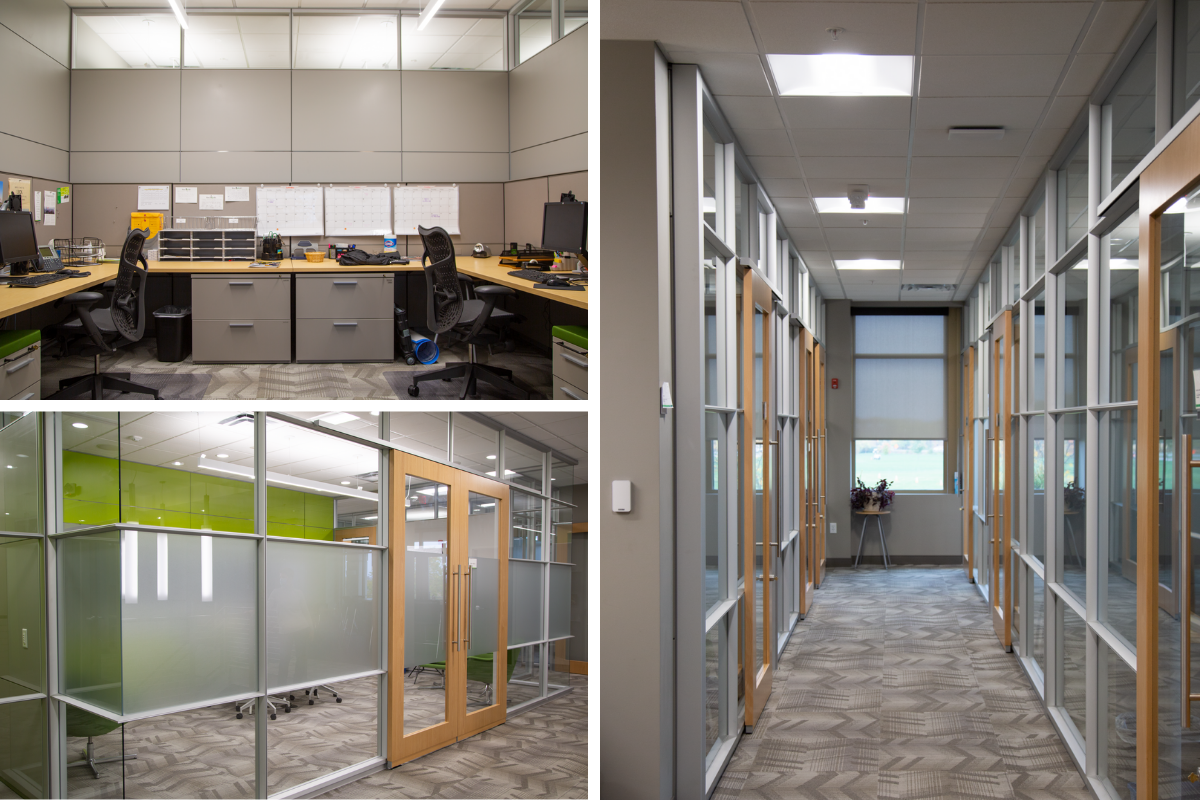 DIRTT's prefabricated construction methods created a bright, airy, and open space in just a fraction of the time of traditional construction!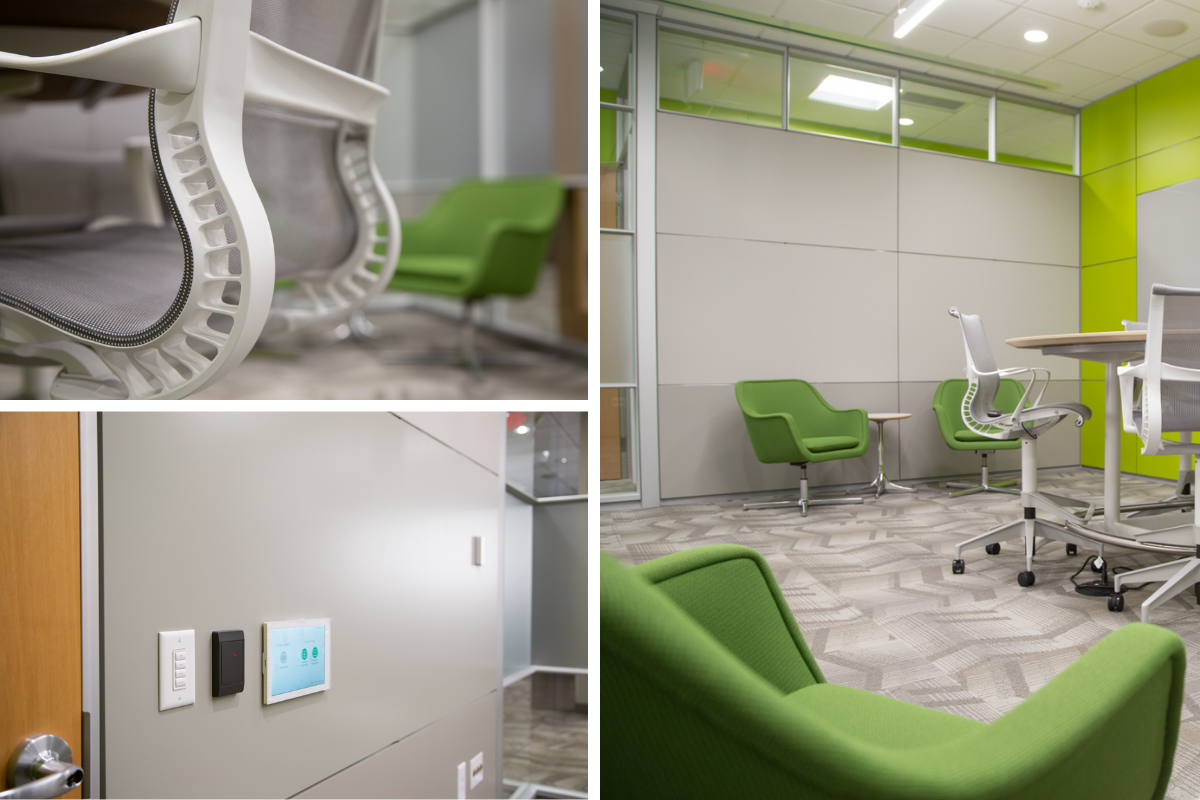 Built right into the wall, DIRTT's ability to easily integrate any form of technology that your space needs helps to make a room that works as hard as you do!
We're so excited for the City of Dublin to make the most out of this brand new space, helping them work even smarter and stay comfortable! How can we help your team shine? Is it time to look into better ways of working? Reach out for a free, customized approach for your team's space that works just as well as you do!