When you finish a healthcare construction project, you'll likely ask yourself:
Fortunately, these are the three things DIRTT, a prefabricated interior construction company, excels at. In a world of constantly evolving space needs, DIRTT's method of clean and efficient construction allows for unprecedented time savings. Maintenance is one of the highest sources of revenue loss in healthcare, and DIRTT's tile and frame system allows for easy access into wall cavities for quick repairs with lower costs. Whether renovating within a working hospital or creating a new build, DIRTT allows you to spend more time on design and less time on labor. DIRTT and healthcare were made for each other.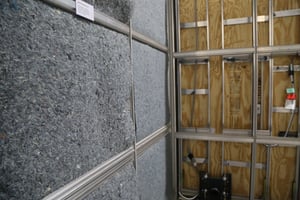 There's a lot that goes on behind the scenes of a DIRTT healthcare lab. Did you know that DIRTT insulation is made from recycled denim? It contains zero VOCs, has no off-gassing concerns, and doesn't contain harmful chemicals or irritants. DIRTT walls come with UL rated electrical wires and outlets pre-installed. Everything is plug and play, and connected to a zone distribution box. All outlets, wiring, and boxes are modular allowing for easy configuration and reconfiguration in the future. Integrated technology, such as embedded TVs, allows technology to be layered with easy access from either side of a wall. It can be seamlessly updated over time without demolition. Out-of-reach, it also provides an excellent means of infection prevention.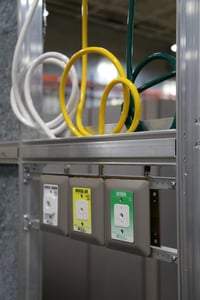 A number of additional features prevent germs from spreading. DIRTT's MDF tiles have an increased level of durability with reduced risk of mold and water damage. Healthcare gaskets create flush, cleanable surfaces across walls, preventing bacteria buildup in crevices. Integrated millwork allows the space to become more functional and clutter-free by tucking away keyboards, glove dispensers, and tissue holders in cabinetry. Flexible gas manifolds allow you to add gas lines as needed without shutting down your system. Integrating medical gases into the wall replaces the need for an added headwall system. Now maintenance for a leaky pipe is as simple as removing a panel. No drywall, dust, or downtime required!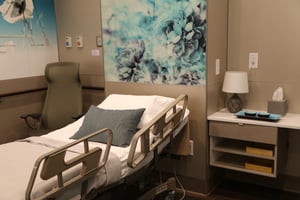 Other unique features make DIRTT healthcare spaces both effective and fun. Willow Glass™ is one such feature that provides a customized, writable surface which can be printed on to create high quality graphics, with the qualities of glass. This makes it aesthetically appealing while maintaining safety standards. DIRTT's Evil Twin combines two panes of glass with a cavity in the middle for soundproofing and a unique opportunity to brand your space. Switch Glass can instantly turn any space into a consulting or exam room with the flip of a switch for privacy. And Xorel antimicrobial fabrics round out a room's aesthetic, creating a warm, residential feel reminiscent of home.
There's so much versatility when it comes to DIRTT. You can customize each healthcare space to create the look and feel you want to provide for patients and visitors, without sacrificing functionality. By building better, and with downtime and maintenance costs off your mind, you'll be able to get back to what matters most – providing quality care and helping people heal faster.
Take a guided tour of a DIRTT healthcare lab by clicking here.