A bustling office, education, or even healthcare administrative space can become messy quickly. Because everyone is so busy these days, these messes may not get cleaned up right away or they're simply forgotten about. Even if you have a great janitorial staff, they likely don't have the time to deep clean all the nooks and crannies or even the floors on a consistent basis. The good thing is an easy solution that allows you and your team to focus on your work rather than constantly cleaning.
Whether small, medium, or large, your facility may want to consider hiring a commercial maintenance service to sweep tile floors, vacuum carpeting, dust office furniture, and clean desking and furniture panels to keep your furniture and floors maintained up to warranty specifications. Even if you have a janitorial staff, many of these things can get easily overlooked, as they have many other important tasks to focus on.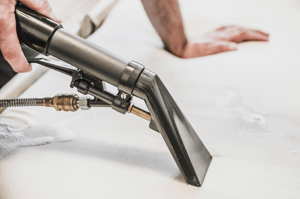 Having a professional maintenance service for your floors and furniture not only reduces stress on your staff, it let's you go beyond a surface clean. And, it gives you the ability to create a customized program that ultimately ensures your associates and your visitors will have a much better experience. Let's face it coffee stains, worn furniture, and dust don't promote your office in a positive light and can even affect your employee retention not to mention your customers' perception of you.
What should I look for in a partner?
Great floors and furniture maintenance programs will be custom tailored to fit your needs and conform to your workplace size and budget. Also, they should be up-to-date with the most recent technologies and processes. You should check to make sure the techs are industry trained and IICRC certified. Not sure what that is? It's the Institute of Inspection Cleaning and Restoration Certificate, which allows you to be confident your team is trained and knows the latest techniques. In addition, for commercial carpet maintenance needs you'll want to ask if they have the Carpet and Rug Seal of Approval, which means your provider is using Seal of Approval equipment and cleaning chemicals to make sure your carpets are cleaned with quality products.
Why should you care if they're certified and using seals of approval? It means that the commercial cleaning/maintenance company you hire knows your warranty specifications and understands how to support your specific type of flooring and furniture. You're likely receiving a warranty from your commercial floor/furniture provider, in addition to the warranty provider by the manufacturer. This should give you peace of mind since commercial floors and furniture are a big investment. But, be cautious with how you maintain your products, because improper maintenance such as using the wrong cleaning agents or maintenance methods can void your manufacturer warranty. This doesn't mean your staff and/or janitorial team would be purposefully negligent, they just might - quite frankly - not understand all of the different warranties and products that are out there, because they don't have the proper training.
For instance, Johnsonite's flooring warranty explicitly states a warranty exclusion is "maintenance that is contrary to [their] specifications, recommendations or instructions." Unless your team is certified and knows the exact maintenance instructions from the manufacturer, you're risking voiding your warranty. The same thing goes for furniture. Herman Miller has an amazing 12-year warranty, but specifically states "Any product, part, or components must have been used according to Herman Miller's published instructions and installed and maintained by a Herman Miller factory-trained technician or an authorized Herman Miller dealer."
As you can see, maintenance is a critical part of your overall building lifecycle. We hope this gives you some tips about how to think about maintenance and what questions you should be asking your provider. If you'd like to speak further about the right maintenance plan for your organization or simply have some questions, please click below and we'd be happy to speak with you!