A Video Game for Design
We had such a great response to our post, What Will Construction Look Like in 30 Years?, that we wanted to answer your questions and tell you a bit more about how and why ICE® software by DIRTT is changing the construction industry.
ICE® Changes the Typical Order Flow
The image below shows the traditional order flow for most companies. The way most businesses operate is with different tools for each one of these stages. Sales configurations can be as simple as a brochure and linear per foot cost. That ultimately provides a rough cost for the end user (the key word here is rough).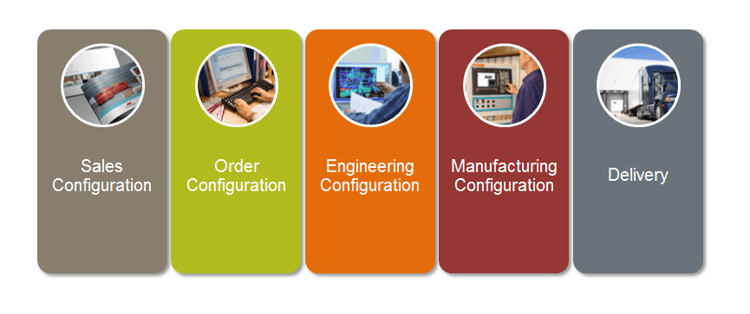 You can see it's a lengthy process. But what might not be readily identifiable is the number of people involved and the level of uncertainty. The order configuration alone can take two to six weeks before it's handed off to an engineering group for another two to four weeks. It then goes to the manufacturing group who ultimately takes it to the delivery group, but not before a lot of documentation. As you can see, it can get pretty complex and every time there's a hand-off it's an opportunity for errors and misinterpretation.
Why should you care? What makes ICE® construction technology so different? To put it simply, dollars and time. More than 50 manufacturers, in addition to DIRTT, use ICE® as a technology platform. Here's what they've found.
Sales Configuration: Because ICE® is instantly calculating the exact cost of every element, manufacturers have been able to quote three times faster with 75% fewer revisions.
Order Configuration: With ICE®3D visuals you understand right from the get-go exactly what you're getting and can make necessary changes at the outset, rather than 80 revisions in. It means when standard, expected adjustments need to be made (like ceiling height changes), no duplication of effort occurs to maintain order ready status.
Deficiency Rate: ICE® allows for clear communication at every stage so it eliminates errors and deficiencies. It has a less than 1% error rate. Error rates in the construction industry are typically as high as 10%.
Delivery: Projects are delivered in three to four weeks, rather than the typical 12.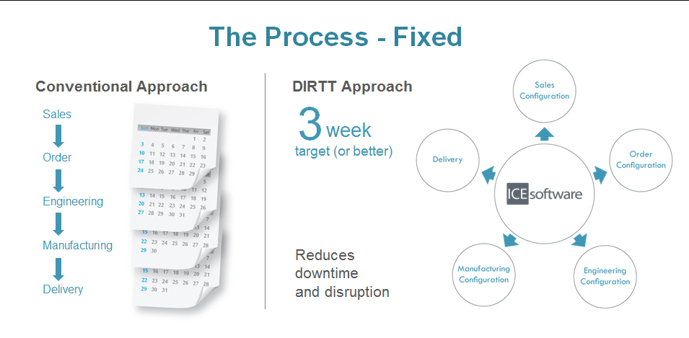 Below is a quick video that explains a little more about ICE® and its benefits, like sustainability.
What You See
This is what you actually see in ICE®. Note the background; it's a live, three-dimensional world. You can see the video game influence here. It's all live information, with a wireframe mesh behind it. But it's not pre-rendered like a typical video game. It's all editable and dynamically linked.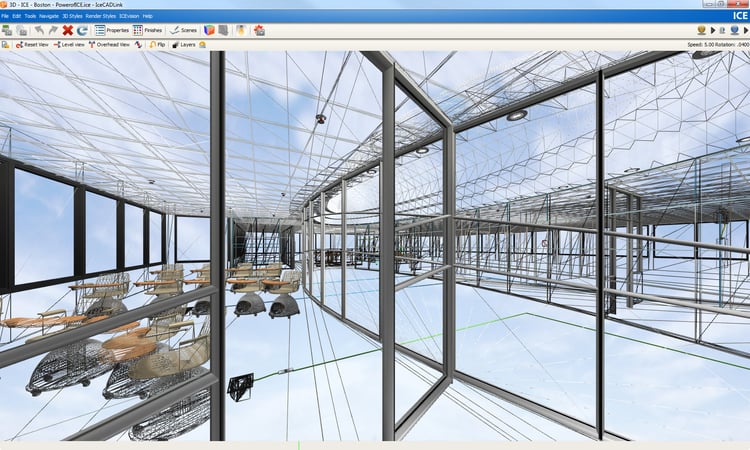 It provides an extremely high resolution. When you turn the wireframe off and zoom in to a piece of furniture, for example, you can see how the chrome is behaving and can even see the real-time reflections of the wall behind. This enables you to show very high-end material finishes to help with real-time decision making.
Did you know only 5% of the population can really visualize and process 2D thoughts into 3D images in their minds? If you're not part of that lucky 5%, ICE® allows you to experience and understand your floor plan and finishes by panning up and around things like furniture. It eliminates questions like, "What will my office look like?" It's important to your bottom line because it eliminates the need for mock-ups, which generally get thrown away.
The images below show you what you'll see when you pull up a 2D/3D split screen. The image on the left and right are of the same thing - an office space. You can see the information is all linked and connected and it's not just a video.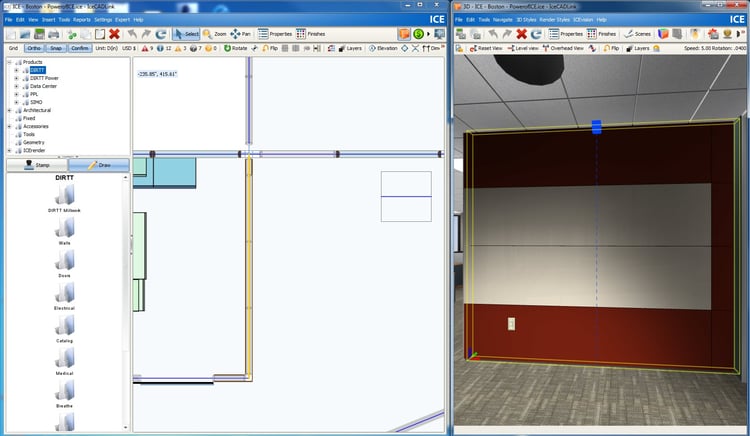 In case you're still wondering, "How does this impact my cost?" look at the screen shot below. ICE® provides the complete bill of material information. This example quote is for a project managing over 33,000 parts and pieces, and costs $211,483.77. By managing costs down to the penny, it brings price certainty into an industry where most are used to estimates.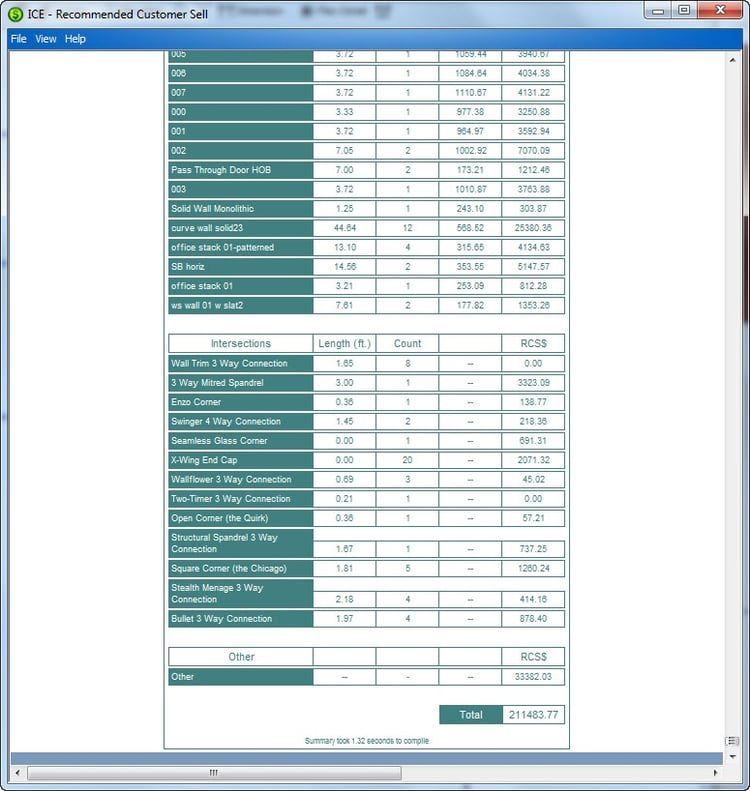 It can expand any row to show the bill of materials view. If you think back to a traditional order flow, these would be the materials you're ordering. However, because each one of these is customized and didn't exist before the design was created, the software combines the bill of materials along with the complete engineering plan. If you change one tile, it will make a pricing difference. Change a whole wall, and get a more dramatic difference. It's pretty remarkable!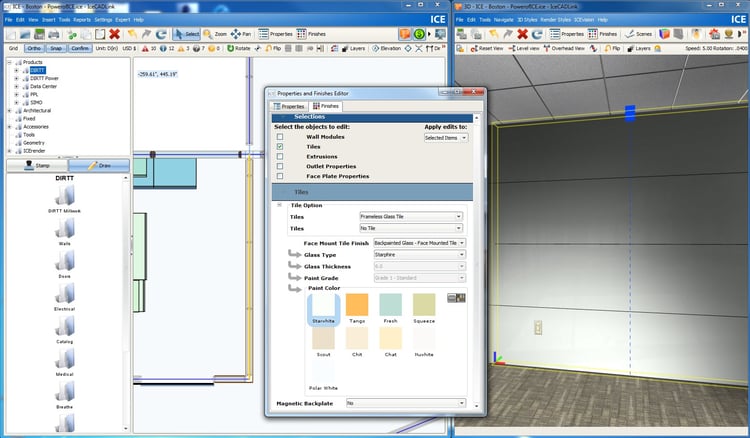 ICE® is what happens when technology meets construction. It's a solution that's editable from start to finish and decreases timelines while providing cost certainty. Behind the scenes, ICE® is a robust data model. The video game technology helps you make decisions. It's about manufacturing off the data rather than 3D models. So in the end, it's the accuracy of the data that matters because it drives the business, while the accuracy of the 3D model drives the experience.